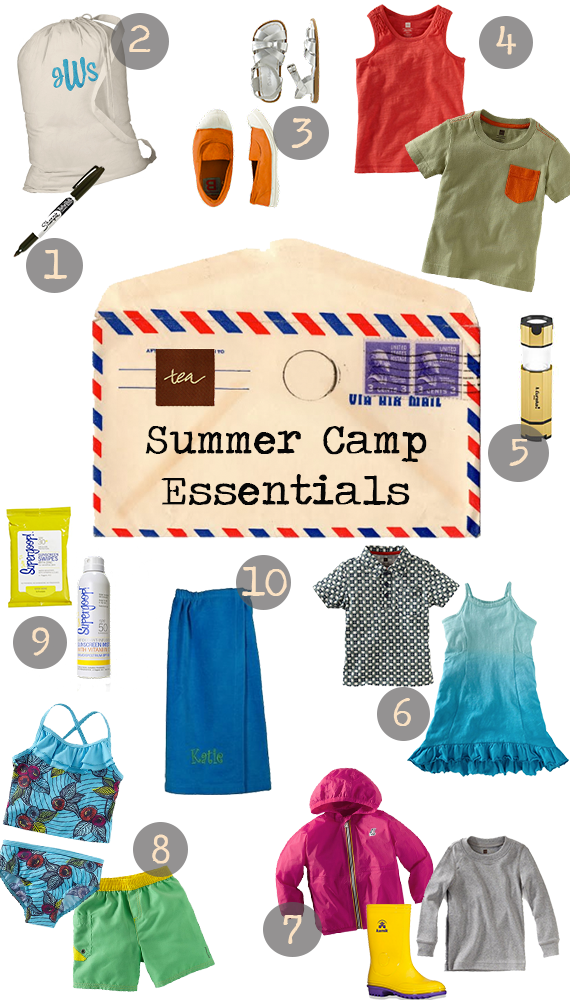 Whether you're sending your little ones off to sleep away camp for the first time or the fifth time, it's never easy. Well, the packing isn't ever easy. We know it's almost impossible to not forget something, but we're hoping this list will help make sure you remember the essentials – sheets and fan not included.
1. Pull out the iron on labels and grab a Rub-A-Dub marker. Many camps require that all clothing and equipment is marked with your child's name, but it's a good idea to label regardless of what's asked. Send a marker along with your child to make sure the counselor can help with anything that was overlooked.
2. We understand that a monogrammed laundry bag probably isn't required, but we suggest you take that extra step. Having a bag that's unique and personal will make laundry pick up a little easier and drop off a little more fun.
3. Shoes. Slip on sneakers and a solid pair of sandals are an absolute must. Although they'll come back worn and tattered, they'll keep your little one covered and comfortable every step of the way!
4. Easy tanks and tees for everyday wear. Packing tops and bottoms that can be easily mixed and matched are ideal for summer camp outfitting. By sending basics, morning dressing won't be hard on anyone.
5. Flashlights are helpful for the post campfire walk back to the cabin. This lantern/flashlight lights the way and will easily hang under bunks for late night letter writing.
6. Don't forget the nice outfits! Dances and closing ceremonies usually call for dressier attire – A cotton dress and polo are easy solutions.
7. The days will be hot but the nights may be cold. It's important to remember long sleeves, rain boots, and a lightweight jacket for maximum comfort.
8. Swimsuits! Splashing and diving could easily be an everyday occurrence, packing extras is a must.
9. Since they'll be splashing and diving more often than not, make sure they're covered with long lasting sunscreen. Wipes and mists seem to work best for kids.
10. Towels are important, but knowing which towel is yours is even more crucial. Having your child's name marked very clearly makes it easy – and towel wraps are a necessity for crowded summer camp cabins!
Don't forget to check with your local retailer to find perfect packing pieces!