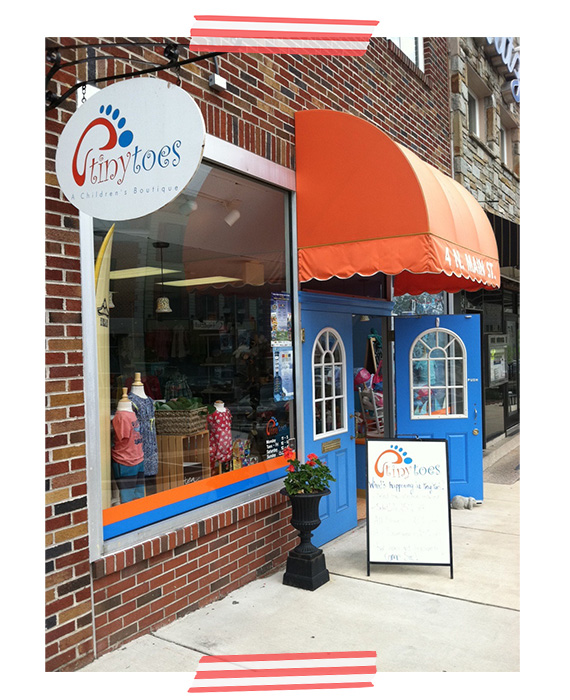 If you're ever in Maryland, hop into Tiny Toes.  This delightful store will keep you entertained for hours with their array of children's goods. Find out more about Tiny Toes as from our chat with co-owner, Karen!
How did you decide to take the leap and open your own store? How long has your store been in business?
We are just about to celebrate our 7th anniversary.  We (mom and I) opened the store almost a year to date after my son was born. I was ready for a career change after being part of an exciting internet start-up experience and I couldn't find any local options for great children's clothing. Mom was a willing partner and brought some retail experience to the table which was wonderful since I had none (unless you count shopping).
What is something that your customers would be surprised to learn about you?
While it is obvious to everyone who meets her that Mom is amazing with the customers, most would be surprised to learn that I would be much happier crunching numbers on a excel spreadsheet than re-dressing the face outs. Merchandising makes me break out in a cold sweat. Luckily we have some great employees who love merchandising.  Everyone bring something to the table.
What is your favorite part of your day at the store?
Mornings are always the best.  Everything in its place, the anticipation of fun deliveries that might be arriving and the possibility of great day filled with favorite customers. We're also very fond of happy hour around here.
We know how special and unique all of our stores are, what makes your store unique?
We're a neighborhood store and most of our customers are locals.  We work really hard to remember names, favorite colors, sizes, recent purchases, etc.  We want to make the shopping experience as easy and fun as it can be. It can mean pulling up all the past purchases of three sisters so that grandma doesn't give a repeat gift or stocking gluten-free snacks for a customers child who can't eat wheat…we want to be that place that goes the extra mile. We want our customers to feel like they are visiting friends when they come here.
At Tea, we "Go There", how do you share in that mission at your store and/or in your life?
My kids have had frequent flyer numbers since they were born.  While we have yet to venture internationally they have been criss-crossing the country since birth.  They love exploring new places (and revisiting family favorites). Travel with kids forces you to come up with activities to keep them engaged which is great because it means you get out and explore your destination. No vegging by the pool for a week… that said, my husband and I just returned from a vacation in the south of France and vegging by the pool (or the beach) with good friends is not the least bit over-rated.
What is the biggest trend you see right now in either shopping or kid's fashion? What are people coming in for?
"Practically fun" is what our customer shops for these days.  They want clothing that they can wear day in day out.  That means quality and durability are paramount.  But they don't want to sacrifice style.  Clothing still needs to have a special detail, a fun print etc but customers aren't looking for that one time wear, special occasion outfit anymore.
What do you do in your "spare" time? Laughable right?
That is laughable. Between the store and two little ones at home spare time is definitely at a premium.  Luckily, Mom's favorite past time is hanging with grandkids… which means occasionally there is time for reading a book or going for a run.
How do you balance it all? What tricks can you offer us?
Hire amazing people!  We are so fortunate to have an amazing staff, most of whom have been with us for years.  They love the store like it is their own and there is nothing they won't do to help us out.  It allows both Mom and me to take time off (even at the same time) and not worry about how things are being handled back at the store. Without them I'm really not sure how we would pull it all together!