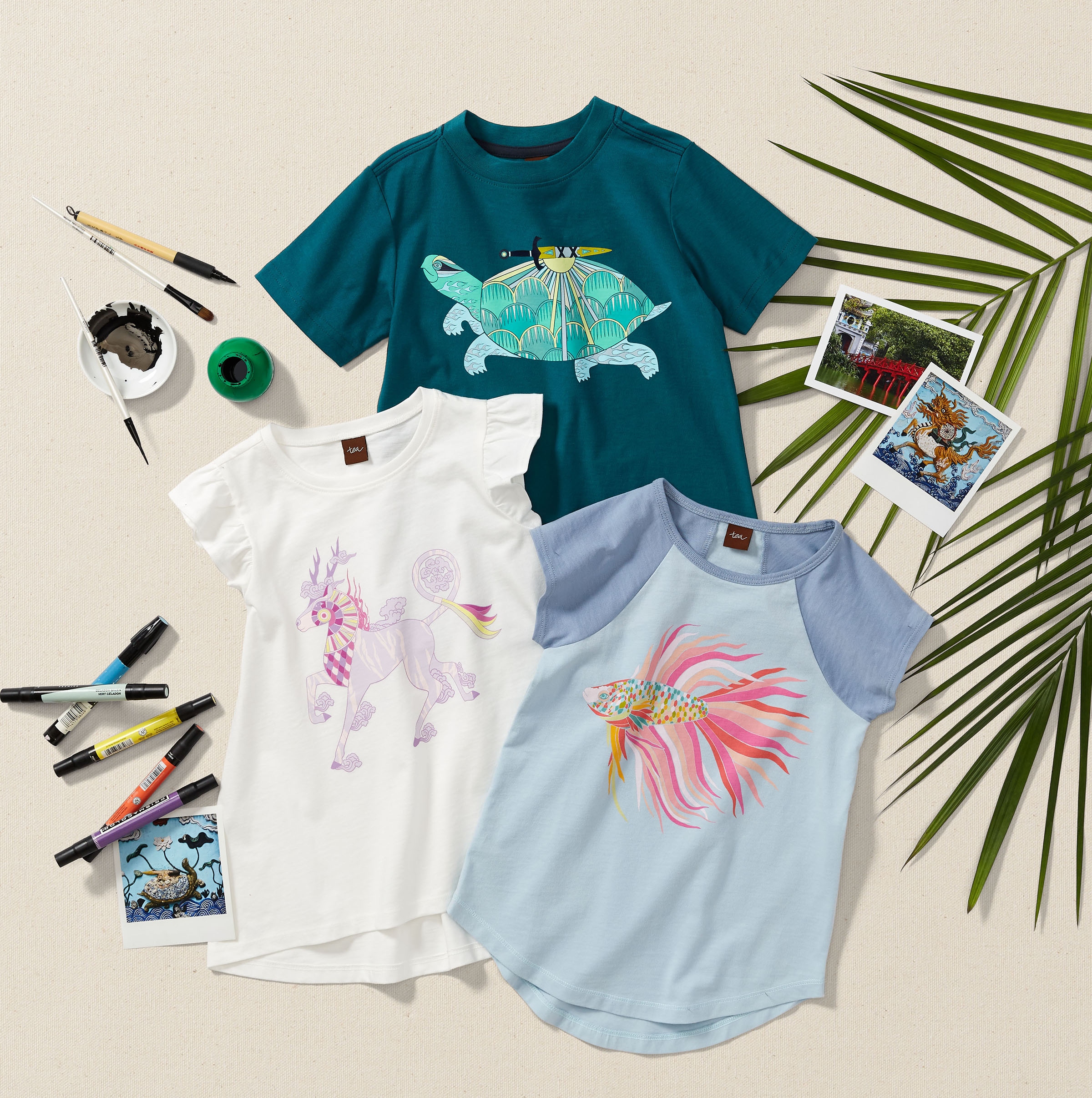 Thailan When is a Vietnamese-Chinese American artist based in Oakland, CA. Thailan first caught our eye with her ability to bring whimsical stories to life through her signature illustrations. Born in a refugee camp in Songkhla, Thailand and raised in the Sierra Nevada foothills of California, Thailan offers a unique, multicultural perspective. Together, we created a special collection of graphics exploring Southeast Asian folklore and animal symbolism. Read on to learn more about her upbringing, art, and what her designs for the collaboration mean to her.
How do you balance your Vietnamese, Chinese, and American identities?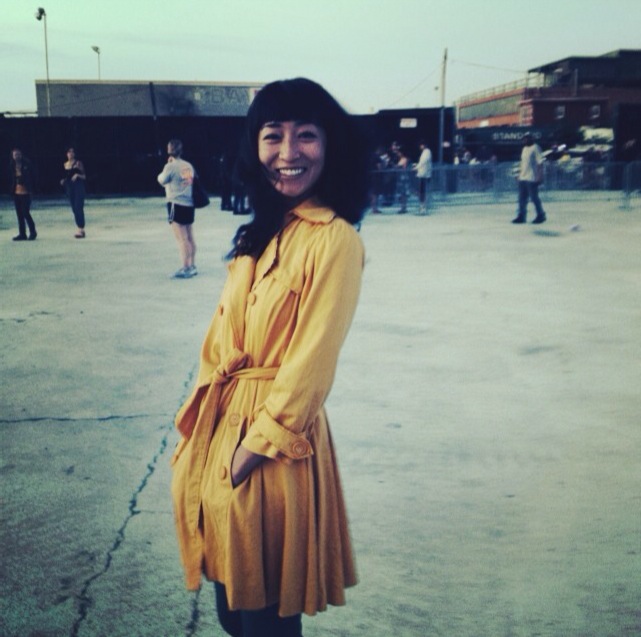 Living in America in the '80s was, at times, challenging for my family. The war wasn't far behind us, and some of the kids I grew up with had fathers who fought in Vietnam. In my community, there was some resentment towards us, but we were also met with warmth and care and made lifelong friends. My mom would make egg rolls for people as a way to win them over – and honestly, it worked most of the time! Food is a language that everyone speaks apparently… It wasn't always easy, but I learned how to navigate between two different cultures, and I think my Asian-American identity is split pretty straight down the middle. When I went to Vietnam for the first time two years ago, I deeply resonated with the experience. My dad's side of the family still lives there. My cousin – who is my age – took me under her wing in Saigon. It was like stepping into a parallel universe of what my life could have been like. Seeing how strong her Vietnamese identity is made me a bit envious, but I am truly proud to be Vietnamese/Chinese-American.
Can you tell us more about how your upbringing has influenced your art?
In my family, we were taught to believe in the supernatural world of ghosts, ancestral spirits, animism, and reincarnation. I remember being four years old and my mom warning me, "Be a good girl, or you'll come back as a pig. In which case, we might eat you, but of course we would ask for your forgiveness first." This scolding doubled as a lesson on the cyclical nature of the universe and the honoring of all lives as sacred – even the naughty ones. These kinds of ideas propelled my imagination into fantastical realms. Though my beliefs today differ from the ones I was taught, I still flirt with the concept of magic in my life and in my artwork. I also loved to read growing up. Since I lived in a culturally homogenous area, books and the characters within them introduced me to a much bigger world and made me think about the kind of life I wanted to live. If I recall, Where the Red Fern Grows was the first book that made me cry. It's about a young boy, his dogs and the land on which they live… I still find myself recreating similar storylines within my art.
You helped us design pieces that feature the Qilin and Hoan Kiem turtle, two figures in Southeast Asian mythology. What do they mean to you?
When Tea asked me to collaborate with them, I was really excited and honored. In order to re-envision these mythical creatures, I did a lot of research and went down a few rabbit holes along the way. It was an enriching experience, which not only taught me more about my culture, but also gave me an opportunity to design specifically for kids, which I had not done before. I have always aimed to make art that speaks to the child in all of us, so this project couldn't have been a more perfect fit for me.
Qilin is revered as a wise and powerful creature because it can tell whether a person is good or evil, and in some stories, would punish them accordingly. There are depictions that show Qilin walking on clouds for fear of harming a single blade of grass. They are also vegetarian! In a sense, they are ethically-balanced; they have a strong nose for justice while still being able to exhibit compassion. It's this dichotomy that lends them so much respect in Asian folklore.
Designing the Hoan Kiem turtle was particularly cool because when I was in Hanoi, I visited the famed lake where the legend comes from. As the tale goes, in the 15th century, a man named Le Loi was able to drive out invading forces with the help of a magical sword. After his success, he was crowned emperor and a giant turtle emerged from the lake to retrieve the heavenly sword. Neither the turtle nor the sword was ever seen again… In Vietnam, the Hoan Kiem turtle is seen as a symbol of independence and longevity as the sword lies in wait, a secret weapon to be summoned if necessary.
What inspires you?
When I was little, we had kind of a mini farm with wildlife all around, so I spent a fair amount of time observing animal behavior. I think what fascinates and inspires me the most about animals is how they seem to live in the present moment, a state of mind that can be difficult for me to tap into. I have also discovered that through them, we are able to indirectly examine ourselves. When our strengths, weaknesses, values and fears feel too sacred to convey explicitly, we anthropomorphize and project them onto animals. In this way, they have long been our reflections and our teachers, and carry a universal symbolism that transcends language and culture. In my artwork, I try not to look at nature in and of itself, but instead examine humankind's relationship to nature – from folklore into the future.
You can find all the pieces Thailan helped us create at TeaCollection.com. Be sure to check out more stories like this on Instagram @tea_collection.