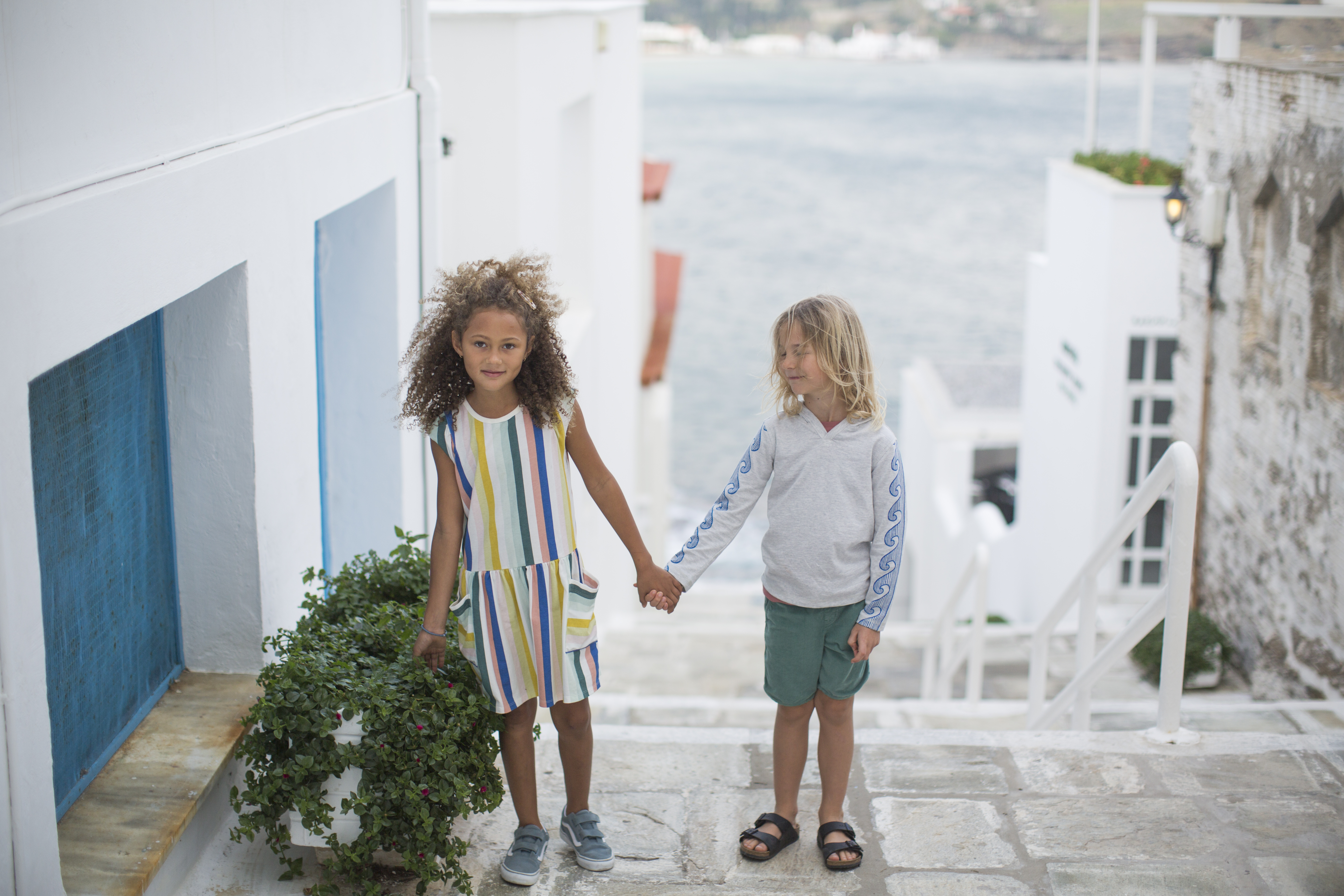 In October, five families from all over the world arrived in Andros, one of the many stunning Greek islands of the Cyclades and a site of inspiration for our Spring Collection.
Some traveled from Florence and Thessaloniki, while other families came from as far away as Sayulita, Melbourne, and San Francisco. From different places arrived a group of families who have dedicated a portion of their lives and hearts to travel.
We were all there to make the collection come to life, but the blue skies and seas, the bonds that were created, and the memories that were shared are what we'll never forget.
The kids declared themselves best friends within minutes of meeting—and these friendships only grew stronger over the next five days we spent exploring the coasts of Andros, our temporary home in the Aegean Sea.
For our Spring launch, we made our way to Chora, the picturesque capital village of Andros. We ran through alleys chasing cats—sweetened treats in hand—pausing in bright blue doorways to take shelter from the untamed Meltemi winds.
We're so pleased to introduce to you our friends, who you'll get to know over the next few months as we post more about our shared adventures. We only spent a few days together on Andros, but these are friendships that will last a lifetime.
Our Ocean's Eleven
Meet Tilly and Francis. They are two of the world-traveling kids on Quartier Collective. We had been drooling over their family travels on Instagram and were especially inspired by their work to organize group travel for families. Their Family Gatherings bring families together to explore new countries while connecting through shared curiosity and adventure.
This is Francis and Tilly's little brother, the viking-pirate. Viggo—whose name means Viking—was often found running around with a hand-drawn pirate patch on his face (but no talking parrot on his shoulder).
These three adventurous siblings quickly befriended fellow world-travelers Amelie, Indi, and Lulu, who are the next generation executive team of the inspiring and sustainability-focused Joy Chasers. These six were fast friends, quickly bonding over their world-schooling lifestyles.
Everyone quickly embraced the sibling pair from northern Greece, Vasilia and Kostis. They arrived with Greek treats in hand for everyone: Greek eye bracelets for the kids and Tsoureki (Greek sweet bread) for the adults.
The next family to join us included the sisters from Florence: charismatic and cat-loving Mariú and her equally enthusiastic and charming baby sister, Luna (affectionately called Luna Banoona).
Bringing up the rear (in age only) was 8-month-old Frances Lucille from San Francisco (aka "Baby Fwankie") who is likely now known as the happiest and most loved baby who ever visited Greece.
Wondering who took these incredible photos? We're so thrilled that we were able to work with the endlessly talented Taryn Elledge-Penner (of Quartier Collective), who tirelessly chased this gaggle of children up and down Andros to capture our Spring and Summer collections.
Follow @teacollection and #teamakesfriends on Instagram to see more behind-the-scenes snapshots of our time in Greece.
Follow these amazing families and travel partners below. They'll also be posting their photos and unique stories of our Andros experience this season!
@quartiercollective
@joychasers
@emikodavies
@effie_panagoula