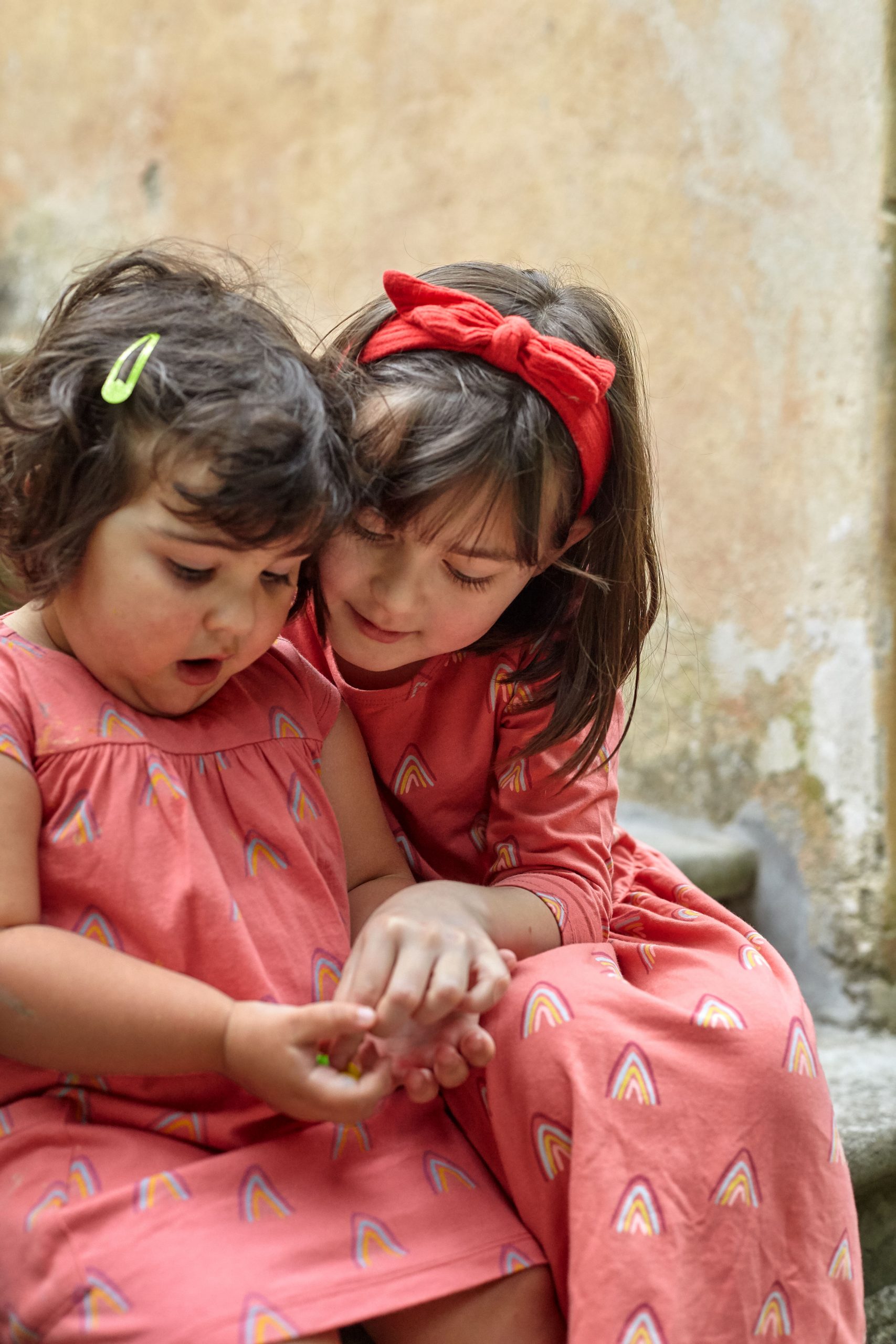 You may remember author and chef @emikodavies, and her two daughters, Mariù (8) and Luna (2) from our Mediterranean collection. We forged a fast friendship in Greece and asked Emiko to photograph her girls at home in Florence. Not only did the girls chase rainbows in their own backyard—but also whipped some up in their kitchen! Read on to get her exclusive rainbow pancake recipe.
—
Rainbow Pancakes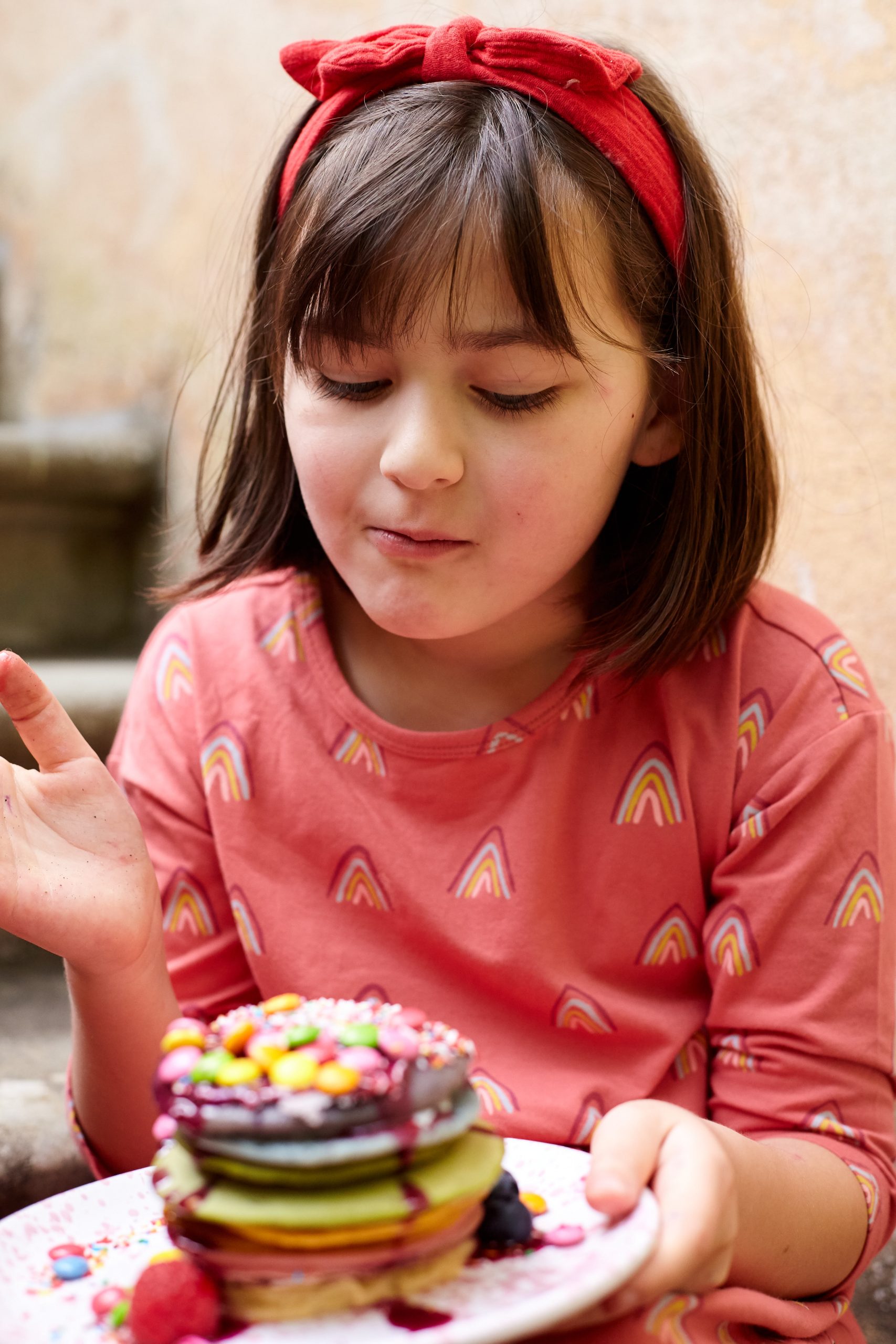 Pancakes are usually our weekend treat, but I turned this into an afternoon activity that kept the girls busy playing with their food for hours! We experimented with natural colors – Luna loved swirling the colored batter together, which resulted in a few multi-colored pancakes towards the end.
Ingredients for the pancake batter:
1 egg
1 cup milk
2 tablespoons of melted butter (or ricotta)
1 ½ cups flour
1 tablespoon baking powder
2 teaspoons of vanilla extract (optional)
For the colors:
Pink – Raspberry puree made by cooking 1 cup raspberries with a splash of orange juice (blood orange is even better if you have it!) for 5 minutes, then strain.
Orange-yellow – a teaspoon (or as needed) of turmeric powder.
Green – a teaspoon (or as needed) of matcha powder.
Blue-green – 3 teaspoons (or as needed) of spirulina powder.
Purple – 1 cup each of blackberries and blueberries, cooked together with a splash of water then strained. Keep the leftover fruit pulp to mix with icing sugar for the berry sauce to go on top!
Additional ingredients for decorations (optional):
Rainbow sprinkles or colorful fruit
3-4 tablespoons of icing sugar for berry sauce or maple syrup
Make the batter by placing the egg, half the milk, and the butter in a bowl; whisk until combined well. Add the flour and baking powder and whisk until smooth. Add the rest of the milk and the vanilla until it becomes a smooth fluid. Separate the batter into 5 bowls. Add the colors a teaspoon at a time to see how strong they are. Add more color if you like (see important tips below on turmeric and matcha).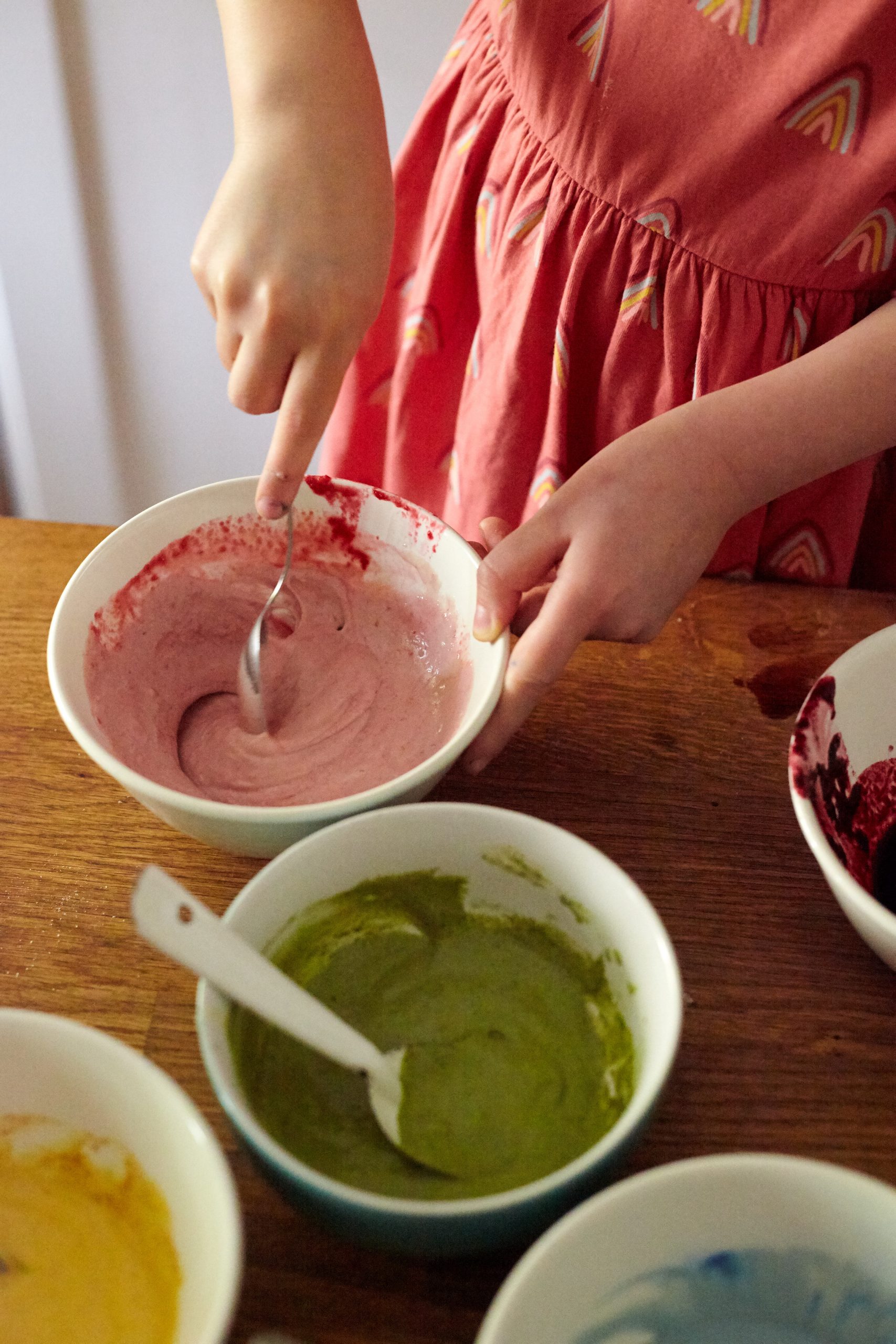 Using a non-stick pan over very low heat, cook small pancakes (about 3 tablespoons or so of batter) for a few minutes or until it lifts easily from the pan. Flip and cook the other side for about 30 seconds. You are looking for a pale pancake so that the color comes through nicely.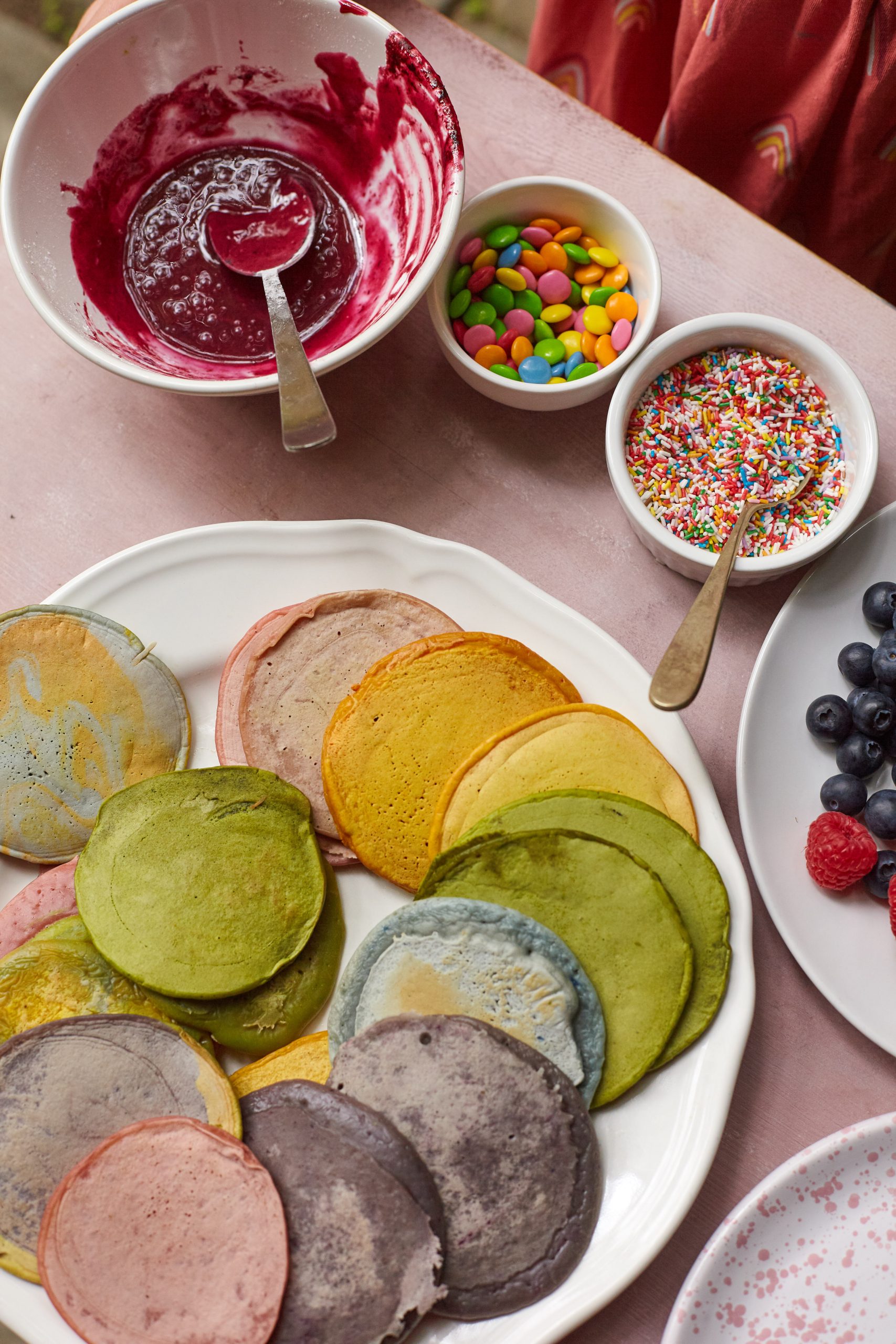 Stack and decorate the pancakes with sprinkles or colorful fruit. Finish by topping with berry sauce if using or maple syrup!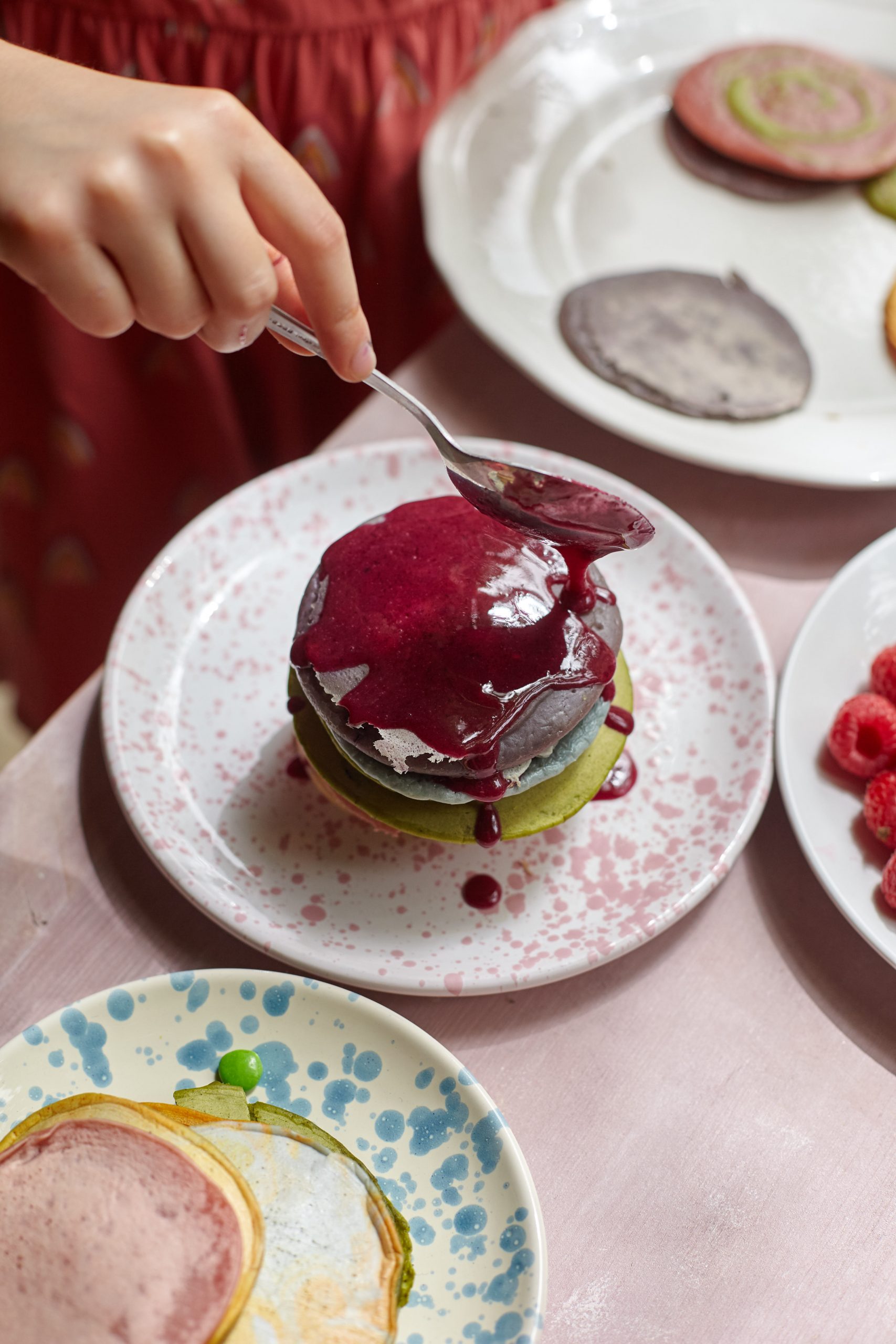 Important tips: Leaving sugar out of the batter will ensure a paler pancake that allows the natural colors to come through. Cook them over very low heat for the same reason. Being generous with baking powder (or the addition of a couple blobs of ricotta) to add some lift and fluffiness to the pancakes will let you see the color come through the sides, which is really where you get the best rainbow effect. Note that the turmeric and matcha have very strong, bitter flavors, so you may like to use less of them. While they may be more pale in color, they won't be as strong in flavor. I personally love them (they would go down well as savory pancakes), but the kids didn't! The berry and spirulina pancakes were a hit though!
Follow @emikodavies on Instagram for more recipes like this, and be sure to check out our new fall collection for equally colorful styles.