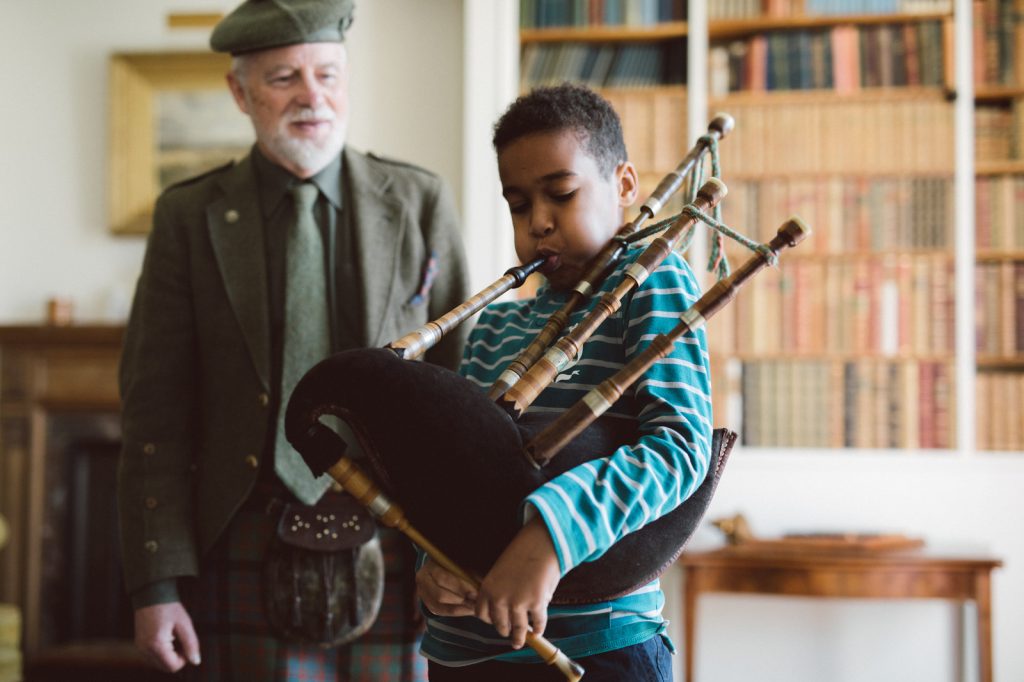 We know that Benjamin left Scotland with his first set of bagpipes – How's it going?
Benjamin was determined to find kid's bagpipes as his souvenir from our trip. We didn't get back from the photoshoot before the shops closed though, so when LaDonna was kind enough to pick up a set she found for him, we were all so touched and grateful. He was so excited to bring them home that he insisted on carrying them, inside their cardboard box, in his arms, through the airports and on the planes to make sure they were safe. I remember watching the little plaid box going through the X-ray security screenings. And when we boarded the first plane, another passenger saw Benjamin carrying the box and said, "You're not going to be playing those on the airplane, are you now?" To which Benjamin replied, "No, I promised my mom I wouldn't." 🙂 After returning home, those little bagpipes got played a lot, and carried around at home a lot, to the point that they were accidentally broken by a younger sibling. Benjamin was crushed. After doing some research online, we recently ordered him a chanter, so he can continue playing and practicing. The first day after it arrived, he took it to school to show his music teacher. I don't know if his fascination with bagpipes will continue long term or not, but we'll see. Maybe his high school band will include a bagpiper one day!
Did the other children pick up any hobbies from their Scottish vacation?
I remember when the highland dancers were performing, their teacher told us they had been training and dancing together as a group since the age of 5. Upon hearing this, Anna (who was 5 at the time) looked at me with huge eyes and a grin and said, "Sign me up!!". We haven't found a class here yet, but we have practiced at home together lots of times with hilarious results.
The kids also still like to try to recite the days of the week in Scottish Gaelic that Mr. Jamie the storyteller told them at Glen House.
And after we returned home from the trip, I laughed when I heard Elijah ask our Amazon echo device, "Alexa? Can you please talk in a Scottish accent from now on?".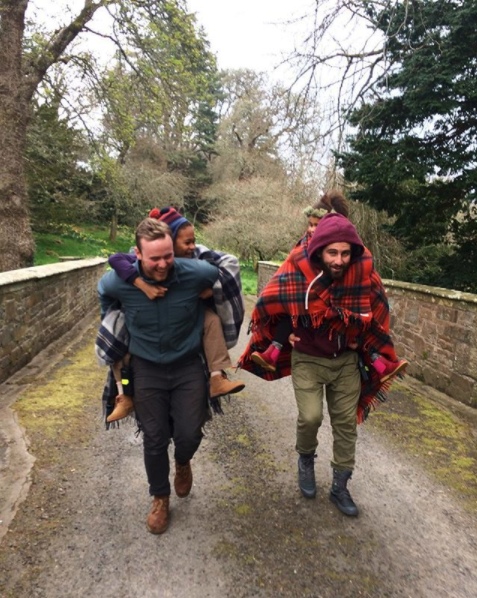 Anything they continue to talk about?
Oh my goodness, we hear about Scotland all the time! The kids remember visiting several castles, exploring Edinburgh, seeing the Elephant House cafe where JK Rowling wrote some of the first Harry Potter books, feeding the Queen's swans in Holyrood Park, visiting the statue of Greyfriars Bobby, seeing the huge sculptures of the kelpies in Falkirk, and visiting the National Museum. They remember the photo shoot for Tea and the amazing Glen House and its beautiful grounds, Mr. Jamie (the storyteller and bagpiper,) the highland dancers, the stream, the huge wooden front doors and library filled with books, and the many sheep they saw dotting the hillsides in the country.
When I asked Naomi about her favorite memory, she said it was "seeing the statue of the doggy." I told her I liked that memory too, but just then, I couldn't recall the dog's name. Without missing a beat, she replied, "It's Bobby!" I was so surprised she remembered that detail, from nearly 6 months earlier!
We also often hear about the friends we made while we were there. We are still in touch with many friends from the days of the Tea photoshoot, and with Paul Wood, aka "Mr. Paul", the wonderful gentleman from Edinburgh who drove us everywhere the entire week, took us places we wouldn't have even known about otherwise, who made us laugh countless times and treated us like family. We cannot remember Scotland without remembering Mr. Paul, Stephen, Alexis, Dana, LaDonna, Trina, Adam, and Kaddesh.
How did the trip to Scotland change your family, if at all?
The trip reminded us that travel and exploring, while not always easy with young children, is always worthwhile. The memories made together are lasting and priceless. Eben and I would rather have more experiences as a family than more 'things'. We plan to spend less money on gifts like toys, and spend instead on travel as a family.
How do you continue to "make the foreign familiar" at home for your family?
We look for opportunities to learn about other cultures and countries. We take that into consideration with the music we listen to, the food we eat, the books we read, by traveling, and by getting to know people from varying backgrounds. And we make sure to include our kids in all those experiences.
Anything else you'd like to share post-Scotland?
We would like to reiterate how much we learned and were amazed by seeing a part of the behind-the-scenes creativity that goes into Tea's process. We have a whole new appreciation for the work and the art and creativity and people that are all part of making Tea's beautiful clothes available. We are forever grateful for this trip – every part of it was special, and we are so honored that Tea chose our family!