Each month Studio T  features one of our retailers.  This month we caught up with Rebecca and Brea, the amazing duo behind Little Star in Franklin, Tennessee.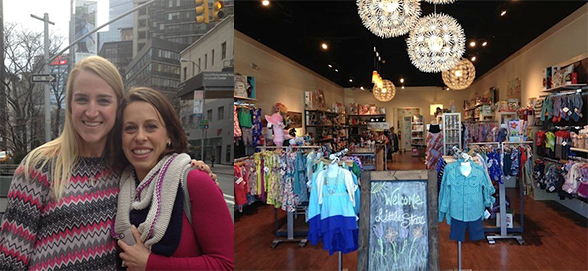 Have you always lived in Franklin?
Rebecca: I've lived here for 21 years. Grew up in Tampa. Ended up back in Nashville because I love the people, the scenery and the pace of life here.
Brea: I have lived in the area for almost 13 years now. I married a musician and we followed the music here from Kansas where I grew up! And now it's just home, we love it and can't imagine living anywhere else.
How was your business born?
Rebecca: We saw a need in the area for a modern contemporary baby and kids store. We were both new moms and didn't feel the traditional southern style fit our families!
Brea: Rebecca and I have been in business together for almost 8 years. We originally owned a maternity store and then opened our kids store, Little Star, next door to it 4 years ago.
Tell us a little about your family history.
Rebecca: 4th generation Irish/German and I love all German food. I love traveling and exploring my roots. My Grandmother was an amazing cook. Favorite recipe passed down would be homemade noodles.
Brea: I'm a farm girl from Western Kansas where I learned a lot about hard work and making business go through growing up on a 3rd generation farm as one of six kids. My mom and all of my aunts were the best cooks and were always so resourceful. They could make anything work, I have definitely picked that up from them! My favorite recipe is from my full German Aunt, everything she makes is divine, but she taught me to make her homemade sauerkraut, it is unlike any other… So, so good!
Where is the last place you traveled?
Rebecca: Our last family trip was to Disney World and it was amazing! Wonderful time of wonder with our kids, Samantha, 6 and Mack, 5. Next big trip on the radar – Penang, Malaysia to visit dear friends that are missionaries there.
Brea: My last big trip was to Napa Valley California with my husband and our 6 month old little girl! It was for "Live in the Vineyard" which is a music festival and wine tasting experience weekend all together and it was dreamy! I know that doesn't sound dreamy to most, but when you have 3 kids only taking the smallest and easiest one is delightful and quite easy, really!
Your best friend is visiting your city for the first time and only has 24 hours to explore—what would you tell them to do?  
Definitely take them to the Frothy Monkey in downtown Franklin, love the local food and the people watching! Then I would take them shopping downtown Franklin, stop in to Savory Spice Shop which is a fun, everything-you-need spice shop.  Then I would recommend a Nashville must see, Loveless Cafe, their biscuits and preserves are amazing! After lunch, I would bring them over to McEwen South for great local boutique shopping.  For dinner, I would head into downtown Nashville to stop at Patterson House for a unique drink. And lastly, of course down to Broadway to see some good ole fashion Honkey Tonks or the Bluegrass Inn to catch a songwriters round and hear the amazing musicians that write the hits you hear on the radio, share the story behind their songs.
What advice do you have for local mothers?
My nugget of wisdom is find a friend who is going through what you are going through, it makes it so much better!  Comparing stories, giving advice, love on each other – we are not alone! Also, there are so many resources for events for moms to get involved in and honestly that can get a little overwhelming, my advice is to try to get time to yourself everyday, it makes you a better mommy!
What types of events and promotions do you run in your boutique?
We are about to start a regular mom's night out event! Mom's desperately need breaks and time with girlfriends so we are thinking we will have wine and cheese and different events going on! We also love to keep in touch with our moms over Facebook, it's easy for them and for us! Facebook is also a place moms can ask us questions and we can help them before they even make it into the store!!
What is one thing your customers would be surprised to learn about you? 
Brea: Most people don't know that I used to travel around in a bus as a "roadie" for my husband's band, for years! I did everything from book shows, manage merchandise, load and unload gear, make food, do accounting and a million other things! We traveled all over the U.S., it was such an adventure to say the least! It was truly the hardest and most fun job ever, besides being a mom!