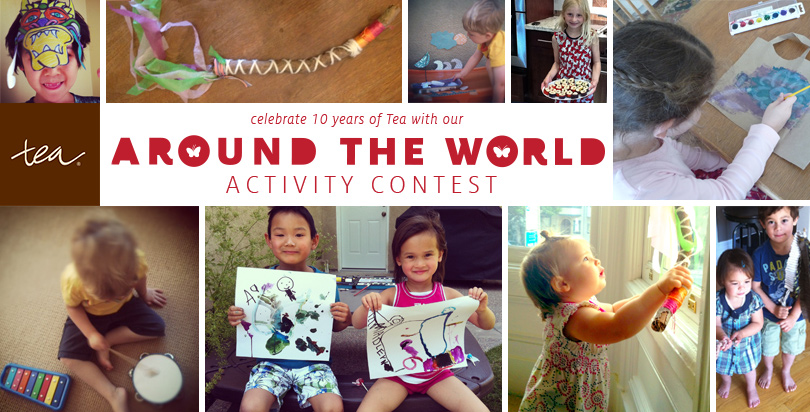 We're celebrating our 10 year anniversary and we're calling on all little citizens to enter our "Around the World Activity Contest" for your chance to win a $500 Tea shopping spree and one of ten weekly prizes from our anniversary collection. Enter by sharing a photo of your little citizens completing craft activities inspired by our 10 anniversary destinations.
To be eligible to win, be sure to:
• Take a photo of your little citizen completing a do-it-yourself activity based on one of our anniversary destinations (Brazil, Turkey, Japan, Korea, or West Africa) and upload it to the official "Around the World Activity Contest" tab on Tea's Facebook.
• After you upload the photo, add a photo caption including the name of the activity and which destination inspired the craft.
• Share your photo with your friends and ask them to vote. The more votes you have, the greater the chance you'll have to win!
Below is a list of our favorite diy activities based on our anniversary destinations. Click on the title to be taken to a blog post with step-by-step directions for each activity.
Make Brazilian Music
Find Your Local Tea Retailer
Make an Egg Carton Sailboat
Make Your Own Playdough
Candy Sushi
Make Your Own Paper
Make an Authentic Japanese Fan
Make a Spirit Stick
Color Dragon Mask from our Activity Book
For more inspiration, visit our "around the world diy" Pinterest board.
Happy Crafting & Good Luck!