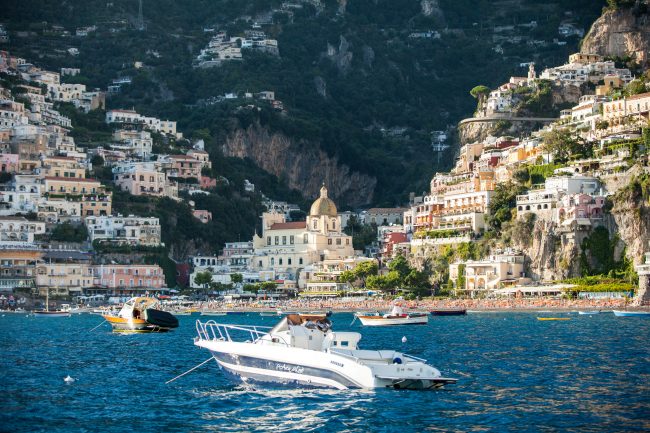 Some say that the Amalfi Coast is the most beautiful coastline in the whole world. We wouldn't argue with that. While driving down its winding roads may appeal to some, we prefer the views from the Tyrrhenian Sea. To capture the Amalfi coast in all of it's splendor, we hopped on a boat one afternoon to see it from a different perspective. Follow along as we take you on a boat tour of the Amalfi Coast. 
In Sorrento, we boarded a Sparviero 960 (with a beautiful wooden hull) and took off towards Positano. Our first stop was the Li Galli Islands, known to have been once inhabited by sirens, or legendary mermaids. The islands hold a rich history with past guests such as Sofia Loren, Greta Garbo, Jacqueline Kennedy and Princess Margharet of England just to name a few. We learned that Leonide Massine, a Russian ballet dancer and choreographer, was one of the island's earliest owners in the 1920s. It was then that he converted the watchtower into a living space and dance studio. After Massine passed away in 1979, the island sat deserted for more than a decade. Today it's owned by Giovanni Russo, a man of five-star luxury. After over 31 million dollars in renovations, the villa was opened to the public 15 years later. The island is technically still for sale, but its villa isn't officially on the rental market… We've heard that for a pretty penny, you can call it your temporary home. While we weren't able to tour the island, we did enjoy a quick dip in its surrounding waters!
We headed to the town of Positano where we hopped off the boat and took a gelato break. Our next stop was the Cave of Smeraldo, an emerald grotto not to be missed. Our last stop landed us in Amalfi, where we admired the speckled shores and dreamt of owning a house on the towering cliffs above. It was truly a once-in-a-lifetime experience. If we haven't hooked you yet, make sure you flip through our photos for some more inspiration. And, if you happen to find yourself in Sorrento, make sure you book a boat tour with Mamma Mia Boat Excursions!
For more on what to do if you find yourself near the Amalfi Coast, check out our guide!