This summer, Tea families across the US are showing us around their cities and sharing the incredible places that make them special. 
Next up in our Share Your City series, we head to DUMBO, Brooklyn where Naima Petz and her three adorable daughters take us on a joyful jaunt through the urban playground outside their door.
Five years ago, our family made the leap to become full time travelers. As we set off on our new American Dream, we realized that we wanted our children to maintain roots as we explored the world. This is something I missed as a first generation American, and we were determined to give our girls a place to call home.
New York City was the only choice for our adopted hometown. I still get the same starry eyed, giddy feeling when I step out of the train station that I did when we first moved here fifteen years ago. We've lived in different boroughs and parts of the city, but we knew we were home the moment we stepped into our neighborhood. Welcome to DUMBO!

Tweet #DUMBOmagic for Magic 8 Ball-style answers to your pressing questions.
Like most of New York City, DUMBO is completely walkable, and has everything you need within its tiny circumference. We may or may not spend weeks hibernating in our little neighborhood during the winters. Hey, nobody wants to stand around on a freezing subway platform only to find that the train isn't stopping at your station that day. But as soon as the temperatures start to rise, the neighborhood wakes up and takes to the streets.


Two Kids and a Dog, where pocket money goes to play… and stay.
Pearl Triangle and the Archway
Pearl Triangle and the Archway are the heart of DUMBO (which, by the way, stands for Down Under Manhattan Bridge Overpass). It is home to several restaurants and cafes, a wonderful toy store, and dozens of independent boutiques and businesses. On Wednesdays, it hosts a cute little farmers' market, and on Sundays a thriving flea market. Events from Oktoberfest to Mermaid Parade celebrations are held under the Archway throughout the year. We also like to hit the food stands and live music on summer evenings. No hot kitchen or dirty dinner dishes for the win!

Pearl Triangle on a very quiet, very early Saturday morning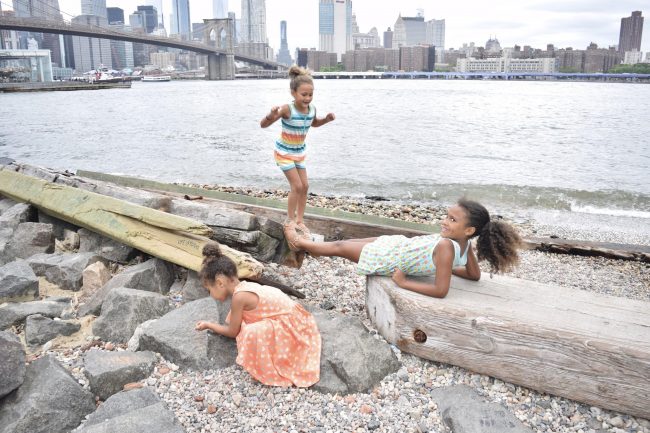 After dinner beach strolls usually entail a Moana sing-a-long. It's impossible to resist!
Brooklyn Bridge Park
The Brooklyn Bridge Park provides us with a necessary retreat to nature. Warm weather days are made for collecting treasures at the beach, climbing at DUMBO Boulders outdoor rock climbing wall, dining alfresco at the restaurants lining the waterfront, or running wild at Pirate Playground with the neighborhood kids.
The waterfront is the perfect vantage point for several unique views of NYC. Summertime is great for walking across the Manhattan and Brooklyn Bridges, and taking the ferry from Pier 1 to Manhattan and other parts of Brooklyn. Many people head to Pier 6 to catch the ferry to Governors Island, but few know about the Adventure Playground. It's part Lord of the Flies, part Boxcar Children—total fun!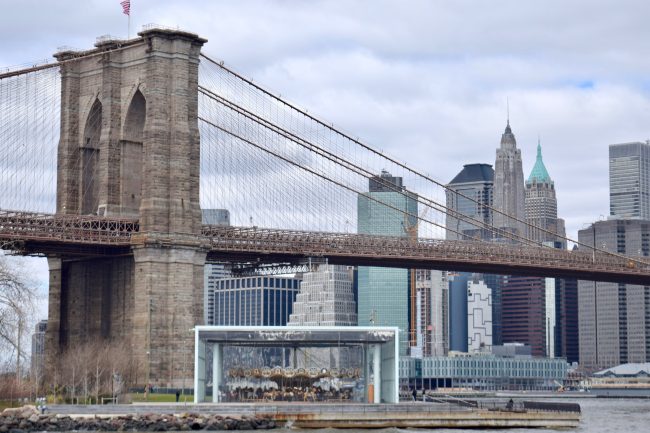 Jane's carousel for the young, and young at heart. Ask for a horse that goes up and down.
Any day is a good day for Brooklyn Bridge Park Conservancy's Environmental Education Center where kids can explore the unique ecology and marine life of the East River. If you time it right, you can participate in their annual fish count, and get up close to the crabs, jellyfish, and seahorses (yes, seahorses!) living in the river.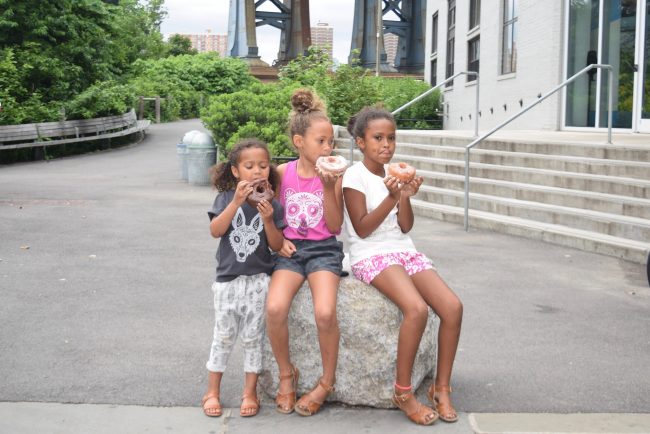 Sunday pro tip: Grab a doughnut from Dough at the flea market before heading to the park.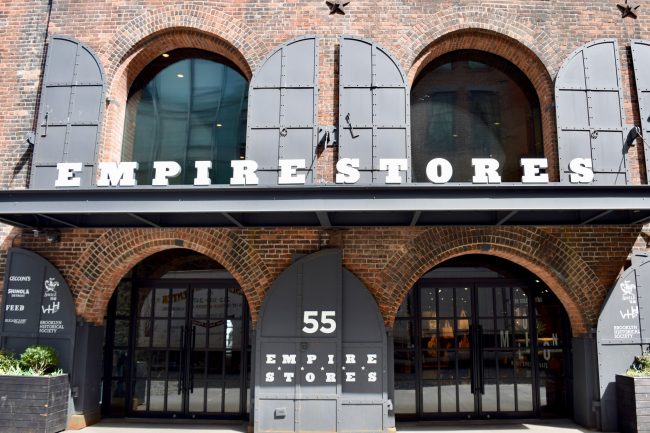 A massive food hall & rooftop performance space will be opening later this year. Woohoo!
Empire Stores
Empire Stores, a converted warehouse built in the 1880s, is one of our family's favorite midday hangout spots. You can spend hours perusing the various stands at the makers market, or just people watching at one of the coffee shops. Pop into Almondine Bakery for a fresh baguette, and grab some cheese and fruit from Foragers to take over to the park. Cecconi's is the place to start (or end) date night, and then bring the whole crew to Sunday brunch. Ricotta lemon-huckleberry pancakes… thank me later.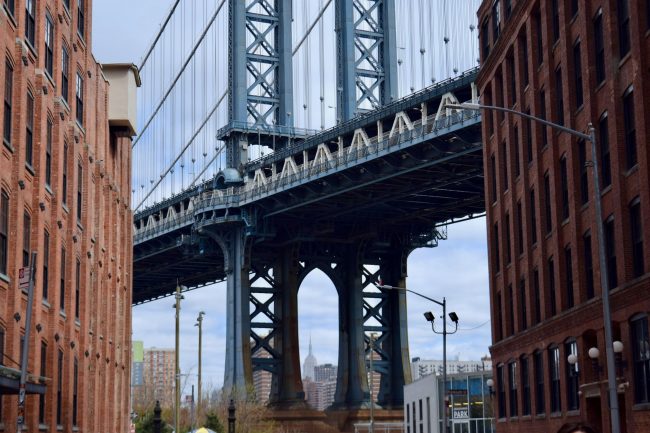 The Empire State Building peers through the clouds.
Photo Op at Washington and Front Street
If you're up for a little sightseeing, make your way to the intersection of Washington and Front Streets where tourists and photographers gather to take the quintessential shot of the Empire State Building framed by the structure of the Manhattan Bridge. If you're looking for a secret hideaway, just off to the side is Creatively Wild. The local art studio offers kids art classes in everything from fashion to claymation.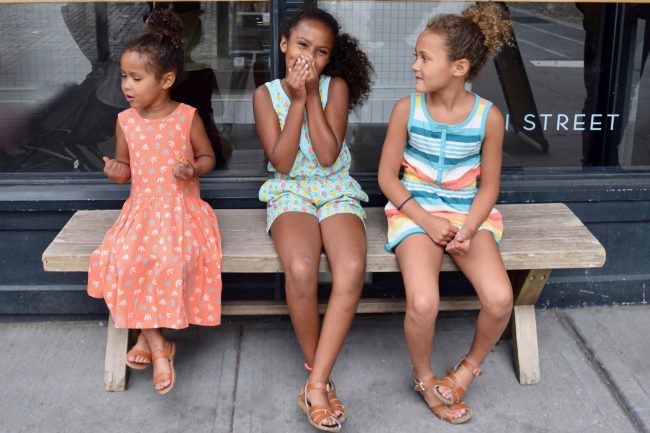 Ending the day on a sweet note.
Whether our day has been filled with ballet, or we're just making our way home from a playground playdate, I can usually count on the girls begging to stop for a treat. We often swing by One Girl Cookies where their 75 cent bite-size tea cookies won't break the bank, or the kids' dinner appetites. See also: whoopie pies.

Follow Naima and her jet-setting crew on their weekly adventures here.