Artist Crystal Worl, based in Juneau, Alaska, is a child of a Thunderbird and from the Chilkat region in Southeast Alaska.  From her mother's side, she is Deg Hit'an Athabascan from Fairbanks Alaska.  She is co-owner of Trickster Company with her brother, Rico Worl, which promotes innovative indigenous design focused on Northwest Coast art.  We were thrilled to partner with Crystal for several winter product collaborations including storytelling tees featuring her original artwork.  Read on for more of her story and the inspiration behind her work!
You were introduced at a young age to traditional arts, practices and storytelling from your parents' tribes.  Can you share more about these experiences as a child?
My family recognized and nurtured my interest in art.  My mother showed me how to bead, sew and encouraged my creativity. Every Saturday morning, I would watch my favorite cartoons.  And, I would also watch the artist Bob Ross on the public TV channel.  Because I loved watching Bob Ross, I would often get a Bob Ross painting kit.
I was raised with my Athabascan family in the Interior of Alaska during the winter months.  My mother has a big family so we were surrounded by aunts, uncles and cousins for family gatherings, potlatches, traditional dances or harvesting berries and/or salmon and meals.  Moose soup is my favorite!  My mother nurtured our interests in dance, gymnastics and art.
When summer came, we headed to Southeast Alaska to stay with my father's family and my Tlingit grandmother. Visiting with family and playing with cousins was the highlight.  Our Uncle would take us out on his boat to fish and harvest traditional foods like salmon, cockle clams, and gumboots.  We would also learn more about our clans, family history and traditions through storytelling and hearing and speaking Tlingit.  It was important to my grandmother that her grandchildren know their tribal identity and how to introduce themselves in a public event, especially when attending sacred ceremonies.
Looking back, I see how valuable my unstructured time with my brothers was in nurturing my creativity.  We have great memories of building intricate cities made of Legos that even included telephone poles with wires.
All my family supported me in different ways.  My dad's skills are finance and management.  He is teaching me about business and art.  He would get excited about my art and encourage me to create a business.  It helps when you have parents that tell you that you can do anything and everything is possible.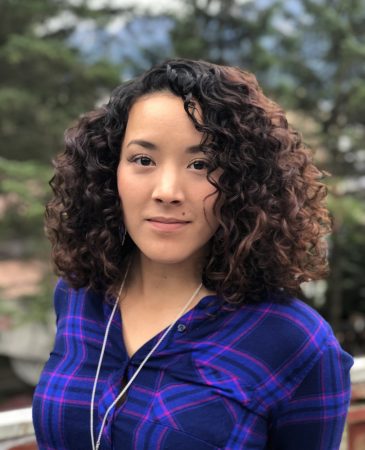 In our collaboration pieces this season, you highlight stories of animals: deer, raven, porpoise and polar bear.  How do these stories resonate with you personally?
Tlingit and Athabascan people have identified themselves as unified with the land and animals that gives them life.
Tlingit kinship is based on a clan system or extended family groups.  Tlingit clans are associated with specific animals, birds or fish.  Oral traditions and songs record the interaction between humans and animals and how clans obtained the right to use their images as crests on their ceremonial regalia or jewelry.
In Tlingit and Athabascan culture, we maintain both physical and spiritual relationships with the environment and animals.  Animals have given us life through feeding us, clothing us, and teaching us to co-exist with the environment.
The paintings with the Deer, Raven, Porpoise, and Polar Bear are used in the Tea Collection collaboration. I hope that when a viewer sees these paintings [see original works below] that they gain an insight into the relationship that I have to my culture and the connections we have with the land and animals.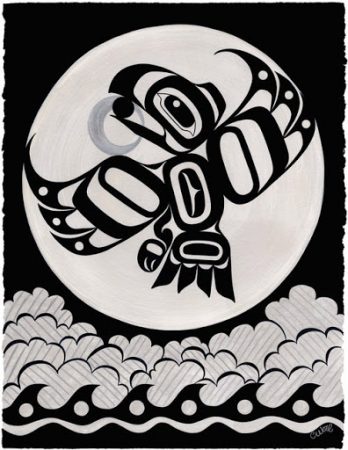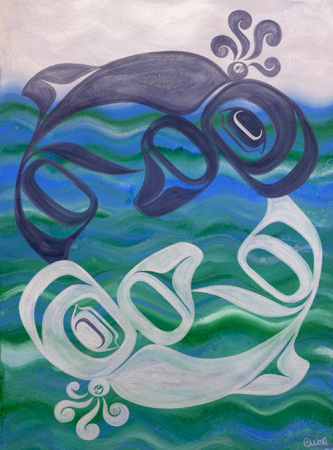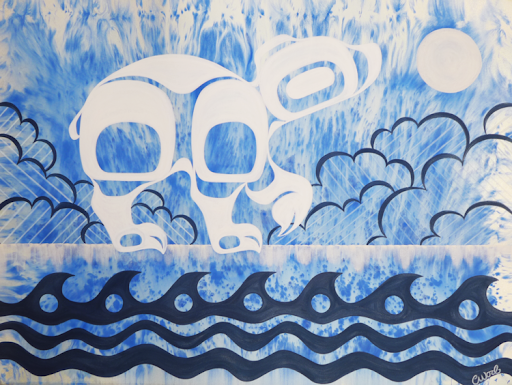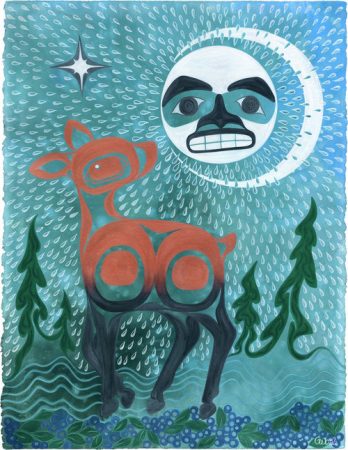 You work with many different types of media in your art.  What are some of the materials that you have been most interested in recently and why?
I have explored multiple mediums from jewelry, sewing, beading, glass-making and even film production and more.  My favorite is painting. Recently, I explored tanning fish skin for various uses.  I taught myself how to make resin molds for bangles and earrings.
Fishing is important subsistence activity for our family and I have participated in helping on the boat and processing the fish. I explored the use of using natural dyes, like berries, to dye my fish skins and my wood laser cut earrings.  I am following my heart and the heartbeat of my ancestors that tanned fish skin for everyday household objects like bowls and used berry juice to create color in their life.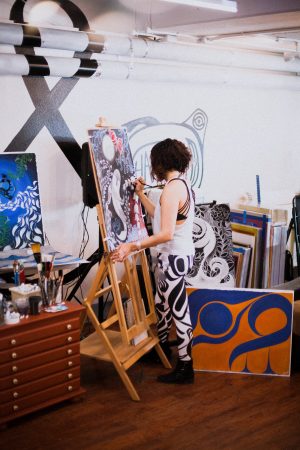 What are some of the themes and issues in Native culture that you are most interested in highlighting through your work?
Trickster Company was started by my brother quite by accident.  He was hand-painting skateboards for our cousins with Northwest Coast art formline.  Rico saw a way for youth to connect their culture through the use of  everyday objects such as skateboards, basketballs and playing cards.  Trickster Company was born to bring culture and pride into everyday experiences – our culture is alive and thriving today.  It is not just symbolized by relics in a museum.  It lives in our hearts, minds and daily activities.  We show our pride by wearing our clan crests and art every day.
Trickster Company is proud to partner with the Tea Collection to honor our ancestors, our culture and the beautiful gift of Northwest Coast Formline Art.