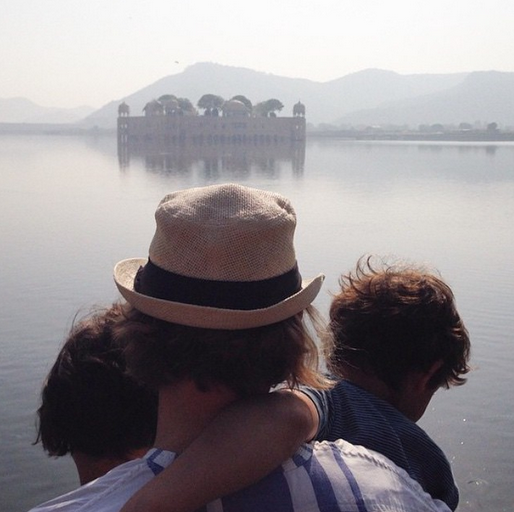 #MakingTheForeignFamiliar
At Tea, we have a mantra: "We Go There." And we mean it. Every six months, our designers literally go out into the world to discover the beauty that inspires each of our clothing collections. This year, for our India collection, we decided to embrace "going there" in a whole new way… with our children! For the first time ever, Emily and her family followed in the designers footsteps and traveled across the globe with her husband Hilton and two children, Clement, 6, and Georgia, 4 (and grandma too!). Throughout the month of May, Tea will be sharing Emily's journey with you. We will have many stories, new products, and lots of beautiful imagery (her experience was captured by Hideaki Hamada) and lots more! Here are just a few highlights from the trip…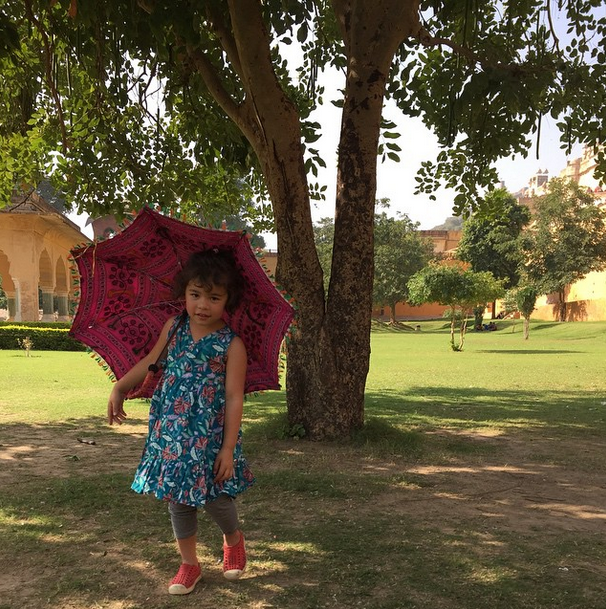 We spent three nights in the city of Jaipur – a city known for it's forts, museums and pink facades. During our time in there, we went to the Amer Fort, leisurely explored the city and even made a few trips to some of our designer's favorite shops. If you ever get a chance to spend time in Jaipur, don't miss these places!
RASA
S55 Ashok Marg, C Sheme (adj to Shehnaz Herbals).
Monday – Saturday: 10:00 AM to 7:30 PM
Sunday: 11:00 AM to 5:00 PM
Rasa, a prestigious Jaipur-based brand, specializes in contemporary hand block prints and prides itself in fine craftsmanship skills. The caftans and dresses are beautifully cut and the unique prints carefully fused on exquisite silk and silk-cotton fabrics. Ideal choice for the chic resort holidays. chic boutique features their home and fashion collections.
COTTONS
Hari Bhawan, Main Achrol House, Jacob Rd, Civil Lines
Monday – Saturday: 10:00 AM to 8:00 PM
Sunday: 11:00 AM to 5:00 PM
This is a popular local store where you can find lively, easy-to-wear clothes and pretty accessories. Underprivileged women earn livelihoods from making the fabric shopping bags. 
RIDHI SIDHI TEXTILES
9 East Govind Nagar, Amber Place Rd.
Monday – Sunday: 10:00 AM – 6:30 PM
A comfortable large showroom with almost anything you could want in terms of textiles including wonderful fabric garden umbrellas that can be shipped anywhere in the world. There is also a large range of vintage Bengali blankets and are very popular with buyers.
HOT PINK
Narain Niwas Palace Hotel, Kanota Bagh, Narain Singh Rd.
Monday – Sunday: 9:00 AM – 9:30 PM
Situated in the gardens of Narain Niwas, a palace dated back to the 30's, Hot Pink offers exclusively Indian manufactured accessories, ready-to-wear and home wear. The owners wish to introduce the visitors to the pink city, the modern and inventive art of contemporary India. Hot Pink is a space where the trendiest Indian brands are gathered; where chic and contemporary pieces are made with traditional Indian techniques. 
SATAYAM
Laxman Dwara, City Palace
Monday – Sunday: 9:30 AM – 6:30 PM
Jatin Sharma produces fine textiles and interesting clothing, reviving ancient methods and designs. He has a loyal following of European fashionistas who are drawn to the high quality hand-stitched garments made from organic cotton and high thread count khadi using natural dyes such as tea.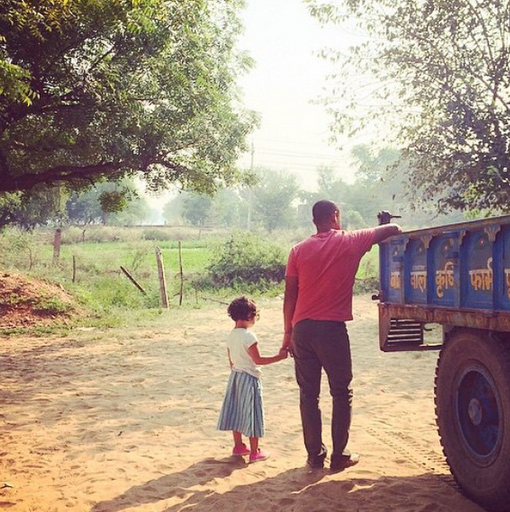 After our time in Jaipur, we traveled about 30 minutes west of the city to a hotel called The Farm. The Farm is home to Ritu, Surya and their son, 8 year old, Vihaan. When you are a guest at The Farm, you are treated like family. We enjoyed homemade meals around their open-air "living room". Many memories were made during our stay here and we can't wait to share these stories with you.
During our stay at The Farm, we ventured out to explore each day. Our first adventure, was a trip to the Anokhi Museum of Hand Printing. In the shadow of Jaipur's Amer Fort, lies the Anokhi Museum which houses a gorgeous collection of hand-printed textiles. We spent an afternoon exploring and crafting. Clement and Georgia escaped to a magical room on the roof of the building where they were able to try their hand at wood-blocking.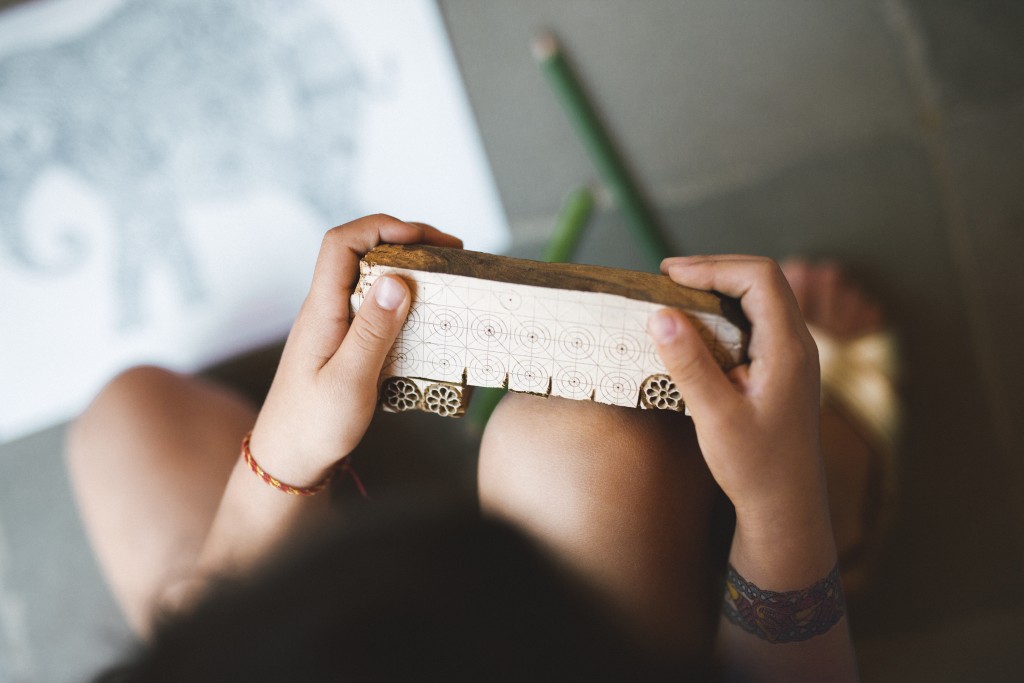 We did our research and talked to locals to find the best place to see (and paint!) elephants. We traveled from The Farm to the other side of the city to reach Dera Amer, which was an event on its own! The kids were enthralled with the hustle and bustle of the city streets. Painting the elephants was exhilarating – Clement was nervous at first, but Georgia jumped right in.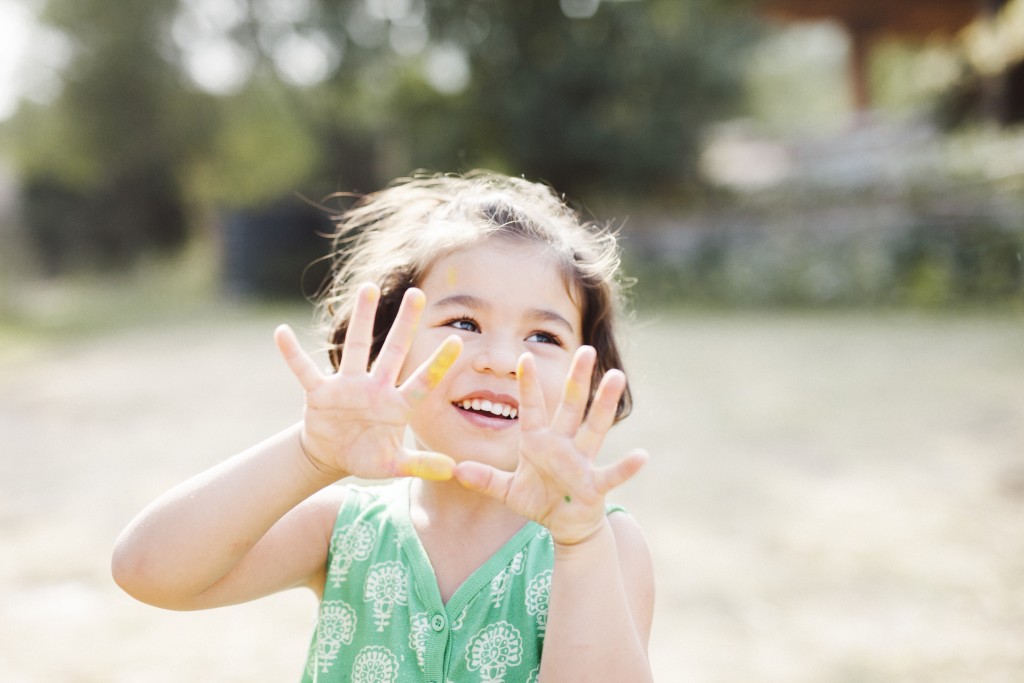 Make sure to check back throughout the month of May on both Studio T and TeaCollection.com for full stories, pictures and activities to try at home! And don't forget to share how you're #MakingTheForeignFamiliar in your own home!