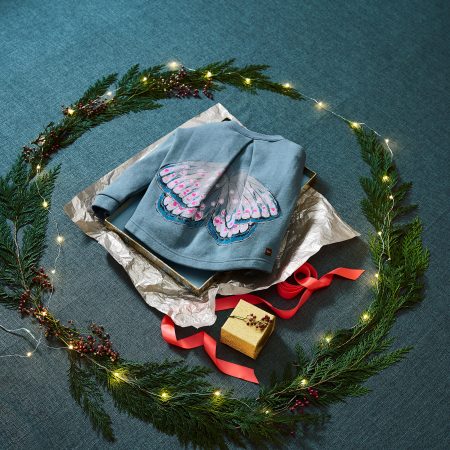 Our favorite time of year is here—the season of giving! To get you in the gifting spirit, we've handpicked the season's most unique styles to make your holiday shopping that much easier. Stop by the gift shop to find something special for every little citizen on your list.
:: GIRL ::
Zip Her Up in Style
A clever take on traditional winter wear, our Fox Face Zip Hoodie is the perfect present for your animal loving little citizen.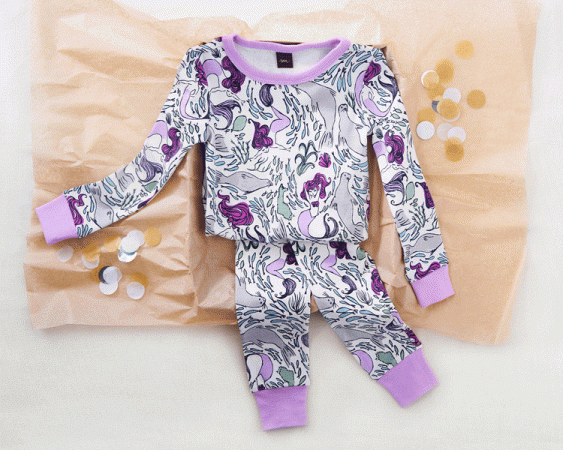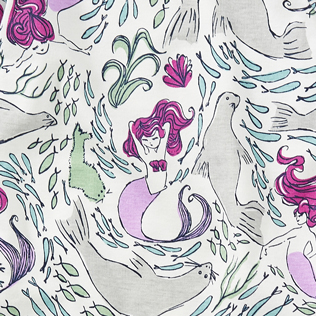 One-of-a-kind Pajamas
Designed in special collaboration with the textile design students of Heriot-Watt University, these stylish Morrough Pajamas are a modern take on the classic Scottish tale, 'The Mermaid Wife'.
Tees That Tell a Story
From shape-shifting kelpies to the mysteriously shy sea monster of Loch Ness, our Storytelling Tees make the perfect present for curious minds!
Gift our Selkie Graphic Tee
GIFTS UNDER $100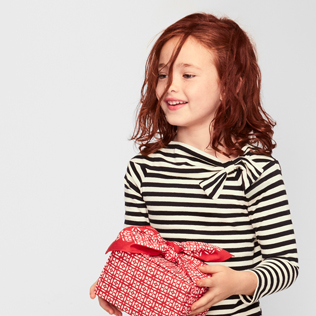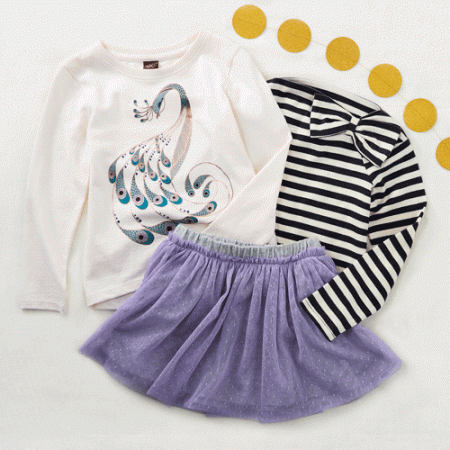 Picture Perfect Looks
A magnificent metallic peacock, a stylish shoulder bow and a twirling tulle skirt make for two stunning special occasion outfits.
Striped Bowtie Top
Peacock Graphic Tee
Tulle Twirl Skirt
Best Dressed, Everyday Style
A duo of darling dresses team up with our vibrant, color-coordinated leggings—it's the easiest way to outfit her for any occasion.
Gift the Look:
Snowdrop Button Neck Dress
Raindrops Skater Dress
Skinny Solid Leggings
Cozy Sibling Sweaters
A festive Fair Isle pattern, bold berry hue and warm, knit fabric make this the perfect winter weather cardigan. With matching versions for her brothers and sisters, you can throw a fabulous sweater party!
:: BOY ::
A howlingly great gift, your little man will be the leader of the pack in this winter-ready hoodie.
Merry Monsters
From wulvers (a gentle werewolf) to morools (a multi-eyed sea monster), Scottish mythology is filled with fascinating creatures. These fun pajamas gather them all in one place for a monsterrific mash!
Gift him a pair of  Monsterrific Pajamas
Legendary Graphics
Inspired by the fables and folklore of Scotland, our Stoorworm Graphic Tee + Gillie Dhu Graphic Tee tell fascinating stories of mythical monsters and mischievous fairies said to lurk the seas and forests.
GIFTS UNDER $100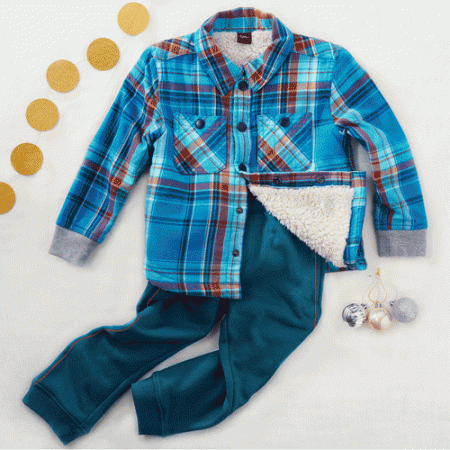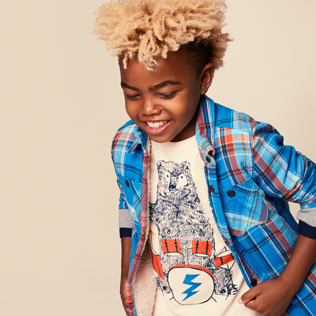 Rock His Winter Wardrobe
For a laid back, easy layered look, we're crazy about this one-of-a-kind graphic tee and cozy, cool flannel jacket combo.
Sherpa Lined Flannel Jacket
Backbeat Bear Graphic Tee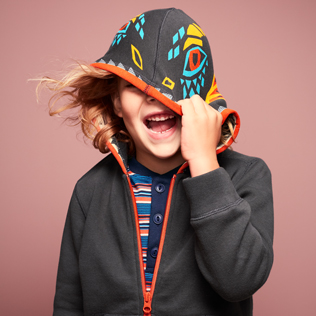 Everything he needs to stay warm this winter, our Dragonhead Zip Hoodie is packed with fun, surprise details! Just pull down the hood to reveal his fire breathing talent.
Love the whole look? For just $105, shop our Dragonhead Set.
:: BABY BOY ::
GIFTS UNDER $50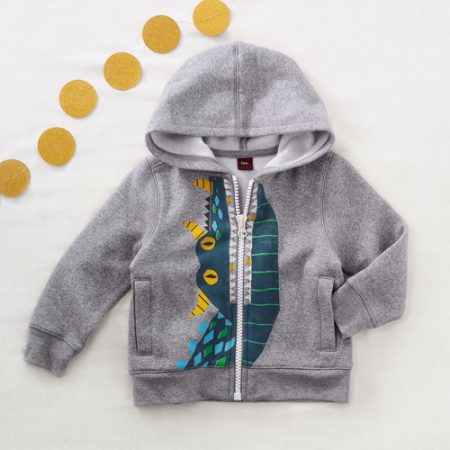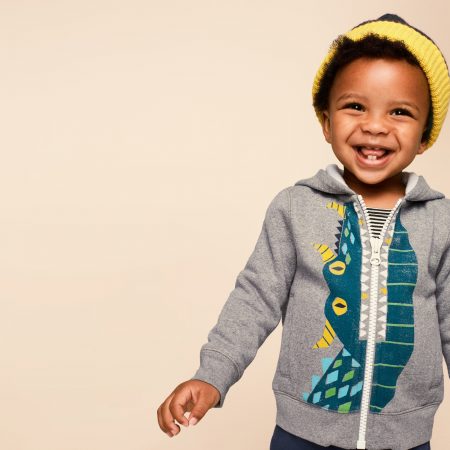 The perfect present for your dragon loving little, this wee Scots beastie may look ferocious, but it's really soft, sweet and completely unique.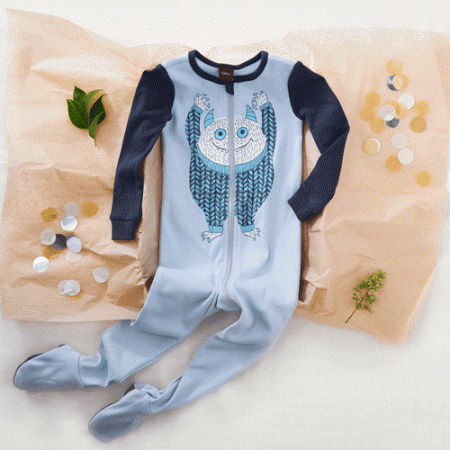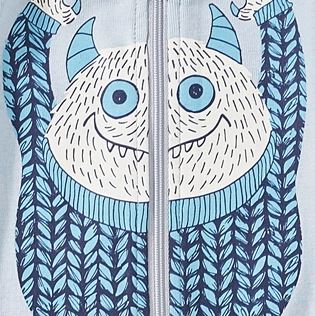 The cutest monster you'll ever meet! He'll
absolutely love our one-of-a-kind Uilebheist
(that's Scots Gaelic for monster) graphic.
Gifting Tip: Get any 2 sets for $65 and throw a pajama party!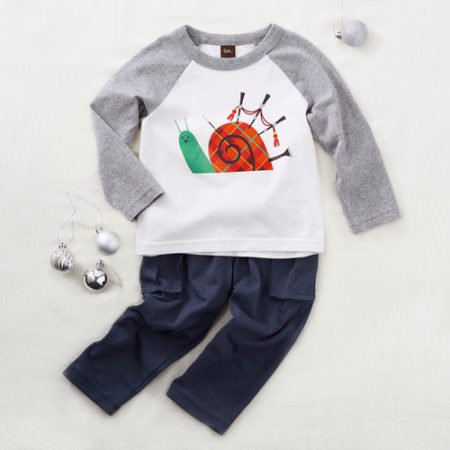 How about easy holiday outfitting?
Tea 2-piece outfits are the sweetest, and make getting them dressed a snap! We have dozens of mix-and-match outfits to choose from, like this adorable Puck's Glen set. Who doesn't love a kilt-wearing snail?
GIFTS UNDER $100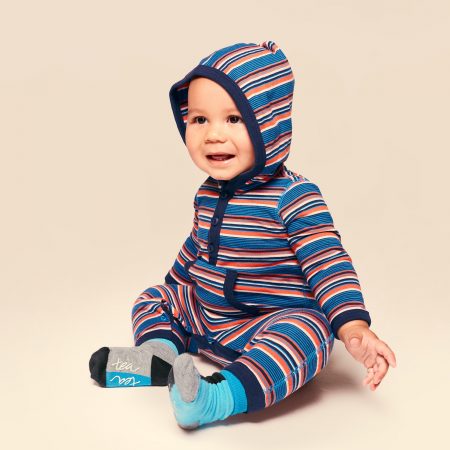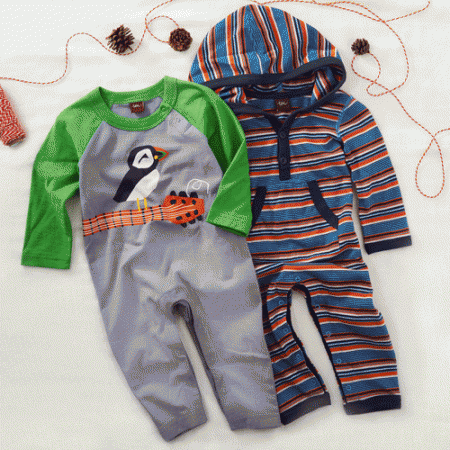 Loved by moms, dads and little ones alike, our snap-on, snap-off rompers are always a hit!
Our Ugie Hooded Romper + Puffin Rock Graphic Romper, make for a playful pair. Or, go big and gift the perfect trio with our Romp Around Set.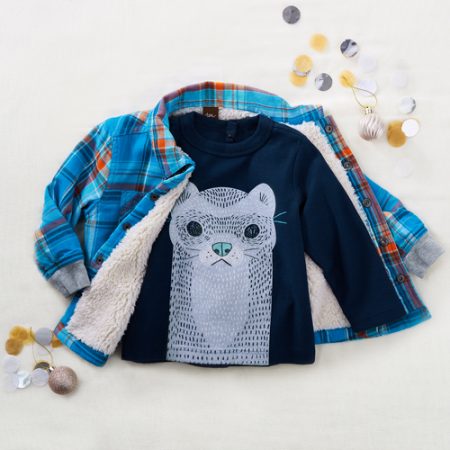 Otter-ly Adorable
A most precious look for your littlest
one, this customer favorite graphic goes
great with a cozy Sherpa-lined flannel
River Otter Graphic Tee
Sherpa-Lined Flannel Baby Jacket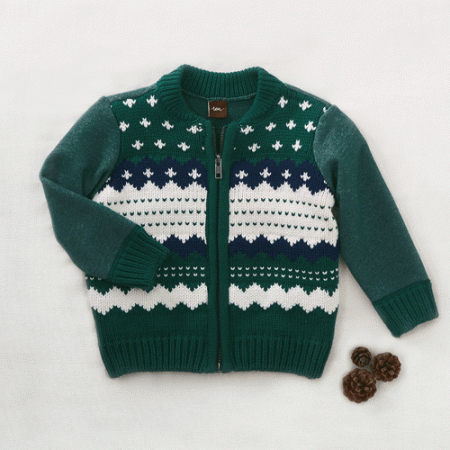 Heirloom quality. Timeless style. Give the gift of traditional Fair Isle with this extra warm, super soft sweater in a gorgeous shade of green!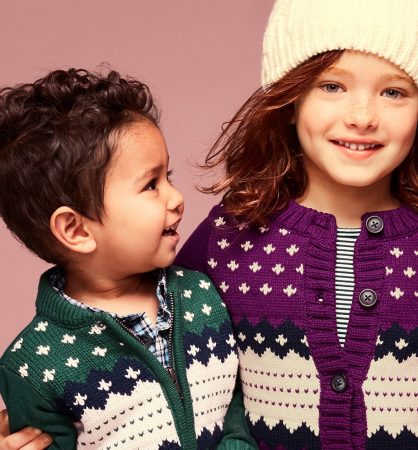 Gifting Tip: Deck the whole family in Scots-inspired sweaters! We've got matching styles for brothers and sisters, big and small!
:: BABY GIRL ::
GIFTS UNDER $50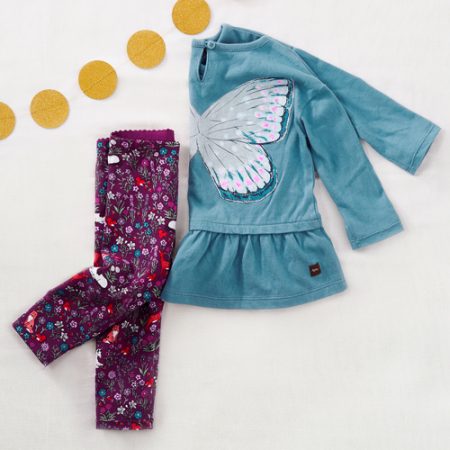 Whimsical butterfly wings and a pair of uniquely Tea printed leggings make for magically easy outfitting! It's sure to be her new go-to.
Give the Gift of Cozy
Just like Scotland's seaside cliffs, this easygoing PJ onesie is packed with playful puffins.
Shop our collection of cute and cozy critter sets and choose any two for just $65.
A whirling twirling gift for all the stylish little ladies on your list. Paired with our Owlish Cozy Baby Leggings, this Tulle Skirted Dress is sure to be a hoot at all her holiday occasions.
GIFTS UNDER $100
Inspired by a sweet Scottish tale about cat fairies, this darling duo of graphics pairs purrfectly with our made-to-last stripe leggings.
Plus, it looks great with our Snowdrop Reversible Pants and signature Fox Face Baby Zip Hoodie!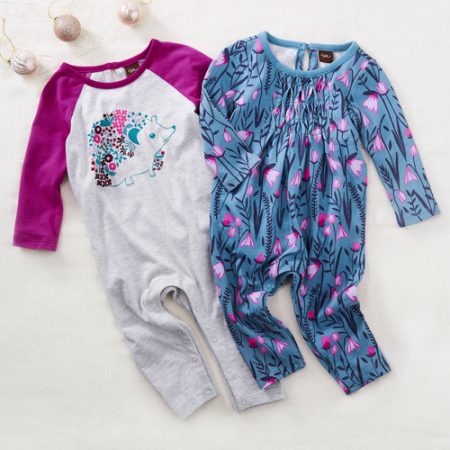 Easy, Dreamy Rompers
Our super soft, fuss-free rompers are the perfect cozy, easy wear outfit for your tiniest Tea pals. With beautiful designs and the cutest details, they're even fit for her dressier occasions!
Hedgehog Graphic Romper
Snowdrop Smocked Romper
Our classic Fair Isle pattern comes in a cozy sweater dress, perfect for your wee Tea gals.
Shop our traditional Fair Isle Sweater Dress