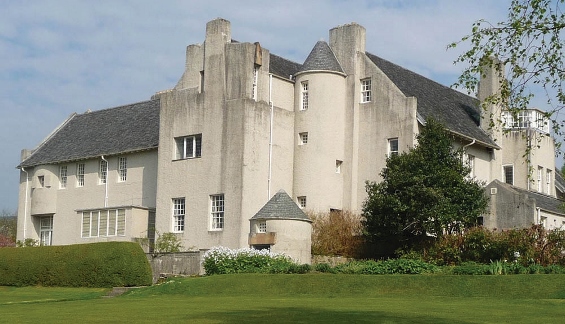 From magnificent fairytale castles to highly decorative home interiors, Scotland is an architecture enthusiast's dream. Ornate details are everywhere you look, with grand Art Nouveau flourishes gracing many of the country's historical structures and monuments. Our latest Tea prints celebrate the Art Nouveau spirit in lovely detail, and Kirstin Bridier of The National Trust for Scotland Foundation USA is here to share a behind-the scenes look at one of the movement's most iconic masterpieces.
As Executive Director of The National Trust for Scotland Foundation USA, I've had the chance to visit dozens of properties that are cared for by the National Trust for Scotland, from castles and cottages to museums and munros (that's a mountain of more than 3,000 feet for us Americans). Like any good parent, I know I'm not supposed to have a favorite – but I just can't help myself. Walking into Charles Rennie Mackintosh's The Hill House brings tears to my eyes every time. It's a fairytale (or architectural history textbook) come to life!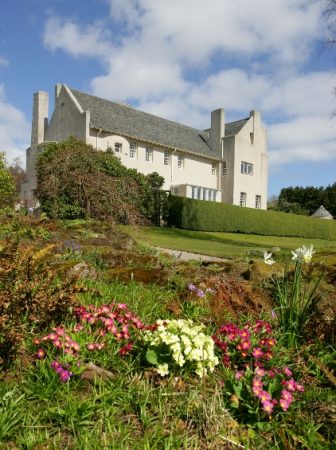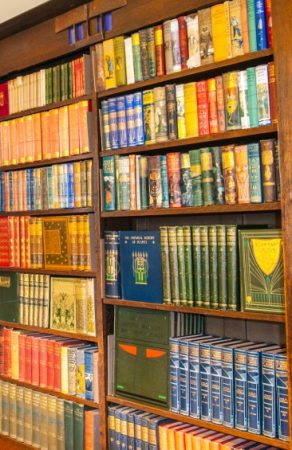 In 1902, publisher Walter Blackie commissioned Mackintosh (today, Scotland's most celebrated architect) to design a new home for his family. This was a perfect pairing of client and architect: Blackie's publishing company was known for their Art Nouveau editions of children's literature, and Mackintosh was pushing the boundaries of design with an innovative blend of Arts & Crafts, Art Nouveau, Scottish Baronial, and Japanese influences.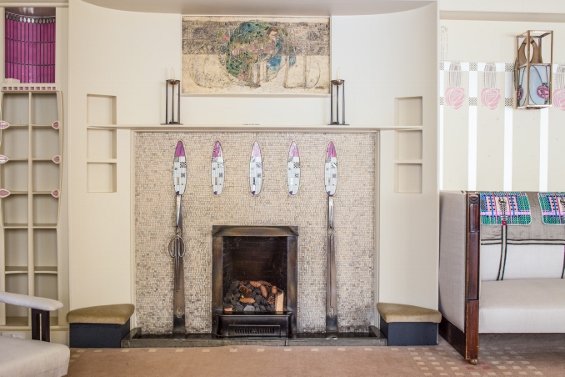 The Hill House, designed during Mackintosh's heyday, is the architect at his most inventive. He collaborated with his wife, the artist Margaret Macdonald, to fully integrate architecture, interiors, and decorative arts. As part of his design process, Mackintosh actually lived with the Blackie family in their previous home for a time in order to observe their lifestyle. (Talk about form following function!)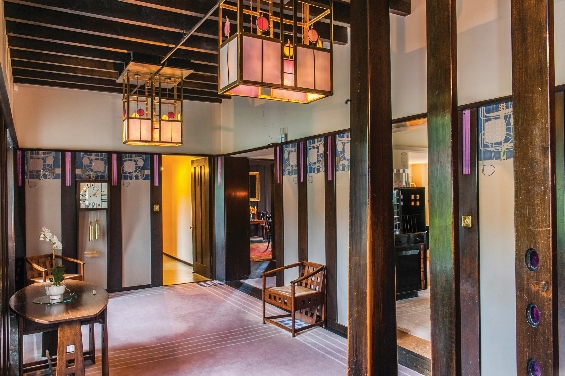 Friends visiting the five Blackie children (daughters Jean, Ruth, Alison, Agnes and son Walter) often remarked that their playmates must be living in a monastery. The interiors, with their careful ordering of color, objects, and space, must have seemed minimalist compared to the typical, overstuffed late Victorian aesthetic.
In fact, much of the house reminds me of the fairytale Sleeping Beauty. From the enchanted forest of the Entrance Hall—dark and mysterious with jeweled reflections from colored glass insets—to the rose-stenciled Drawing Room, with its magical gesso of a sleeping princess over the fireplace, you really feel like you are entering another world.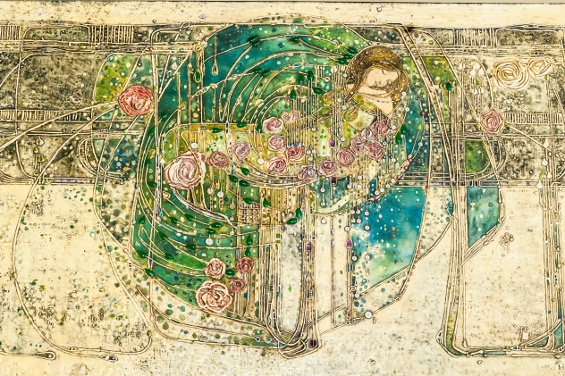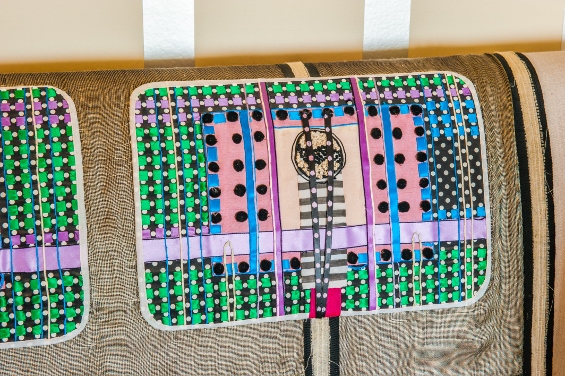 The sinuous gesso panel was Margaret's work, and one of the Blackie children, Agnes, later recalled her process: "Mrs. Mackintosh…used a piping bag, like you would if you were icing cake, and then stuck things onto the plaster. It was very beautiful. She seemed a big woman with a lot of red hair piled up under a hat with a pin through it." Macdonald also designed the exuberant textiles in the Drawing Room.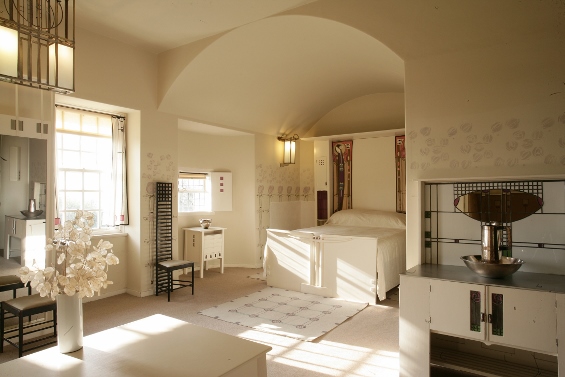 Mackintosh conceived of each room as a total work of art, and his furniture does not show its full beauty until placed in the exact spot for which it is designed. Nowhere is this more evident than in the Main Bedroom, where his classic black ladderback chairs form a trellis for the painted roses behind them. Languid women figure large in this room, too, with silk embroidered hangings by the bed that were known as the "Skinny Ladies" by the Blackie children.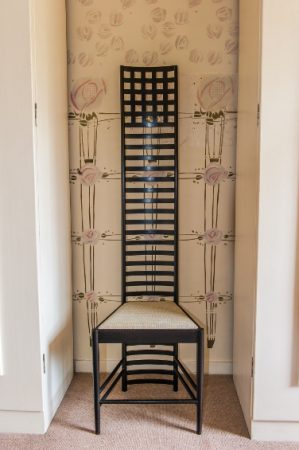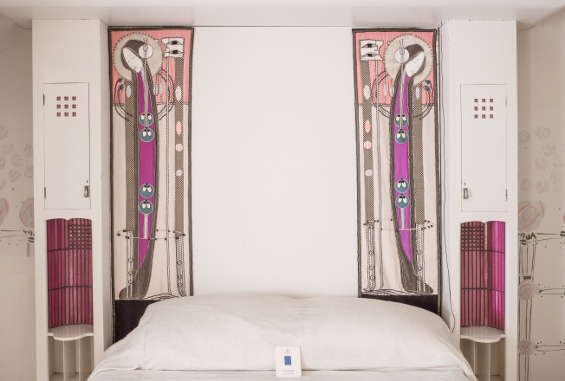 It's fun to imagine the house full of children, playing in the garden or practicing piano in the Drawing Room. In the upstairs hall, Mackintosh created a raised alcove with built-in seats that was used for sewing – but was also a perfect stage for putting on plays! The children's dress-up clothes were stored underneath the seat lids.
The Blackie family, who lived in the house for over fifty years, remembered, "We never thought of it as something special. It was just our home." But there's no doubt that Mackintosh was considering both his legacy and his client when designing the house. I've often noticed that the rose petals in the Drawing Room look distinctly like sailboats. I thought I was imagining things until I learned that the Blackies loved to sail on the Firth of Clyde, which is visible from that room. Coincidence?
Unfortunately, Mackintosh used an experimental material – Portland cement – on the exterior of The Hill House to capture the "abstract beauty" that he found in traditional Scottish castles. This very strong coating, combined with a lack of weathering details and an exposed hillside location in rainy western Scotland, have caused persistent and increasingly damaging water penetration for more than a century. Without immediate intervention, this internationally recognized masterpiece of early modern architecture and its interiors are at a risk of being lost forever. The National Trust for Scotland Foundation USA is proud to be working with our Scottish colleagues to save this treasure. An ambitious and innovative conservation plan will be announced in Spring 2018, to coordinate with the celebration of Mackintosh's 150th birthday.