Giving is at the core of our mission to be good global citizens. To us, that means supporting children who make a difference—whether it's helping a neighbor, volunteering, or making sure no one is left to sit alone at lunch. Last year, in an effort to celebrate little citizens who are stepping up to help make the world a better place, we donated $37,258 to five inspiring kids across the U.S. in support of their meaningful work.
We had the chance to catch up with our 2017 Inspiring Little Citizens finalists. Follow along to hear what they've been up to!

CASH
In an effort to help critically ill kids and their families get access to the medical services and support they need, Cash has been passionately collecting pop tabs to raise money for the Ronald McDonald House through his service project, Cash's Cans. He is now up to 4,940 pounds (a whopping 5,888,480 tabs!), and hopes to smash 5,000 pounds donated by summer's end!
As if that isn't impressive enough, Cash is also running a Top Five Wish List Drive for the Ronald McDonald House party. He is collecting five of their most needed items—fruit cups, plastic forks and spoons, heavy duty paper plates, juice boxes and K-Cups—which he plans to deliver with another load of tabs just before his 9th birthday at the end of August.
LILYANNE
Our budding artist, Lilyanne is as charitable as she is creative. To brighten the holiday season for the elderly in her community, Lilyanne created and hand-delivered 150 original paintings to local nursing and assisted living facilities in her hometown. She then used her donation from Tea to help make dreams come true for children living with life-threatening medical conditions through the Make-A-Wish foundation.
In the past year, Lilyanne graduated on to Kindergarten. While life as a Kindergartener hasn't left much time for painting, she, along with her Chihuahua, Toby, recently raised nearly $4,000 for the Asheville Humane Society, which helped to fund medical supplies, food and veterinary care for homeless animals currently living in the shelter.

BRIDGER
Living with a disability since birth, Bridger's day-to-day life has been limiting since day one. Though he can't talk, walk, nor see further that 5-6 feet away, his constant smile reminds everyone he meets that physical limitations don't define the course of one's happiness.
Last year, in an effort to help Bridger enjoy as much of a 'normal' childhood as possible, his family used their Inspiring Little Citizens contributions to install adaptive swings throughout their community's public parks, district preschools and elementary schools.
Since then, they have received countless videos and pictures from other families in the community who are benefiting from the joy of having these inclusive swing sets at their disposal. The school aides who help with the special needs children in the local schools have expressed endless gratitude, saying what a difference they make at recess. The local newspaper even ran a special front page article debuting the swing sets and bringing awareness to their meaningful benefits for children who otherwise can't easily take part in playtime.
Bridger, our little superhero, will ring in his 5th birthday on July 20th. This year he'll be celebrating with high fives—an impressive new skill he picked up over the past year. High five to 5, Bridger!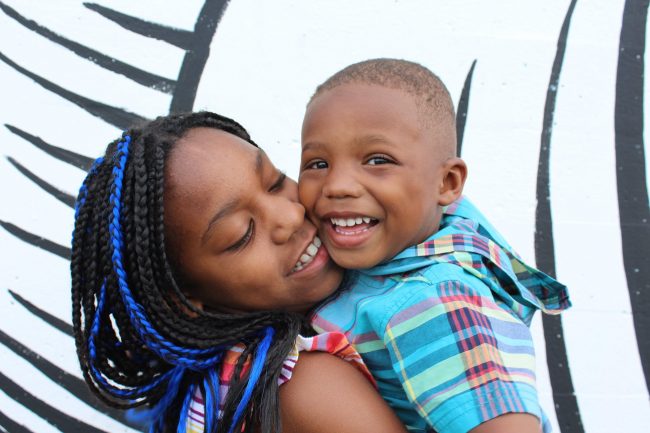 SAVANNAH
A bright spirit with a big smile and an even bigger heart, Savannah has set out to help foster children find their forever homes. Once a foster child herself, she believes "all foster kids should get a say in where they end up and where they feel safe". Last year, she went the extra mile to turn that dream into a reality. Using her Inspiring Little Citizens contribution, she donated to her local Court Appointed Special Advocates (CASA) organization, which provides volunteer advocates to children in the foster care system to help ensure their voices are heard in court.
Since then, she reunited with her biological brother, Paul, and, in January, welcomed him into her family. Her parents hope to finalize his adoption later this year!
Also on her list of highlights, this sweet little activist walked proudly alongside her family and thousands of others in the Sacramento Women's March this past spring. She also took to the pavement in competitive fashion, joining her school's track team.
LILLIAN
An accomplished baker and lemonade-maker extraordinaire, Lillian uses her talents for greater good, selling her delicious treats to support No Kid Hungry, an organization dedicated to ending child hunger in America. Last year, she used her Inspiring Little Citizens donation to provide over 10,000 meals to children in need. In the fall, she received the President Volunteer's Service Award in recognition of her efforts.
A devoted philanthropist, she continues to support her community, volunteering in the food pantry at her local church and through opportunities with her Brownie troop.

Do you know an inspiring kiddo? We're on the search for our 2018 Inspiring Little Citizens! July 15th through July 22nd, nominate inspiring kids in your community for a chance to win up to a $7,500 donation toward their cause of choice.