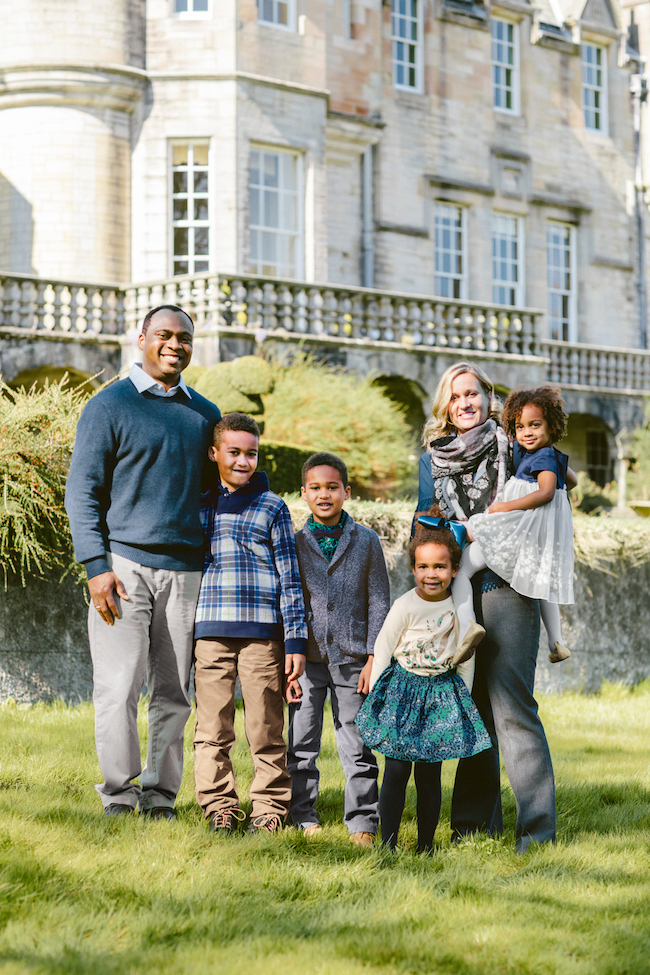 The Kio family has been outfitting its little citizens in Tea for years. So we were thrilled to have them join us on our Scottish adventures. It was an incredible journey, and the whole Kio clan immersed itself in the culture, customs and fables of this charming country.
Ebenezer (Eben), Jill and their four children—Benjamin (8), Elijah (7), Anna (5) and Naomi (3)—traveled to Edinburgh with Tea for adventure, exploration and a bit of a photo shoot as well.
Jill watches fondly as her children lose themselves in the lush green magic of a sprawling Scottish estate.
"They live life with gusto, all four of them," she says. "It's a pretty emotional experience to be here with Tea, watching my kids have such amazing experiences."
A longtime Tea customer, Jill feels a deep personal connection to our mission of global inspiration. She's originally from rural Ohio, and Eben is from West Africa. They met and fell in love in Charleston, South Carolina, where Jill was pursuing her master's degree in nursing and Eben was a physician at the Medical University of South Carolina.
"We both love traveling and learning about different countries and getting to know people from different places," Jill says. "We're working to instill that same appreciation and desire to learn—and not to fear—in our children."
All four kids are bright and outgoing and curious about every new discovery. Anna is convinced that Cinderella lives in the gatehouse tower at the edge of the Glen House, a centuries-old estate that hosted our photoshoot.
Little Naomi, the youngest of the four, is just as intrepid as her siblings, throwing her whole tiny self into dance lessons from a local troupe of Highland dancers.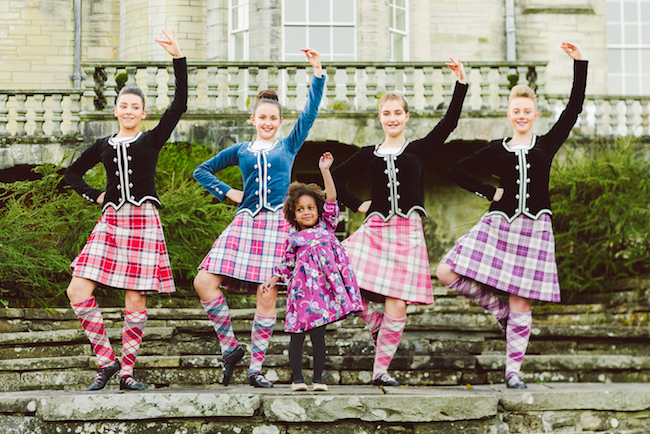 "Make fists like this and put them on your hips," instructs one of the dancers, and the four children immediately comply, four foreheads furrowed in concentration.Anna stoops down to adjust the position of Naomi's right foot—an adjustment that lasts for just second or two before Naomi gets distracted. "Oh look, a bug!" she exclaims.
The kids also enjoy a visit from James MacDonald Reid, a bagpiper and folklorist decked out in a traditional green tartan kilt, who regales the children with tales from his hometown shire of Argyll. The girls have endless questions about his stories ("Is there really such a thing as a horse with hooves on backwards?" Anna questions skeptically), but the boys are fascinated by his bagpipes.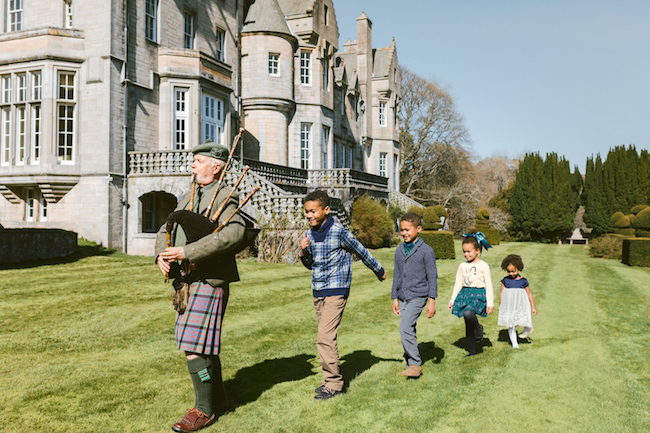 "Woah," Benjamin gasps when he first hears the haunting drone of the pipes as James plays a rollicking reel. "Can I try that?"
Both boys give the pipes their best attempts, blowing until their cheeks stand out in perfect circles, although those attempts sound a bit more like the bellows of a sad cow than anything musical. "It just takes practice," James encourages.
Later that evening Jill shares that James' bagpipes have made a big impression on Benjamin. "All the kids have chosen a Scottish souvenir, but Benjamin has held out the whole week," she says. "Today he said, 'Mom, mom! I know what I want! Can we please, please get a small bagpipe?'"
It seems that it's not just the stories of Scotland—both personal and fanciful—that will return to Indiana with the Kio family. It's the music of Scotland, as well. Or at least the beginnings of music—and a small set of Benjamin-sized bagpipes.
Tea Collection – Winter '17 from tea collection on Vimeo