With the holiday season in full swing, we know many of you might be looking forward to spending a day at home. No need to get out of your pajamas. Take a day to relax and reconnect with your family! Here are some fun indoor activities you can enjoy that don't involve a TV!
Musical Instruments That Won't Give You A Headache
Homemade instruments don't have to involve pots and pans and a lot of noise! Make these easy and soothing shakers and let you kids put on a show! Have them help you make put them together and teach them how to shake to a song!
What You Need:
– Tin cans, cleaned and the labels taken off
-Balloons with the end cut off
-Rubber Bands
 -Rice or beans
Instructions: Find some empty tin cans in your recycling and clean them out thoroughly. Fill them 1/3 of the way with rice or beans. Cut a balloon so that you can fit it tightly over the tin can. Place it on the can and secure it tightly with a rubber band. Put on a song or sing a well known tune and let them take the stage!
Make the Fort You Always Wanted As A Kid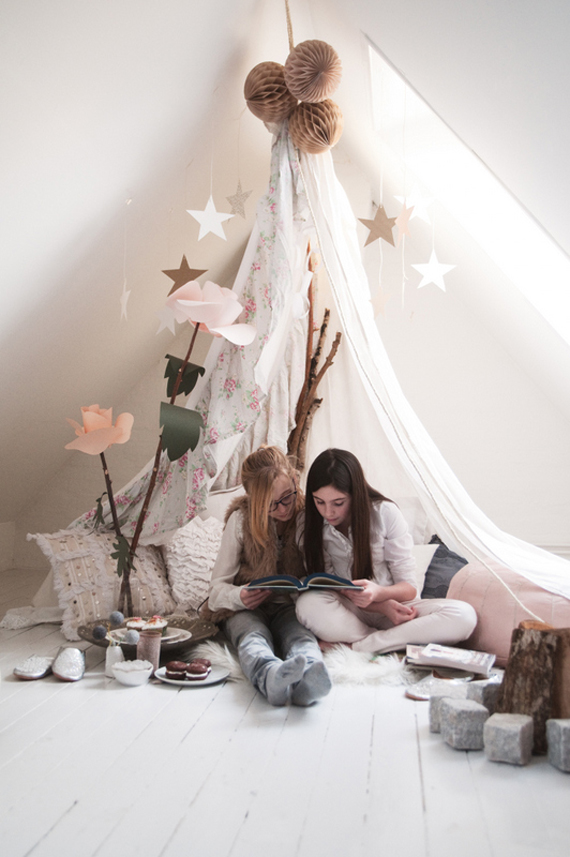 Every little kid dreams of having a fort to hide their treasures in, play pretend or just a place to sit down and read some books. While there are many amazing options out there, no need to make it complicated!  Here is a step by step guide to creating a simple but cozy indoor hideaway!
What You Need:
2 eye hook nails
4 ft piece of rope or strong string
Sheet
Instructions: Decide where you want your fort to be. Measure 4 feet and make marks in the ceiling at each end. Install one eye hook nail on each mark. Cut a 4 foot piece of rope and tie it to each hook. Hang the sheet over it to create the tent shape. Add pillows and blankets to make it cozy!
Mix Colors and the ABC's In A Color Hunt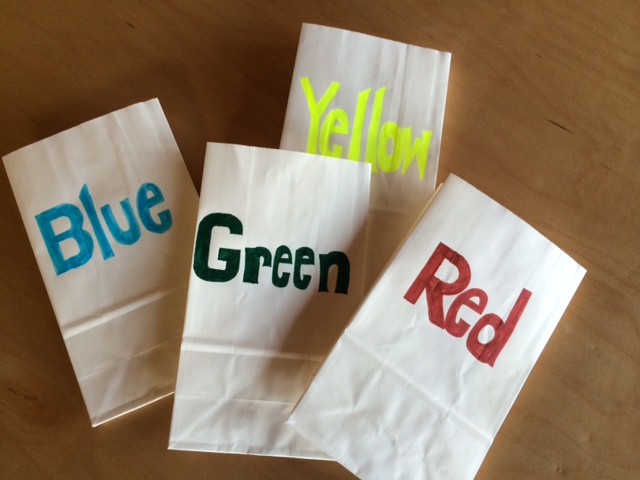 Here is a great way to mix in a little education into a fun scavenger hunt activity. All you need are a few household items to set it up and away they go!
What You Need:
Instructions: Take paper lunch bags and write colors on them with a colored marker. Make a bag for each color (Red, Blue, Green, Yellow, Orange etc). Have you little ones sit while you explain that they are going on a color hunt! Have them look all over the house or their rooms for small items to put in the bag – yellow items to place in the yellow bag, then blue and so forth. Once the bags are filled with small items you can all go through what they found!
Host a Tea Party
Want an activity that requires little planning but will get your little citizen's imagination flowing? Throw a tea party and invite teddy bears, dolls, stuffed animals and friends. You can even incorporate a picnic lunch with mini sandwiches and fruit!
What You Need:
Play tea set (if you have one) or plastic cups and plates
Paper and Crayons
A small table or blanket
Stuffed Animals as "guests"
Instructions: Fold a sheet of paper in half and let you kids make invitations for the tea party. While they are doing this, set up a blanket or small table with cups and plates. Add in any decorations you find around the house. If you are having lunch at the tea party, cut sandwiches into little squares. You can use milk, water or any substitute for the tea. Gather any guests they have invited and start the party!