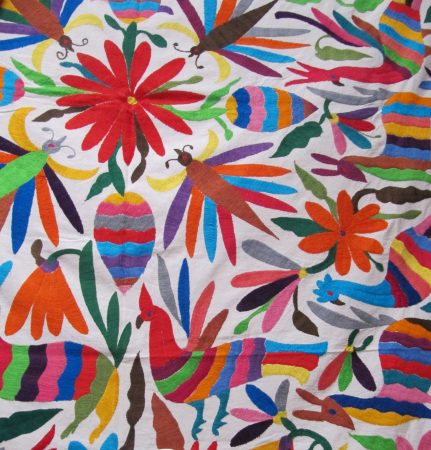 The Southwest is alive with the vibrant folk art motifs that are so characteristic of indigenous artwork found all over Mexico. Developed by the native Otomi people in the small, plateau town of Tenango, are some of the most fantastic embroidered textiles we've ever set eyes on. Drawing inspiration from bold colors, animals, and floral prints, the time-honored tradition of Otomi embroidery is hinted at in a handful of our summer styles.
Dancing with magical, multi-colored shapes and figures, local legend has it that the decorative, repeated elements featured throughout Otomi designs were inspired by ancient limestone cave drawings. Using a pencil, Otomi women hand trace these designs onto white cotton fabric and then use a special satin stitch to "shade" them in and add dimension.
We loved the beautiful flowing shapes used to describe animals and the bright strips of alternating color created by rows of stitching. The perfect balance of negative space coupled with a mix of lively hues, creates a strikingly graphic look. To add a touch of modern, our designers sprinkled in fun pops of neon when designing our Otomi Bird Graphic Tee.
Using a similar artistic approach, we created a Dinosaur Graphic Tee for boy. Taking a bit more of an abstract interpretation of the the Otomi embroidery aesthetic, we decided to update the graphic by using geometric shapes, and chose to depict a dinosaur in place of some of the more traditional Otomi subjects. After all, the American Southwest is home to some of the most well-known dinosaur fossils.