Long-time Tea friend and Foreign Correspondent, Sumiya Khan, recently returned from Malaysia with her two children where they spent a week exploring and visiting with dear friends. Having lost her husband to cancer just over a year ago, she shares her eat, pray, love journey as a newly single parent.
Exactly a year after our last international trip to Australia, my husband of 18 years passed away in October 2017 after fighting cancer for six months. Still devastated and reeling from the loss, I decided to take my 2 children (ages 8 and 11) to visit dear friends in Malaysia in March as a means to heal, find comfort and solace, to explore and experience a place beyond ourselves, and to create some new positive and joyful memories while we navigate a new life as a family of three.
I knew traveling overseas as a single parent for the first time would be hard, but my children were excited and looking forward to new adventures, and it warmed my heart that I am able to give them this after the tragedy we've experienced. Yet, sitting in the airport, packed and ready to go, we couldn't help but cry together as the absence of my husband and their father was clearly and physically felt.
Day 1 – Kuala Lumpur. Seeing my childhood friend at the KL Arrivals was a bit like coming home. I literally felt my burdens lifting as we embraced, letting go of the past 9 months and letting her take over. We settled in, grabbed some lunch where the locals frequent and headed to Masjid Wilayah. Opened in 2000, this mosque's design is a blend of Ottoman and Malay architectural styles. Even the kids felt the peace as we wandered the courtyards and prayed in light expanse.
Day 2 – Kuala Lumpur.
We started the day with a traditional breakfast of Nasi Goreng.
Following breakfast, we attended a batik art workshop, then explored KL City Gallery and Central Market.
It was a welcome distraction and day of exploring and shopping, with great food in between. Of course, I kept thinking about all the food my husband would have loved, or how he and my son would have been catching Pokémon in between sights, or how he would have taken the kids to explore while my friend and I shopped in peace. Despite the distractions, he's always on my mind.
Days 3-4 – Langkawi. We left KL and took a 45-minute plane ride to the tropical island of Langkawi on Malaysia's west coast. It was the first time I felt the difference between a "trip" and a "vacation." Island Time is real, and it's amazing how much we did in a short time without feeling rushed.
Besides enjoying the beach resort, we booked an island hopping tour which included Pregnant Woman Island (there's an eco-park there with lots of monkey encounters), wild eagle feeding, and relaxing on an empty beach with the clearest waters. While we enjoyed the water, some monkeys rummaged through our bags and took off with our snacks!
We spent the afternoon exploring the small island town, and finished off with satay on the beach and a breathtaking sunset. Slowing down also means remembering—the good and the bad, the love and the loss.
Day 5 – Langkawi. We took a cable up Machinchang Mountain to see breathtaking panoramic views of Langkawi and surrounding islands. At the Top Station, we crossed the Langkawi Sky Bridge, a curved walkway intended to maximize the viewing experience, providing shifting perspective as you walk along the bridge. The kids loved every minute in Langkawi and couldn't stop raving about their experience.
Day 6 – Kuala Lampur. We visited the Kuala Gandah Elephant Sanctuary, and had amazing encounters with rescued elephants. My friend knew one of the keepers, who gave us an up-close experience feeding, bathing and caring for the younger elephants. My less than thrilled son was given the task of scooping up elephant dung, while my daughter and I were able to bathe an elephant in the river!
Later that evening, we stopped at Tuanku Mizan Zainal Abidin Mosque, or Iron Mosque, in Putrajaya—a beautiful open-aired space of solace surrounded by a reflective infinity pool. The architecture was so stunningly unique, I have never seen anything like it in all my travels. One couldn't help but feel the serenity and peace as we reflected about our past, admired the beauty, and listened to the soul-filling recitations. That night was also the first time during the trip where my son expressed missing his father and my heart broke all over again.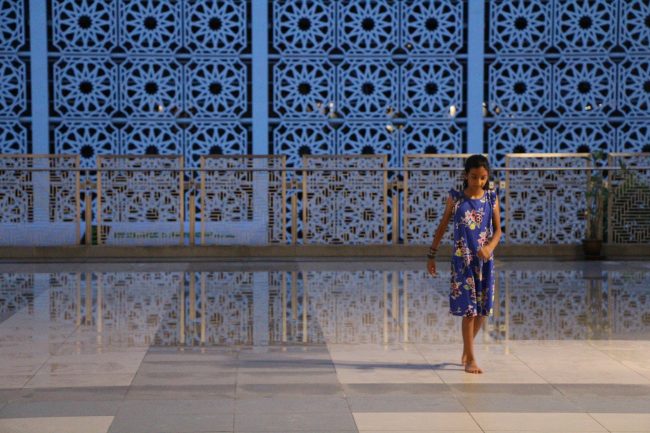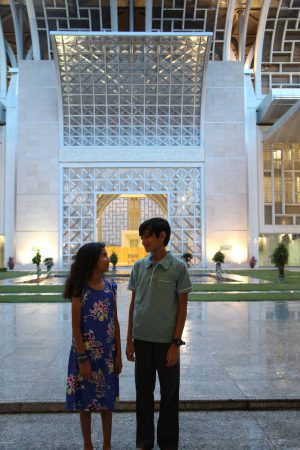 Day 7 – Did a little shopping in the Masjid India neighborhood of KL, then headed to Masjid Negara, The National Mosque of Malaysia.
We appreciated the striking architecture with the umbrella-like dome, and had a calligrapher beautifully script the kids' names in Arabic.
From there, we walked over to the Islamic Arts Museum Malaysia, a stunning space in itself, and which holds a beautifully and extensive curated collection of Islamic Art from across the world. We explored and learned a tremendous amount from the natural light filled exhibits on healing traditions, architecture, ceramics, wood-work, jewelry, textiles and manuscripts.
That night, we traveled an hour outside of KL to the Kuala Selangor Firefly Park. Here, we took a boat ride along the river flanked with firefly lit trees. It was awe-inspiring to see this natural phenomenon of firefly colonies lighting up the trees like Christmas lights, though it was impossible to capture the splendor by camera.
Day 8 – Malacca. Our last day in Malaysia was spent in Malacca, a 2 hour drive from KL. A port city, Malacca is a UNESCO World Heritage Site that has a blend of Portuguese, Dutch and Baba-Nyonya or Peranakan influence.
We visited the Baba-Nyonya Heritage Museum, a collection of beautifully restored houses resembling a conventional 19th-century Baba-Nyonya residence and showcasing the lifestyle of the descendants of Chinese immigrants. We then explored the famous Jonker Street and took a break at the 18th century Kampung Kling Mosque, which has an architectural design that is a cross between Sumatran, Chinese, Hindu, and the Malacca Malay.
We tried spicy laksa and sipped fresh watermelon juice from the melon itself. Malacca is also known for its street art and murals, which we enjoyed viewing while relaxing on a river cruise through town.
We ended the day trip with a sunset visit to Masjid Selat, which is perched on the shore of Strait of Melaka. From the shoreline, we watched the sun descend behind the mosque, while the melodious Muslim call to prayer carried over the water. It was the perfect ending to our trip.
This was a bittersweet, but memorable, trip that my kids and I needed—to heal, to pray, to experience awe, to appreciate beauty, to be inspired, to grow, to love, to experience joy again, and to process our new life.