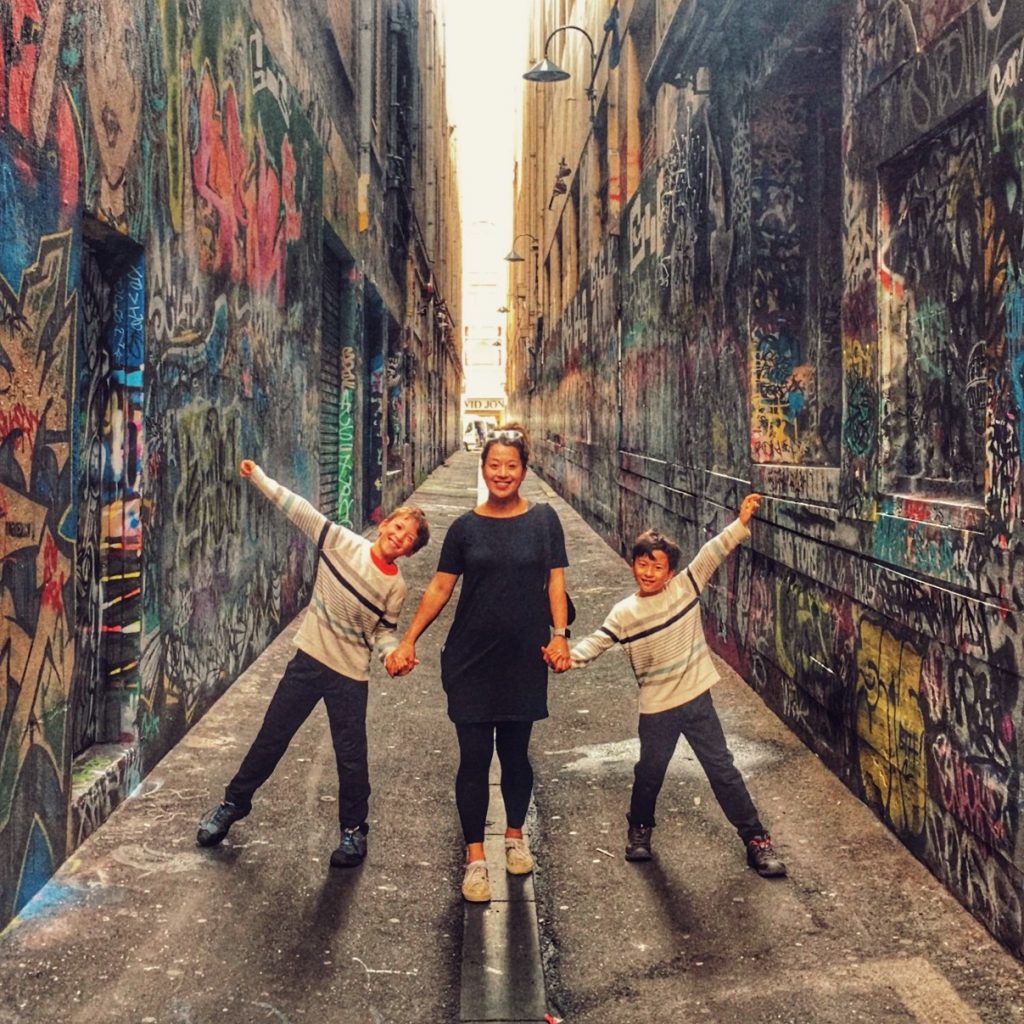 Tea friend and Foreign Correspondent Terumi Pong, of An Emerald City Life, spent 6 weeks traveling through Australia with her husband and two littles. Follow along as she shares adventures from her family's dream trip on Studio Tea. 
When is the last time you accomplished something you dreamed about for years?  My husband and I have been talking about visiting Australia for almost as long as we've known each other. We knew we would visit Perth, a city on the west coast of Australia where he spent a year in college for school. Rottnest Island near Perth is home to a uniquely Australian animal called a quokka, so we knew we would try to visit this island as well. There are actually many animals that are only found in Australia and I dreamed of spotting kangaroos, fairy penguins and koalas in the wild, so we added Melbourne and the Great Ocean Road to our growing list of must-sees for our Australian Dream Trip.
The longer we waited to go, the more desperately we wanted to visit and everything about this far off place became exponentially more magical year by year.  But every year something came up – the flight seemed too far; the trip seemed too expensive; work got too busy – there was always some reason that we couldn't go.  Finally this spring, after nearly 20 years of dreaming, my husband and I jumped on an opportunity to make the trek from Seattle to Australia, and along with us came our two 8-year-old boys.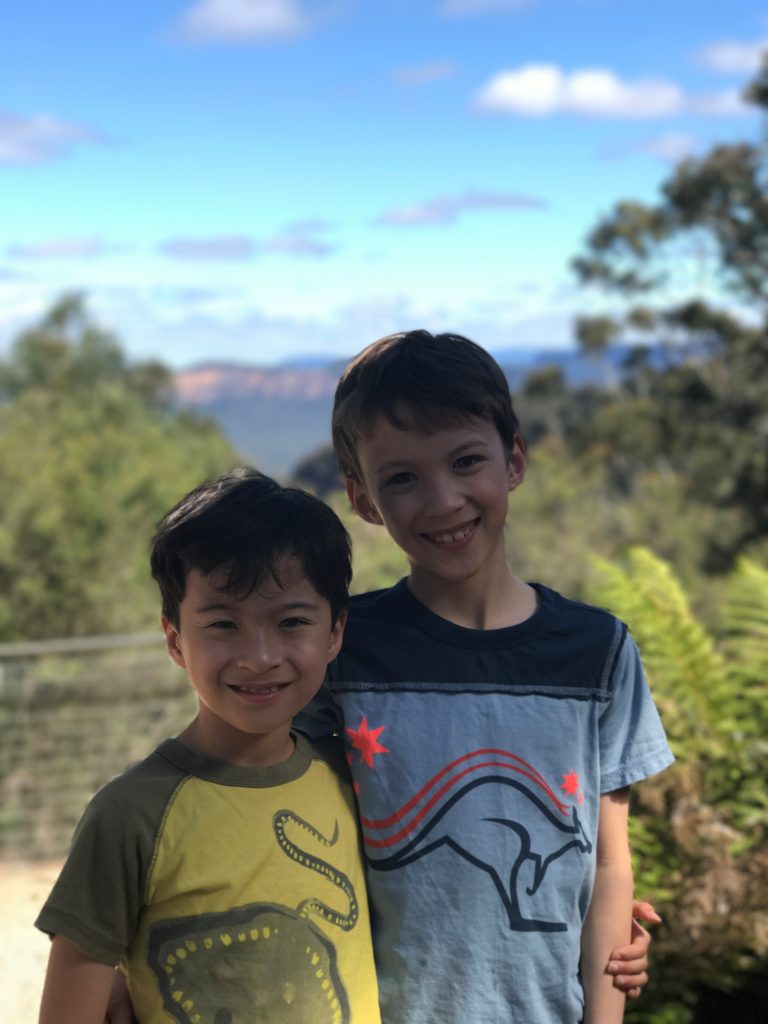 One really cool thing about bringing our kids along on a trip is that they have their own ideas of what they want to see.  My guys had read about 'The Outback' and really wanted to visit Uluru, a giant red rock in the middle of Australia.  I don't think I would have put this site on our original itinerary, but because our kids felt so strongly about seeing it we added it to our research.  Visiting Uluru ended up being one of our favorite stops on our trip because there were so many fantastic outdoor and cultural activities in this area. We also really enjoyed biking on the arid terrain, and our family ride around Uluru will be a cherished memory for a long time.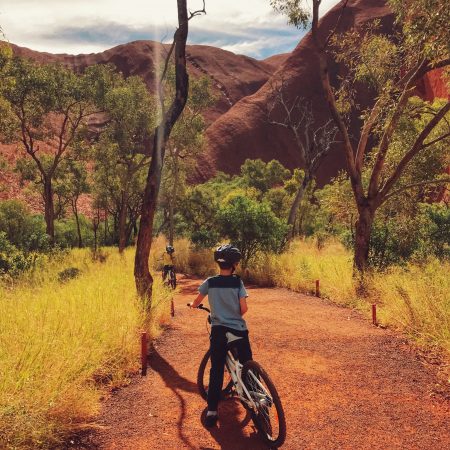 Our kids love playgrounds and I hope they don't outgrow them anytime soon.  We found an incredible playground in the New Farm area of Brisbane that was built around a giant vine-filled tree.  We also loved a playground in the Botanical Gardens in Perth where my kids got to play with my husband's college friends' kids.  There were so many gardens and parks in ever city that we visited and many of them had playgrounds geared for older kids – it was refreshing to see that older kids here are encouraged to climb and play.
We also stayed in a couple of cool Holiday Parks – these are popular places for families to stay in Australia, with accommodations ranging from tents to luxurious multi-room cabins. My kids loved the ones we stayed at because they had fabulous water parks, swimming pools and jumping pillows – these places were designed with kids in mind. I loved that when we went for a hike near our Holiday Park in Emerald Beach on the East Coast of Australia, we saw a hill teeming with kangaroos basking in the evening sun.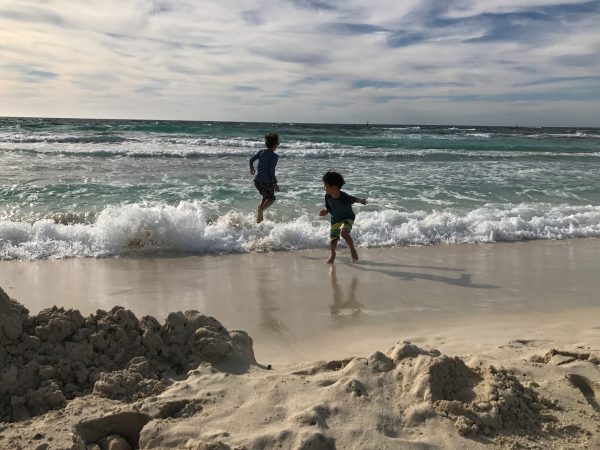 Australia also has so many fantastic beaches.  We spent time at ones we read about, like Bondi Beach and Surfer's Paradise, but we visited many more with names we won't ever be able to remember.  Thankfully we'll have precious memories of building sand castles and running from waves.  And there is something about watching the sun set over the water that brings such a profound feeling of calm at the end of the day.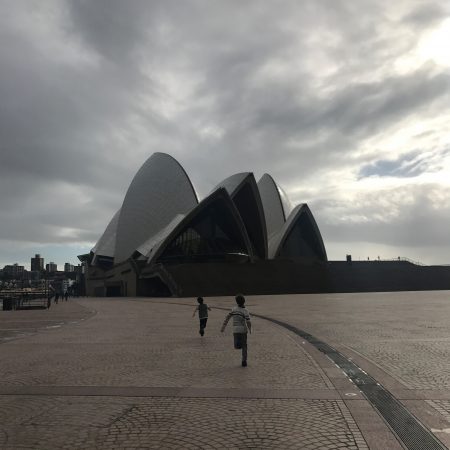 Thanks to spending time in the Lego store, my kids knew what the Sydney Opera House looks like, because they've seen it made in Lego and they wanted to visit it in real life too.  The day we visited,  a children's activity and parade was going on so we joined in and it was such an exhilarating feeling to be part of a parade in a place far from home.  We never would have had this experience if we did not have the kids with us on this trip.
We had 6 weeks for this trip, and for something we've waited for so long, I can't believe how swiftly we are back at home and starting up our routines. I am extremely thankful for our travels, but this experience also taught me something I didn't expect: time goes by too quickly and we have to be careful how we spend each and every drop of it.  I didn't realize how fast 20 years could fly by.  I don't think any of us do until it catches up with us, and I hope the next time my family starts dreaming about something so dear to our hearts, we chase our dreams a little sooner.
For information on how you can become a Studio Tea foreign correspondent, head on over to our blog and learn more.