Summer adventures are calling and, to spark the fun, we've asked Tea families across the US to show us around their cities and share some of the incredible places that make them special. 
Next up in our Share Your City series, we set foot in friendly Stillwater, Oklahoma. Here, Joslin Brorsen and her three adorable hooligans take us to their favorite local stops.
I recently saw a segment on The Late Show called "Community Calendar" featuring my hometown. They highlighted some of the funniest small-town events that can probably only be found in the midwest, like the calf-fry that is held every summer. If you don't know what a calf-fry is, you might consider watching that little segment just so you can have a giggle.
The things that make my hometown special, though—the things that I hope my kiddos will remember fondly when they are grown—didn't make that list. My kids are mini adventurers obsessed with nature, so most of our days are spent outside exploring. Although we spend the majority of our time in our own yard, sometimes we need a change of pace. We made a photo tour of a few of our favorite places around town for their scrapbooks so that they'll always remember these places as fondly as I do.
The Botanic Garden at Oklahoma State University, Stillwater, OK
I like to come here for family walks so I can enjoy the flowers, but the kids come for the chickens and goldfish. We come often enough that my kiddos have named them all.

Lost Creek Safari, LLC, Stillwater, OK
This place is perfect for my little animal lovers! There is always a baby kangaroo for us to hold, but we leave the snake charming to my son.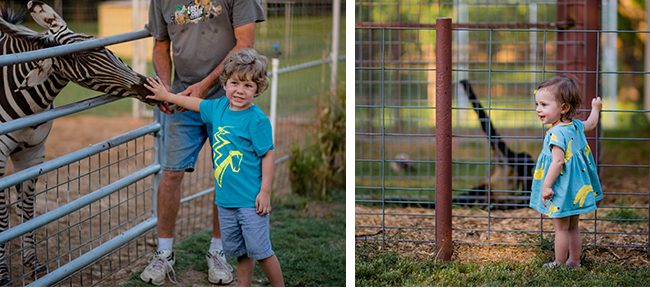 Southern Woods Splash Pad, Stillwater, OK
Splash pad fun just can't be beat. This is our favorite place to meet up for play dates in the summer, and it never gets old.

 Pops 66, Arcadia, OK
So this last stop isn't in our hometown, but it's a short drive up Route 66. My husband is a dentist and my kids are not allowed to have juice or pop regularly, so my kids ask for that "spicy drink, that burns a little?" I don't know why that makes me smile so much. Pops is mainly a gas station with a little restaurant inside, but they sell over 600 varieties of soda pop. They range from delicious (peach and strawberry!) to quirky (ranch dressing flavored!). Unless you enjoy being grossed out, I wouldn't recommend the ranch, but there is something there for everyone!
Wherever we go and whatever we do, we do it together. If you follow us on Instagram, you'll see that we almost always do it in Tea Collection. There is nothing I love more than being a mom and experiencing new things with my kids. They can find joy in the simplest of things, and it makes life beautiful.