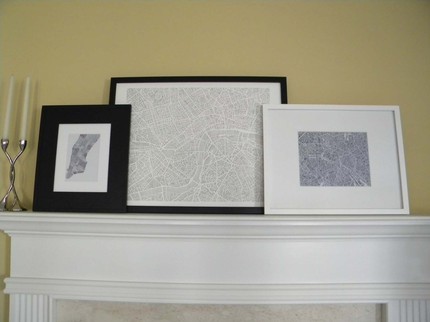 Whenever I travel maps are my most important tool, and favorite souvenirs. Before flying somewhere new I pour over maps of my destination to understand a visual layout of the city. As a child my mom and I were always taking road trips across the Southwestern United States – she was the driver, and I was her guide. It was an important role; if I gave her the wrong directions we'd get lost, and I think that being raised reading maps helped develop my solid sense of direction. Now when I travel maps also become a visual journal of my adventures – I circle places and write notes and outline routes and scribble down bus numbers. Looking back on cities I've visited – Amsterdam, Brussels, Madrid, it's the crumpled worn maps I've saved that help me remember what I did and saw.
Because of my love of maps I'm always delighted when I find a new technique or style of displaying a city's streets. A friend sent me a link to Karen O'Leary's maps a few months ago and I've spent the time since trying to decide which one I want – they're all so interesting and unique.
I love the simple lines that up close seem abstract, but once you step back fall into the avenues and rivers and boulevards that make up some of the most famous cities in the world.
Recently she's started posting cut out maps, which against a black background pop dramatically:
Check out Karen's Etsy site – has she done your city yet?