Everyone in San Francisco is talking about one thing today. Strangers crossing the street will strike up conversations about it, and our local newspaper is abuzz with predictions. The question on everyone's mind today is…
WILL IT SNOW IN SAN FRANCISCO TODAY?
If so, it'll be the first time snow's hit our sea-level city since 1976. Temperatures are meant to reach record lows in the 30s tonight with strong winds, and while that might sound warm to you Midwest and East Coaster-ers, we're all scrambling to gather layers to keep us warm. More used to rain than snow, our office today was chock full of rainboots: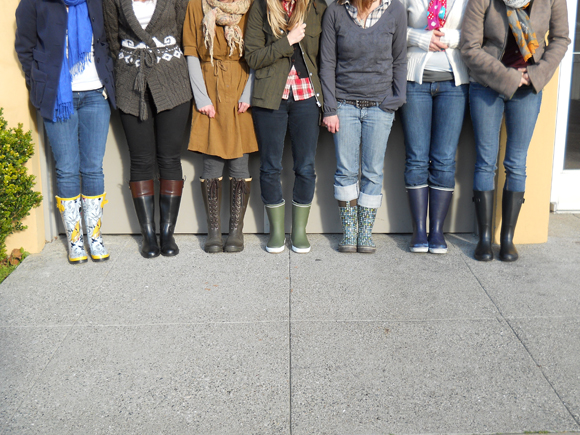 from left (Maria, Megan, Laura, Katie, Lisa, Katy, Nuala)
We had a powerful rainstorm last night, and sun and bright blue skies all day. So will it snow tonight? Only time will tell.