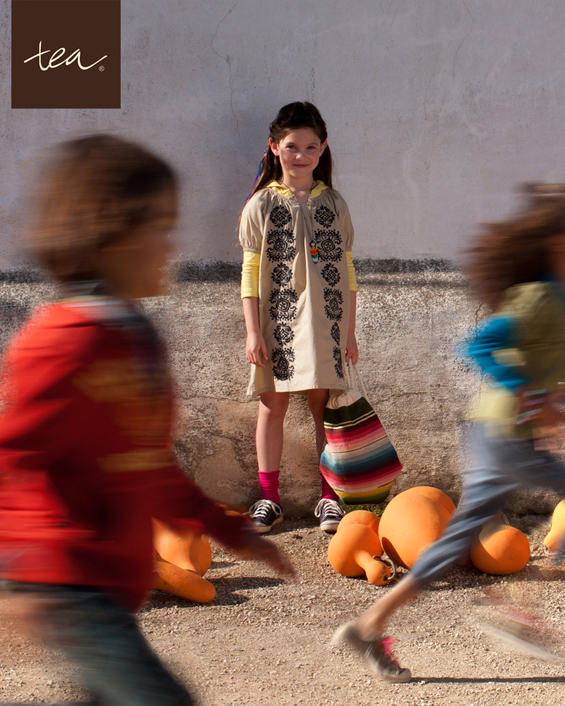 This season we are all about outfitting! More than ever before, our Mexico-inspired line of clothing is about mixing and matching, layering, and accessorizing. This concept is great for back to school. In August the weather may still be warm, so short-sleeved shirts and dresses are in demand. As fall sets in and the weather gets cooler, layering a long-sleeve tee underneath short-sleeve items adds a layer of warmth. And as winter approaches throw on some thick cotton leggings, legwarmers, and a hat and you've got an outfit that is good for playing regardless of the weather.
And what better way to demonstrate this than through our customers? We've asked a few of our blogger friends to showcase our Back to School Fall 2011 collection, and highlight their favorite outfits. Over the next few weeks we'll be featuring a few of these posts on Studio T.
The first blogger we talked to about this was Amy Turner of Mom Central. Her 3 year-old daughter Brooke is just starting to assert herself in regards to fashion, and has some pretty strong opinions about how she'd like to dress herself. In Amy's words "She insists on picking out her own clothes and getting dressed all by herself, even if that means stripes matching up with polka dots and pink matching up with orange. And what gets me is her determination and strong voice. When I gently suggest a different option that may match better, she insists what she's picked out is perfect and dismisses my opinion. Who can argue with that passion for flair?" Luckily with Tea Amy and Brooke were able to come to a happy medium – everything is made to mix and match, so there's no clashing of colors and patterns. And hopefully those future conversations about clothes can be on hold until Brooke's a teenager…
Brooke in the Courtyard Tile Dress layered over the skinny french terry cargo pants.
Stay tuned for more upcoming posts profiling blogger's takes on our Back to School collection!