To help everyone at Tea go there, we make a yearly contribution to each employee for international travel and exploration. Upon their return, our Tea travelers write blog posts to share their adventures with all of us (and the world).
Welcome to part 1 of Jess's Bali adventures. Let's go there!
Whenever I travel, I really enjoy going on runs as a way to explore a new place and orient myself. My trip to Bali, Indonesia was no different. After arriving at the beautiful Villa Santai where I would stay while in Tenah Merah, Ubud, I put on my running shoes and left to go check out some nearby villages. I had no idea that a casual run would turn into such an adventure.
I started uphill through a village filled with temples, homes, and snack stands.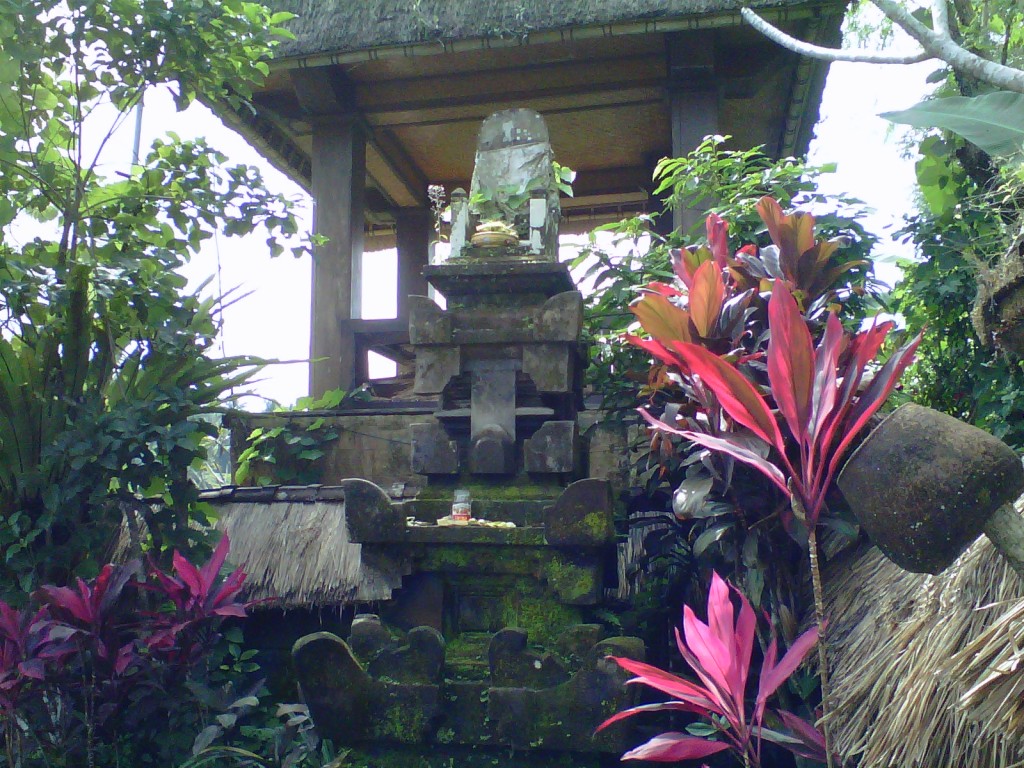 There were also a few stray dogs lining the streets. I had been warned about Balinese stray dogs and the recent case of rabies that had been reported on the island. I had been advised to carry a stone or stick with me to throw at them, as this would surely scare them away. Although I try to avoid confrontations with animals, especially stray, untrained ones, I thought it best to carry a little stick with me just in case.
As I made my way uphill, I pondered how beautiful the day was. The sun was shining on the rice fields on either side of me.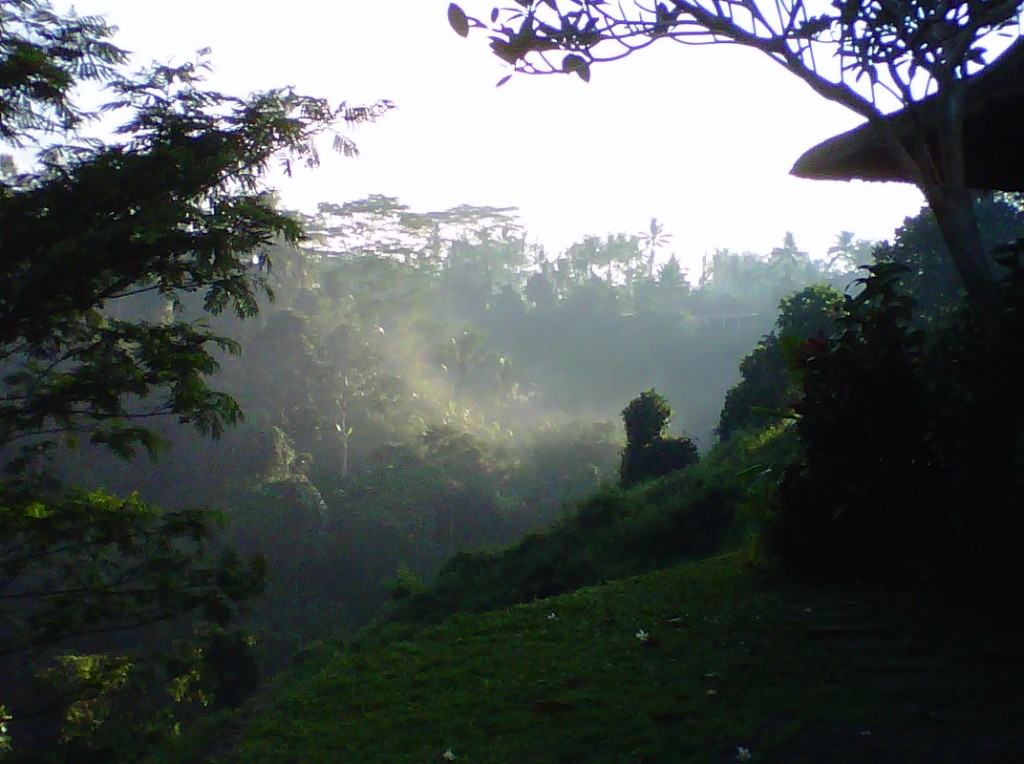 The hot, tropical air felt lovely as I ran past. I waved hello to a group of children, smiled at the lady running the snack stand, and greeted an old man passing by with "Selamat Pagi!" (Good Morning).
Then, in the next moment, I came across a large pack of dogs in the path ahead of me. Instantly, I thought to myself, remain calm, no worries. Sing ken ken! But then I noticed a few ears perk up and several heads rise. A couple of them stood up and faced me.
Now I'm scared. They started to approach. I glanced around at the villagers, with a worried, helpless look on my face. That's when they started to bark at me. At this point, I realized that I had completely stopped moving. I swatted my lame little stick around a few times, accomplishing nothing.
Finally, a little old lady came up to me and scared the pack of dogs off with a shout and a few swoops of her hand. She then came upto me and took the little stick from my hand. She chuckled, mumbled something at me in Balinese, trying to communicate that if I swat at the dogs, they grow more aggressive, thinking I am trying to attack them. She patted me on the back and sent me off, meanwhile still warding off the dogs for me as I made my way through the village. I thanked her, "Terri makahse bankyak!", and carried on uphill, away from the village.
I would learn later that the Balinese believe stray dogs are re-incarnated ancestors and family members who have behaved badly. That is why they are treated so poorly by the locals.
As I continued up the road, I heard a big commotion. I noticed a little soccer field, so I made my way toward the voices to see what was happening there. I saw a few kids playing soccer, but looking beyond, I noticed a large group of people gathered. I made my way there, curious to see what was taking place. As I got closer, I saw it was a rooster fight. Even though I am vegetarian and also dislike violence between animals, especially for sport, I decided to put judgment aside and check out the tournament. What I saw was better than what I had anticipated. It seemed like every man in the village had joined.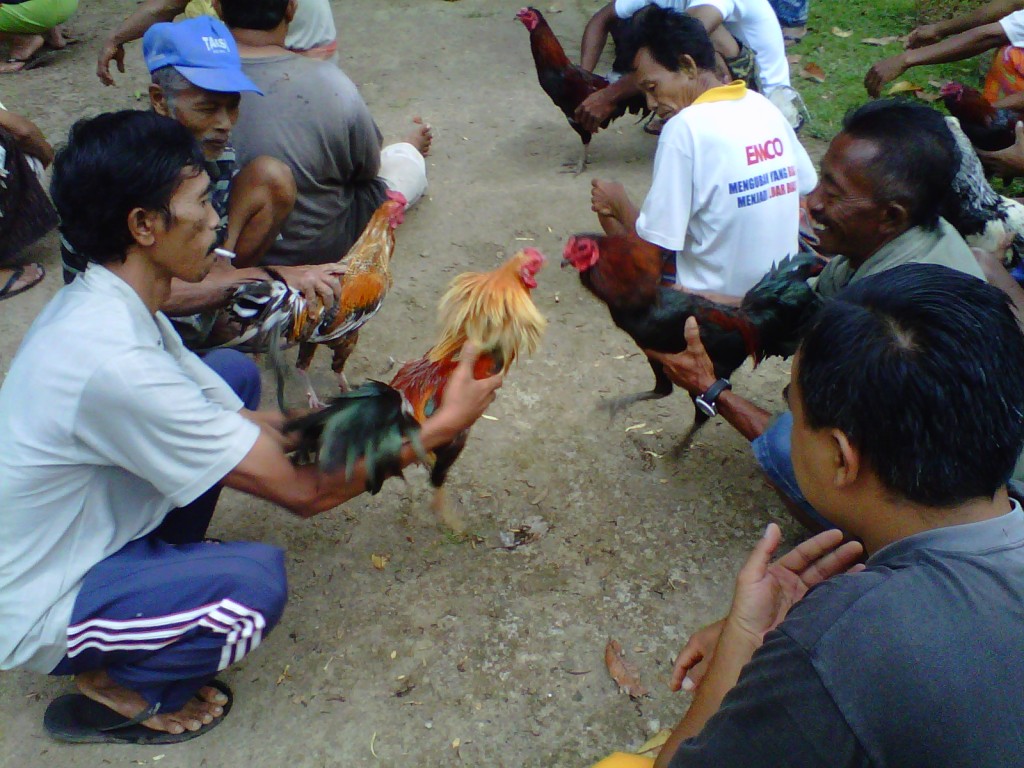 Each male had a pet fighting rooster. They'd wait around, and then enter their rooster into the main fight. There were a few little kids there with their dads, but no women. I was the only woman there, dressed in a pair of running shoes, shorts, a workout shirt and an iPod. I thought they would shoo/send me away, but they were quite welcoming.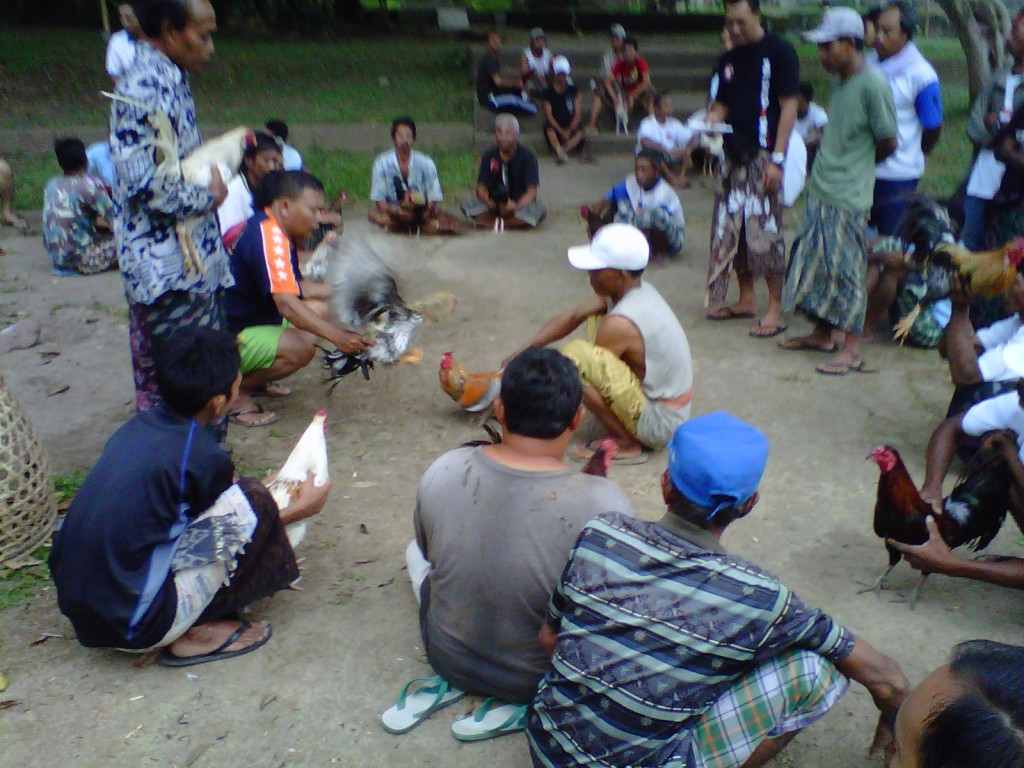 After a little while, I moved on and continued my run, only to encounter even more dogs. This time, my village lady friend was not there to help me. I panicked a little until I saw a group of bicyclists approaching. They saw the look of terror on my face and said, "Run with us!" So I started running and they surrounded me in a protective circle of bicycles as we passed by the rabid dogs. It was fun!
The return trip was no less exciting. The locals were burning their fields, blocking the road with dense smoke. Fortunately, a number of them helped me around the smoke by showing me where I could run through some rice fields.
I also managed to dart into a few homes whose owners had left the front door open. Balinese homes tend to be a collection of smaller buildings in a courtyard. There are living quarters along with a small open-air temple people build in their homes. I got a few laughs from some of the women and kids, smiled, and continued my adventure.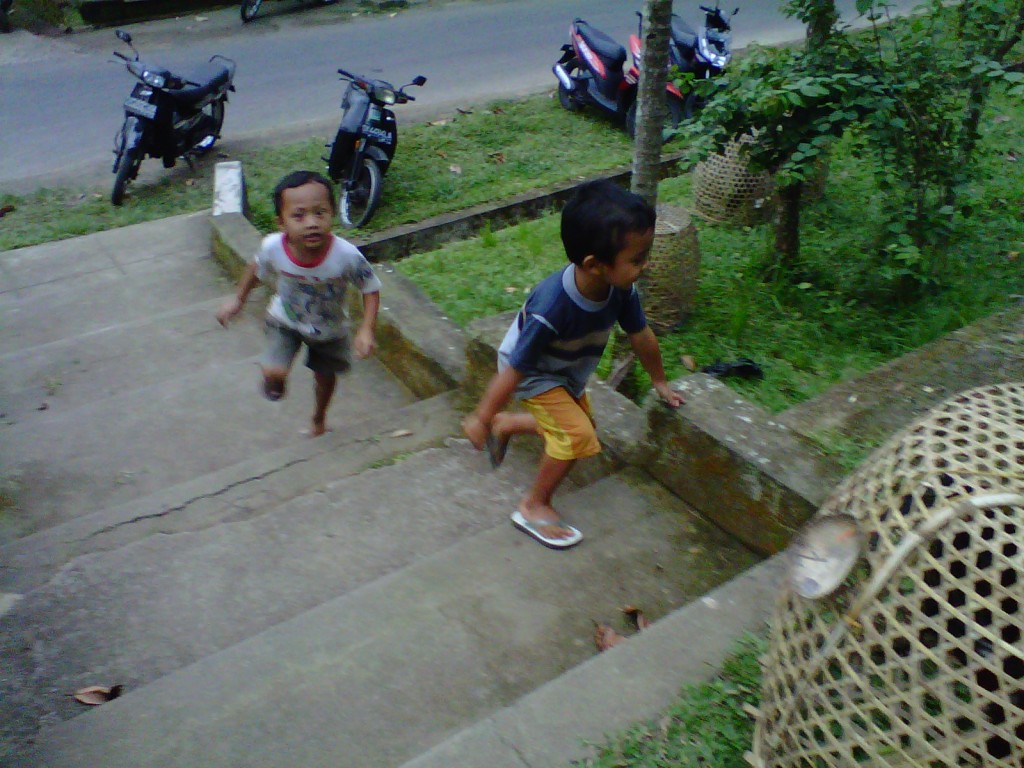 At one point, I started missing the bicycle gang. Instead, a man from the village had me run alongside him as he made his way through the dog packs on his scooter. That resulted in a good workout. Again I thanked him, and he responded "sama-sama" (you're welcome).
When I returned to the villa, my friends asked me how my run was. I replied simply, "It was good!" . . .And jumped straight into the pool.