Alright, it's Valentine's Day.  You bought some cards and chocolates but you still feel unprepared.  After all, what are you going to do with your kids before you leave them with the babysitter? It's okay, Tea has you covered.  We have five easy Valentine's Day activities your family can enjoy- no shopping required!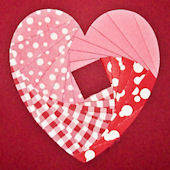 1)   Our designer Katy recently shared a Valentine's Day tradition with us that was too cute not to share. Instead of making the dinner date mom and dad only, bring the kids along.  Dad gets to go on a fun date with the daughters and mom gets to go on a date with the boys. This tradition will allow each child to feel special getting one-on-one time with their parent.
2)  We recently asked our Facebook fans to share their favorite Valentine's Day activities. One fan explained how her family writes secret messages in white crayon on white heart-shaped cards for each family member.  Then they each take turns using water colors to paint over the crayon to reveal each person's love-filled message.  How cute is that?
3)   When I was younger, my mom and I would use up all of our craft supplies to make Valentine's day cards for the residents at the local retirement home. Our kitchen table would be covered in red construction paper, doilies, glitter and glue! After we created a good amount, we would head to the retirement home and hand them out to each resident.  I love this activity because not only did I get to create endless amounts of Valentine's but my mom was also teaching me kindness and philanthropy.  You can't beat that!
4)   Maybe you don't have heart-shaped sugar cookies or red frosting, but who says you can't bake up some oatmeal raisin cookies? Just because you don't have the perfect Valentine's recipe doesn't mean you can't engage in a bake-off with your kids.  Make whatever you have ingredients for, whether it's rice crispy treats, pudding pops, or some jello jigglers.  Don't limit yourself to only Valentine's day themed deserts, bake because it's a fun way to spend time with those you love.
5)   Create a Valentine's Day scavenger hunt! Hide clues around the house eventually leading your children to a prize.  The prize could be anything from a stack of Hershey kisses to a big hug from mom and dad.  After all, it's the journey, not the destination, that's the fun part!
The activities above are quick and easy to prep with little time involved.  Share your easy Valentine's day activities below.