To help everyone at Tea "go there," we make a yearly contribution to each employee for international travel and exploration. Upon their return, our Tea travelers write blog posts to share their adventures with all of us (and the world).
Cristina , who helps create beautiful product (with exceptional fit!) here at Tea, spent a week in quite Sayulita, Mexico with her family.
Our family was in need of a vacation (not having taken one since before our daughter was born). It was important to us that we went somewhere we could relax, yet share with our daughter a little culture and sense of exploration. We settled on Sayulita, Mexico an eclectic beach and surfing village with exceptional people, arts, activities and culinary offerings.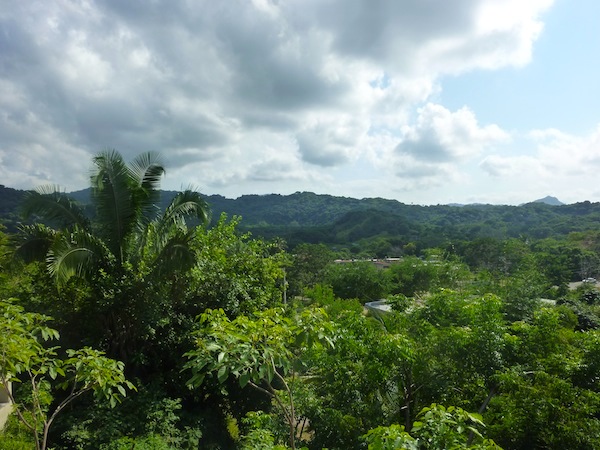 A 45 minute scenic jungle drive along the Pacific coastline from the Puerto Vallarta takes you into Sayulita.   The small town consists of 3 to 4 main streets all centered on the village square with a striking church.  All destinations are within a few minutes walk to the beach.  The city is full of wildlife, especially iguanas.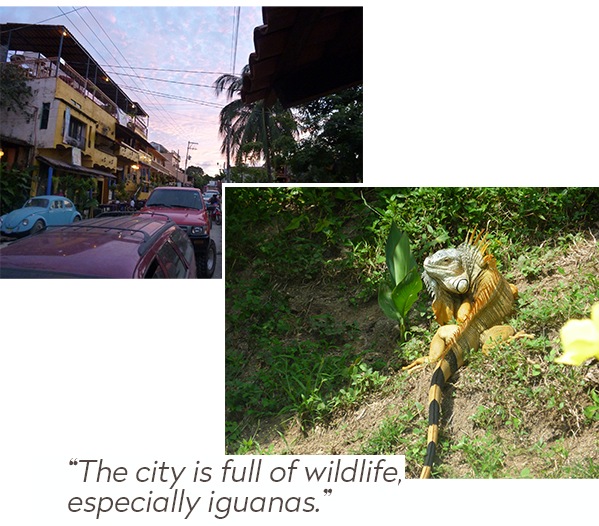 The landscape of the village is stunning with cobblestone roads, colorful houses and aging patina everywhere.  All of the houses had thatched roofs and palapa open air verandas.   We stayed up the hill from the city center; after one trip navigating the steep hill with our toddler we realized we needed another mode of transportation.  We rented a golf cart! The golf cart is Sayulita's choice of transportation due to its small size and resource needs.  Our daughter loved riding on the back with her grandmother.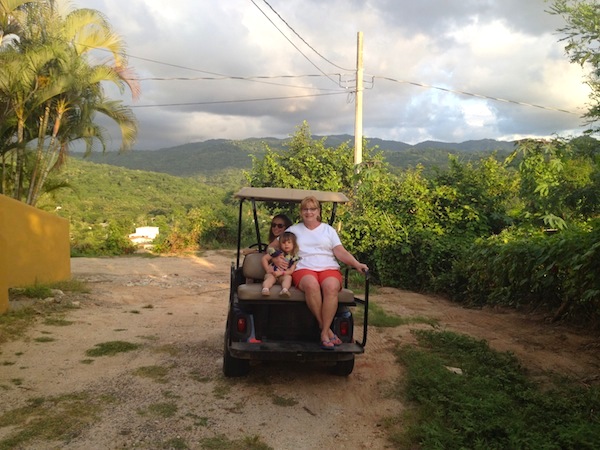 Our morning walks would usually take us to ChocoBanana for yogurt and granola or a smoothie.  Another favorite was El Espresso for huevos a la Mexicana, coffee and a mango smoothie.  Then off to the beach, yoga or a hike!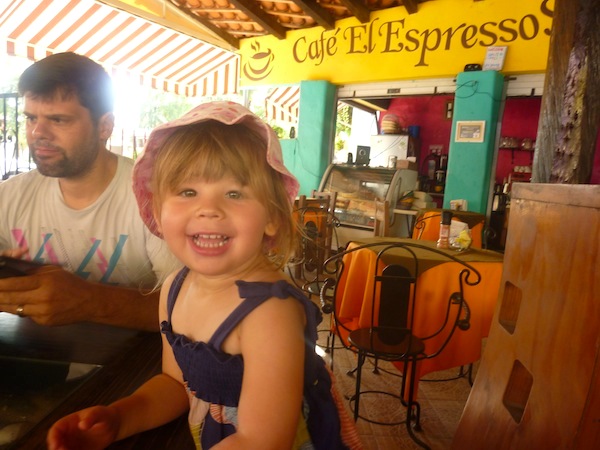 The beaches are beautiful; you could either head out to the main beach off the city center or explore a more remote destination.  The main beach offered beach chairs with shade umbrellas from beachside restaurants which included food and drink service. This busy location provided much activity with good surf, fishing and many beach patrons.   Another nice location was Playa de Los Muertos on the south end of town and usually frequented by locals for swimming with low surf and riptides. You had to search to find it but were greeted with dramatic views and a colorful cemetery at its entrance.  We walked around awing at the beauty of the memorials.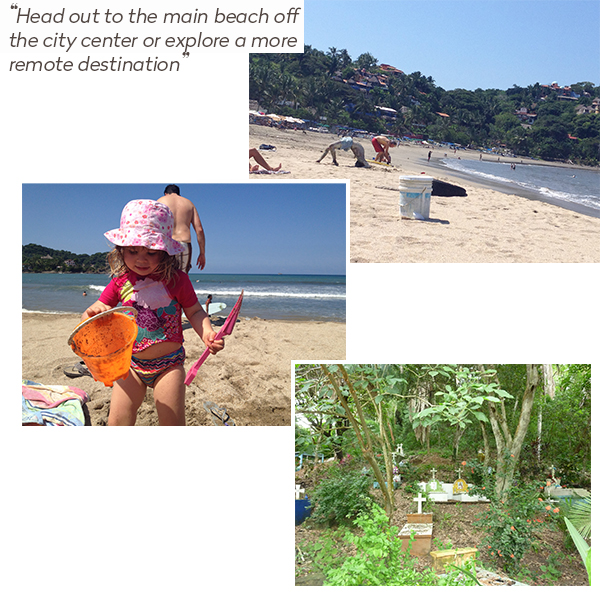 Sayulita has a few yoga spots but a favorite for the location, studio and talented teachers was Pariseo Yoga.  Nara the owner and the other instructors are very gifted providing challenging yet relaxing classes with modifications and tips on how to better your practice.  I highly recommend joining Nara and crew on the mat.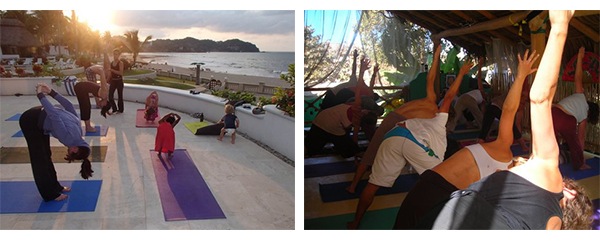 The village was sprinkled with shops of artisans, surf shops and small boutique clothing shops.  We came across many talented artists of different styles creating traditional Mexican clothing, jewelry, colorfully fabrics and hand crafted folk artifacts. We loved speaking with the individual artisans about their crafts and learning their process. Tallulah enjoyed watching them create and seeing the animal inspired hand crafts.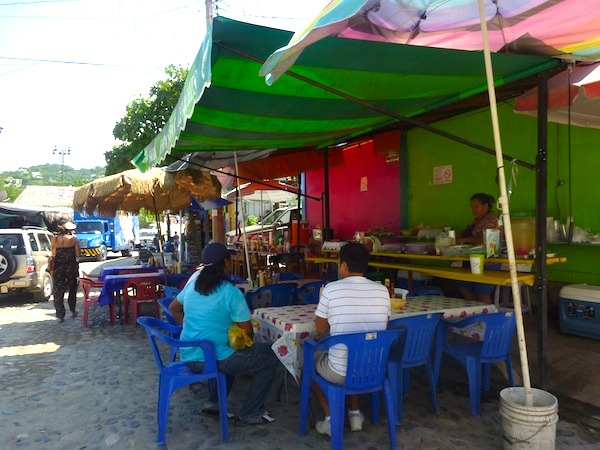 At dusk the town square turned into a large social gathering for the locals and gave the children an opportunity to play in the cooling temperatures. The local children would bring bikes and scooters to ride around.  Our daughter enjoyed joining in on the fun and we enjoyed taking in communal feeling of the village.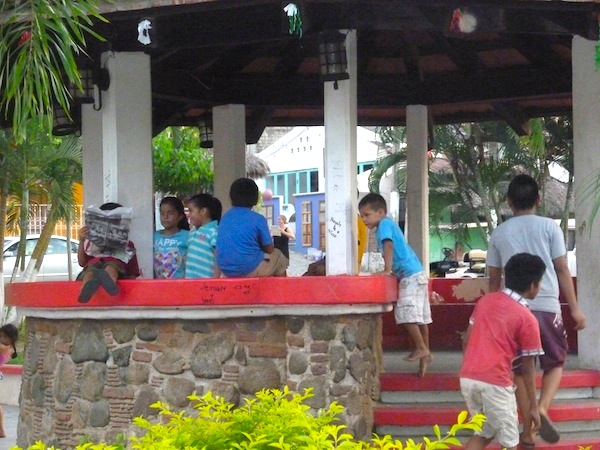 On the last day we adventured by boat touring Marietas Island and other sea side attractions.  Once at the island you could either swim or kayak to the beach.  The beach was only accessible through a rock sea tunnel.  The water was crystal clear and full of sea life.  My husband and I were able to do a little snorkeling while our daughter played with grandma on the beach.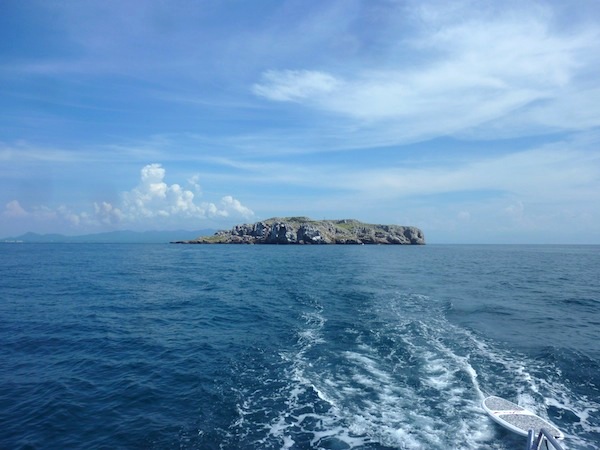 This vacation gave us the opportunity to share a little bit more of the world with our daughter and my mother.  As a family it is very important us that we broaden our perspectives together while adventuring and learning about the world we live in.  My hope is that through our travels we will all learn how to fully embrace life while on the road and home.