To help everyone at Tea "go there," we make a yearly contribution to each employee for international travel and exploration. Upon their return, our Tea travelers write blog posts to share their adventures with all of us (and the world)!
And we're off to the races! We have been planning our backpacking trip to Europe ever since our bosses gave us the go-ahead. No one would ever believe that we would lug all our possessions in backpacks, but we sure did!
First stop… Chicago for a 9 hour layover. We took the L into the city and explored Millennium Park in our matching uniforms (totally unplanned by the way).  After making our way through 100% humidity, we got back to O'hare with plenty of time to spare before our flight to Madrid. We arrived in Madrid at 6AM local time, but our room wasn't ready until 1PM. We grabbed a map (and free wifi) and proceeded down Madrid's most famous thoroughfare, El Gran Via. We stumbled upon a deliciously classic Spanish breakfast (torta, toast, and of course jamón). Our first taste of jamón was salty and delicious and we couldn't get enough of it.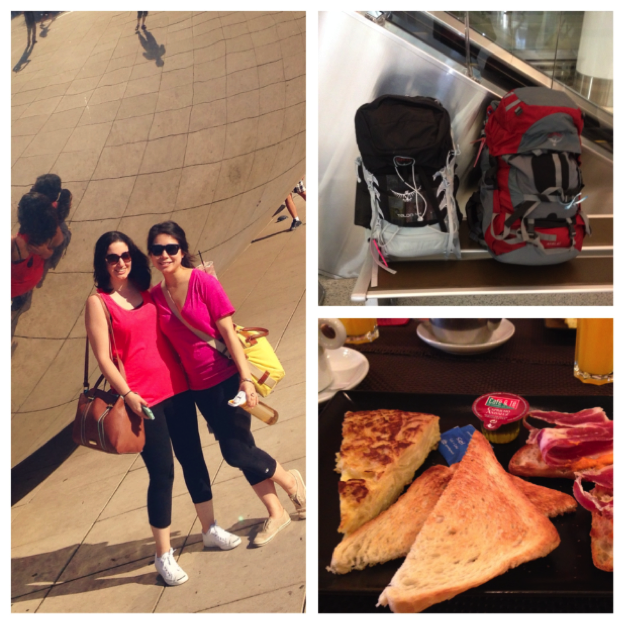 When out and about in Madrid, we always ended up at Puerta del Sol. Some way, somehow we always ended up in this massive Spanish square that's hustling and bustling with people at all hours of the day and night. After getting lost trying to look for the world famous San Gines churros, we finally found them down a deserted alley. It was definitely worth the puddle splashing! This churro isn't like the typical American amusement park churro with cinnamon sugar coating, but plain fried dough that's begging for the thick melted chocolate lava.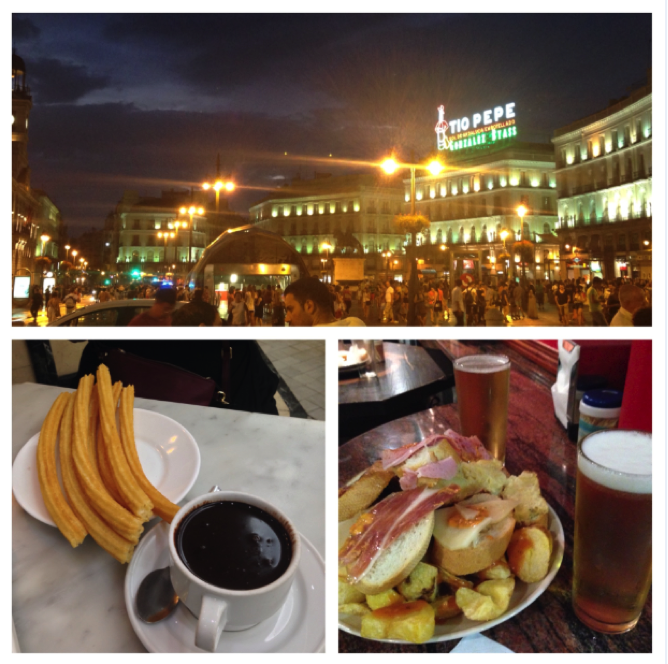 As if we didn't have enough jamón, we decided to take a flight and head over to Barcelona. While waiting for our room, we explored without a map and luckly ended up at La Boqueria, a local market filled with a variety of colorful and delicious fruits, candy, nuts, drinks and food. This was our go to place whenever we wanted to grab something on the go or even just a cool drink to beat the heat. One of our favorite restaurants that we still can't stop talking about was Cervecería Catalana. Our eyes were definetely bigger than our stomachs and sitting in front of all the tapas did not help. Anything with a baggette was delicious, but who knew a grilled veal loin with roasted peppers would make us speechless.
Not only did we eat our way through Barcelona, but we also enjoyed seeing and learning about the amazing architecture of Antoni Gaudi. Our first stop was La Sagrada Familia, the unfinished church that blew our minds with its design, height and details. Although it started to rain, we were still determined to visit Park Güell. Right away, this is what reminded us of our Spring 2011 collection. Every single part of the park had something to be amazed about, especially the unique mosaics.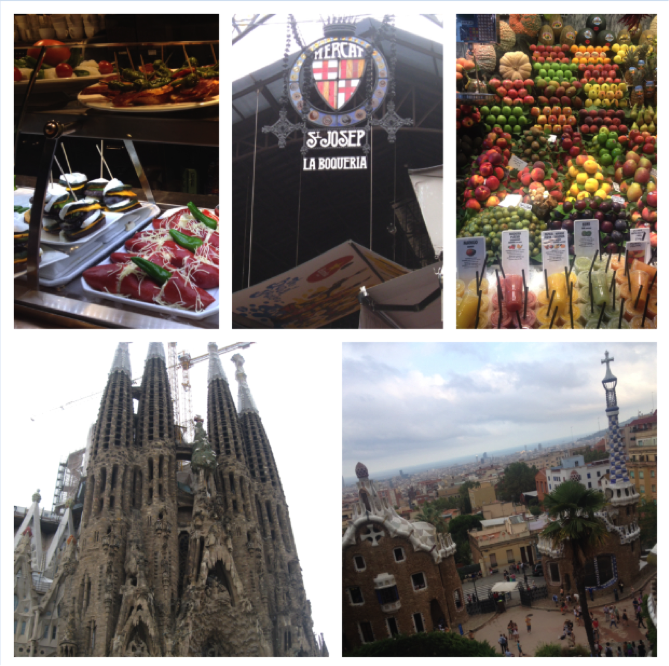 It was time to say goodbye to Barcelona, and off to the relaxing part of our vacation – Santorini, Greece. Our hotel was right near Perivolos Beach, a black sand beach with perfect tanning weather, which is where we spent most of our time. We were excited to step away from eating jamón, and onto traditional Greek food. The gyros were tasty and easy for on the go, the Santorini salad and yogurt cooled us down, and the sampler of lamb, chicken and vegetables put us in a food coma.
We spent a day exploring the city and took a bus to Fira and Oia, dodging buses was important during this time too! As soon as we got off at Fira, we were determined to find and ride a donkey. This is where we met Wilbur and Harold, our adorable and sweet donkeys that took us down and back up a steep road (yes, we named our donkeys). Once we were done touring Fira and bought enough presents, we got back on the bus and headed to Oia, the most breathtaking part of Santorini. The views of the white and blue domed buildings and water seemed unreal and the pictures don't do justice. Of course, we couldn't miss seeing the famous sunset while eating some Greek dessert.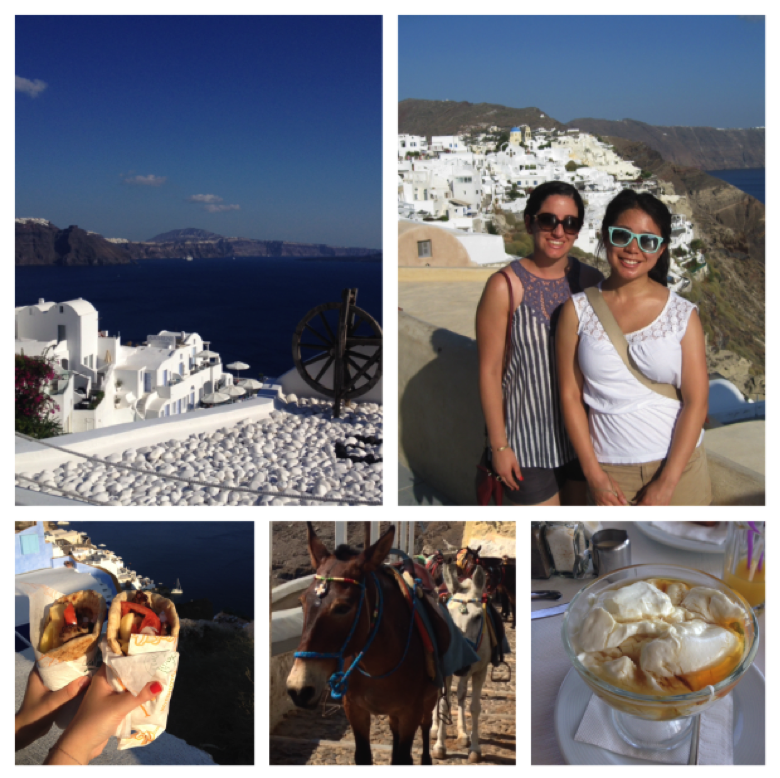 We couldn't leave Europe without visiting Paris. We spent a day walking through Paris along the Seine and along the Champs Elysee. There is nothing like Paris in the fall. We highly recommend taking a bicycle tour of the city to give your feet some rest while you zip in and out of traffic.