Each month Studio T  features one of our retailers. This month we caught up with Carrie, the mighty force behind Baby Bliss (and miniME!) in Texas.

Tea is proud to announce that Baby Bliss is one of our first ambassador stores. Ambassador stores are the ultimate Tea experience, offering the biggest in-store selection of products. You can think of them as your personal Tea storytellers and count on them as your neighborhood place for the widest assortment of sizes and Tea Collection styles.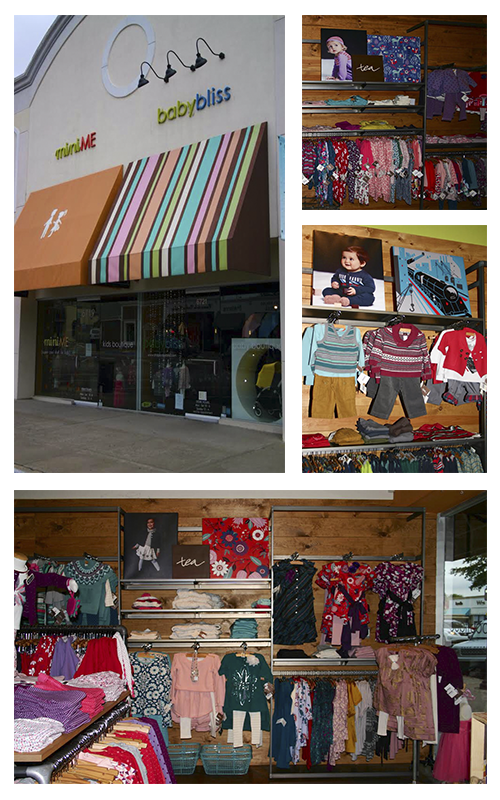 How (and how long ago) did Tea find its way into your life?
9 years ago! I Instantly fell in love with the brand.
Describe how Tea resonates with your customers.
My clients love the line (little ones and moms!) for the fashion, comfort and longevity.
How has this new experience effected your Tea space?
My customers can't seem to get enough! And, they know I carry the entire line (hence the space) so they come to be for the hands on experience. They all walk in with catalogs though!
Thus far, which Tea destination has been your favorite?
I loved Morocco… in fact I'm going there in 2015!
Favorite outfit from the current season… Go!
My absolute favorite is the Heidelberg sweatshirt dress, I cannot get enough. It's so comfy and chic. The Stuttgart flannel dress is another favorite, as well as the Chriselda top paired with the pink velvet piper pants. Throw some cowboy boots on with any of these and little girl is ready to conquer the world!
Your best friend is visiting Dallas for the first time and only has 24 hours to explore – what would you tell them to do?
Dallas has come a long way in the last few years in regards to restaurants and the arts. I'd probably start off with brunch at Savor. The restaurant is an all glass building that sits right on Klyde Warren Park (our new park that connects uptown to downtown). Great food (gotta have mexican in Texas, so order the Chilaquiles!) and fun location/view overlooking the park, Arts District and downtown Dallas. From there you can walk to the fairly new Arts District and get lost for hours! Museums, live music, shopping will keep you busy all day. For dinner, I'd head to Smoke, can't miss BBQ in Texas!! Afterwards I'd hop on over to the Belmont Hotel next door for drinks on the patio (let's have a margarita here!) and an awesome view of downtown Dallas all lit up at night, live music if you're lucky. I'm tired by now, she must leave!
What types of events and promotions do you run in your boutique?
We follow the Tea promotional calendar, but other than that we just focus on customer service. We have a loyal clientele and lots of grandmothers that shop with us. My staff is just amazing! I also have a dedicated employee now that focuses on Tea… remerchandising weekly, restocking, reordering, etc. It's been fantastic!
What is one thing your customers would be surprised to learn about you?
I love yoga. Started when I was pregnant with my son 11 years ago. It centers me, challenges me and makes me feel great! I'm kind of an open book and don't have a lot of surprises. But I'm going to work on that, ha!