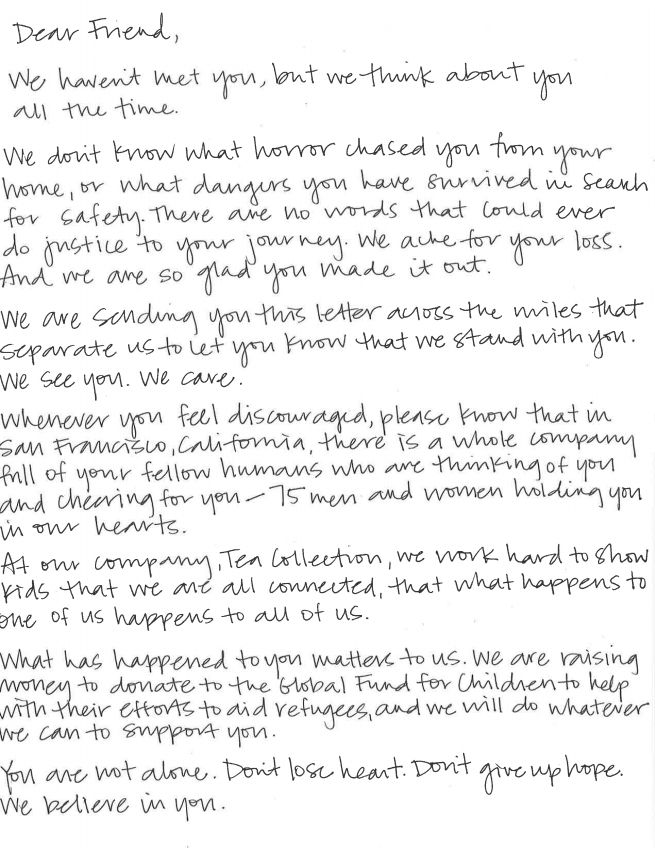 Here at Tea, we continuously strive to be mindful and responsible in everything we do. We care so much for the little citizens all over the world, near and far. We want to make real connections—and a real difference. But we can't effect change everywhere. Although the refugee crisis is happening half a world away from our little office in San Francisco, we continue to support them.
As the Global Citizen organization notes, "Sometimes words alone can make a difference. They can brighten someone's day, change someone's mind, and unlock your own emotions."
That's why, we're standing with Global Citizen to say we haven't forgotten you. We've written a letter to the refugee children and we're asking you to do the same. Head on over to GlobalCitizen.org and write a letter to a refugee man, woman, child group or family and let them know you are supporting them, too. Global Citizen will compile all of the notes into a book to provide to refugee agencies to share your messages with those that need to hear them the most.
Learn more about our giveback efforts supporting The Global Fund for Children's grantees that work with refugee, migrant and displaced children and youth around the world.