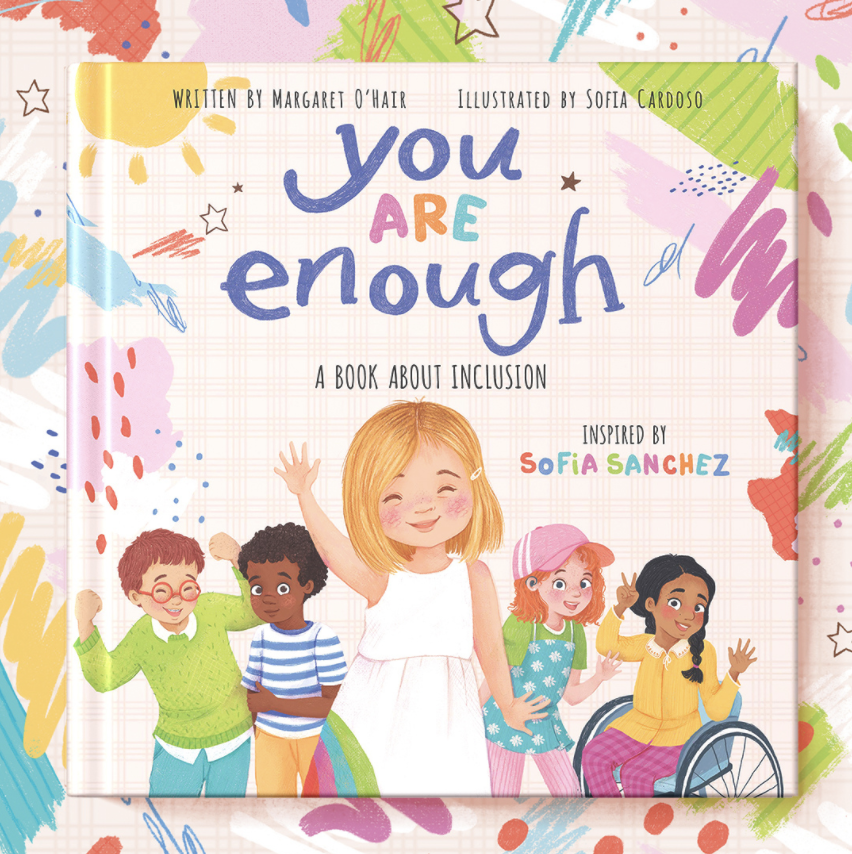 It's not everyday that you get to meet a multi-talented kid like Sofia Sanchez. An actress, model, and diversity advocate, Sofia modeled for our Spring 2021 Portugal collection and is now about to release her third and beautifully inspiring book, You Are Enough. To celebrate the release of Sofia's new book, we sat down with her and her mom (virtually!) to ask a few questions about the book, the inspiration behind it, the Sanchez Six family dynamic, and a whole lot more!
You Are Enough is a new children's book inspired by your daughter, Sofia. Tell us how the idea for the book came about.
This is our third book, but our first fully illustrated hardcover book through Scholastic. We wanted to share Sofia's message with a broader audience and in a beautiful, colorful and engaging way. We know the world (and especially the children in the world) need a positive message that they are enough just the way they are. Our world is made beautiful by everyone and their differences—there is beauty in being uniquely you! What better messenger than Sofia, who is so proud of who she is.
What message do you hope readers will take away from the book?
That we all have a place in this world. We all belong. Everyone has value and we need to love and support one another. It's also about being a friend…one that accepts you just as you are. We hope that everyone can find themselves in this book. We wanted it to be fully inclusive and full of diversity just like the world we live in!
Can you tell us a bit about your family?
We call ourselves the Sanchez Six because when we adopted Sofia back in 2010, we felt she just completed our family! Sofia has three older brothers: Diego, Mateo and Joaquin. Joaquin was born with Down Syndrome, and he opened our eyes to the world of disability. He is the main reason we ended up adopting Sofia, who was abandoned at birth due to her disability. We felt we could give a home and loving family to Sofia, and in return, give Joaquin a sibling that shared the common bond of having DS. Sofia and Joaquin are the BEST of friends.
If you could give any advice to kids your age, what would it be?
Be kind, brave and helpful to others. Be a good friend and have lots of dance parties! Be your own hero!
What is it like growing up with all brothers?
It's awesome!! I love my brothers. My best friend is Joaquin.
Where is your dream travel destination?
My favorite place in the whole world is New York City because of the cupcakes and because I got to see Hamilton. I also love Hawaii, but really want to visit Austin, Texas one day.
What is your favorite hobby?
I like to bake and make things. I want to be a baker when I grow up. I also like to paint, read books, and play with dolls. I also love to run!
What is your go-to outfit that makes you feel your best?
I always love to wear dresses! They make me feel beautiful and pretty! I love to twirl in them. I also love anything with rainbows on it. Rainbow is my favorite color!
Thank you to Sofia and Jennifer for sharing their story with us. To learn more about Sofia's book and where you can find it, check out the Sanchez Six's Instagram @thesanchezsix.