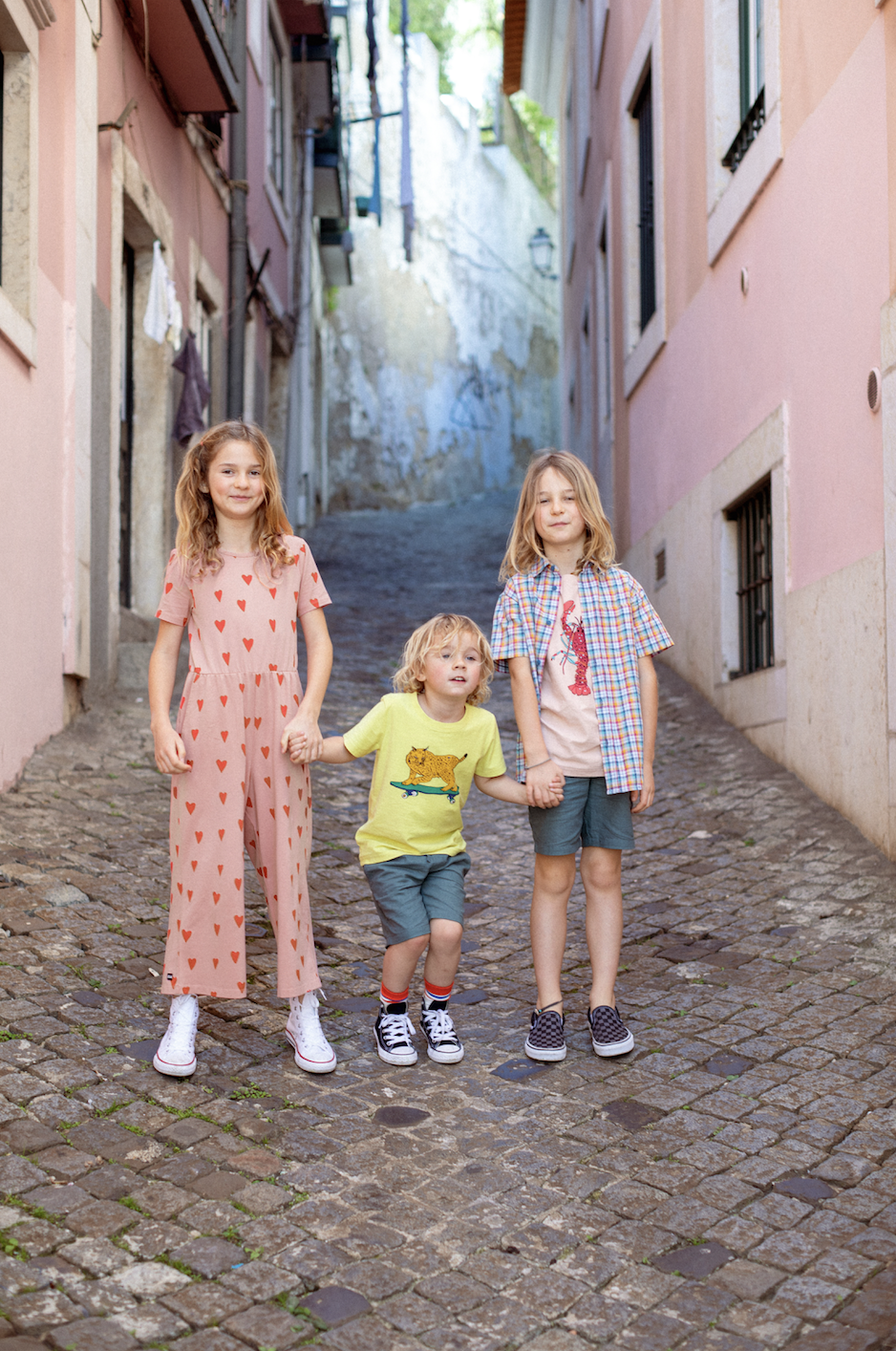 You may remember our friends Taryn, Martin, and their globe-trotting kids Tilly, Viggo, and Francis from last year's Mediterranean collection. They're the well-traveled family behind Quartier Collective, and this season, they helped bring our new Portugal collection to life. Having stayed in Lisbon, they know a thing or two about where to go and what to do while traveling through this charming city. We're sharing some of their tips, tricks, and favorite places to play and eat, so sit back, relax, and come with us on a virtual tour through Lisbon! 
What do you love about Lisbon?
Lisbon is charming beyond belief. The tiles, the trams, the elderly Portuguese making their way slowly down the cobbled streets, stopping to pinch your kids' cheeks or chatter at you in Portuguese. It's a proper European capital with history, art, and a buzzing cafe culture. It's also a great value for travelers—the airport is only 15 minutes from the center of the city and the seaside is just a stone's throw away. What really makes it for us is the wonderful people we've met there. Since our first visit to Lisbon in 2018, we've been welcomed by wonderful families, Portuguese and expat, who've helped us understand the magic of family life in this incredible city.
What are three "must see" places in Lisbon?
A walk down Rua Garrett will take you through Chiado's busy pedestrian shopping street. The people-watching is great here (a bearded Wonder Woman roller skate dancing to Britney Spears anybody?). You can take a coffee to la Brasilia and visit some great shops. Turn left at Fnac department store and walk down to the Elevador Santa Justa, Lisbon's neo-gothic free standing elevator.

 

 Tram 28! It's iconic for a reason. Board after a visit to the Miradouro de Graca for a solid and scenic trip.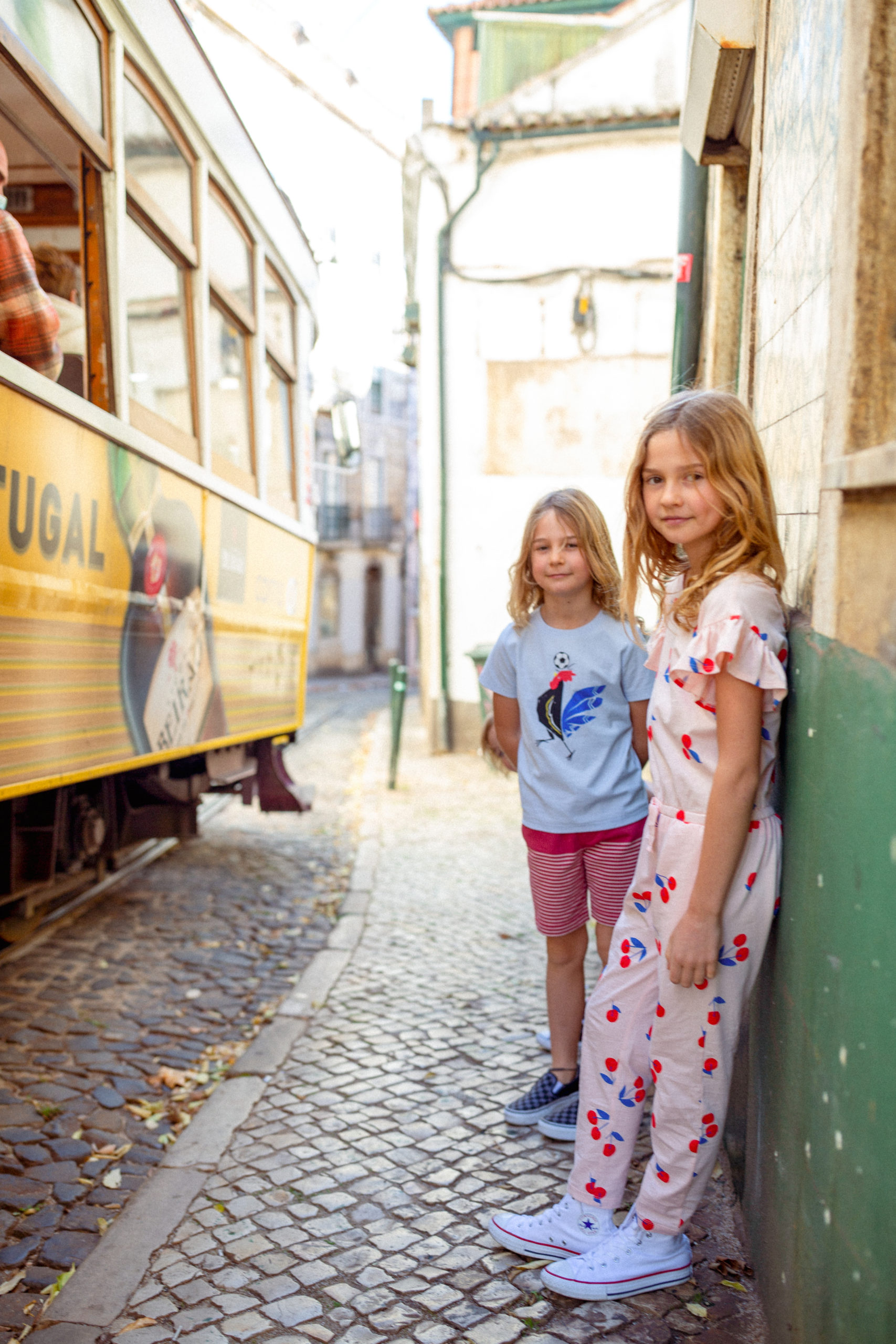 Fiera da Ladraor, or the "market of thieves," is the coolest flea market in Lisbon.

Perfect for unique souvenirs, vintage playmobil, and, if you pay attention, a unique window into authentic Lisboan culture. This market has been running for over 800 years!

We had to do four! Take a tuk tuk—they're so fun and typically the drivers are excellent guides. They're also a great way to manage the hills with kids.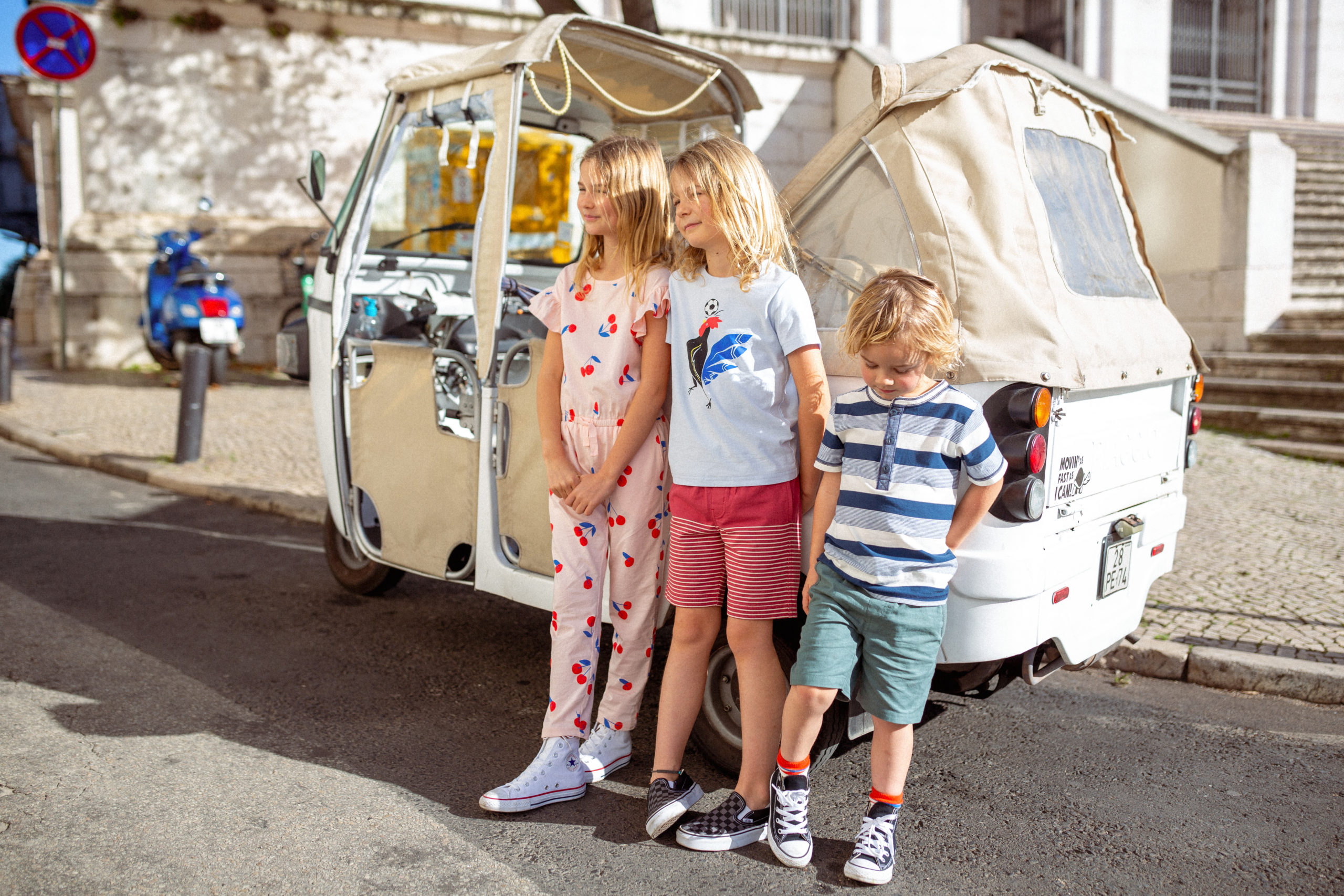 What are three spots for children to play?
Principe Real Park. There's a small playground, a cafe with cold beer and snacks, and a legendary juniper tree whose branches have been pruned and splayed across an elevated lattice to make a circular, natural roof. There's often something going on under this storied tree like music or a craft market. If all is quiet, at least there's shade!

Estrela garden. This garden has a huge playground and loads of beautiful, exotic trees. Kids are welcome to run across the whole park and play in the great exposed roots of the buttress trees. In winter, the smoke from the roasted chestnut sellers filters through the palm fronds and feels wonderfully exotic.

The Miradouro de Sao Pedro de alcantara has a magnificent view of the castle plus enough space to kick a soccer ball or play by the great fountain. There's a funicular tram that trundles down the hill from the southern end of the park, though you may want to save the ride for when you're coming UP the hill.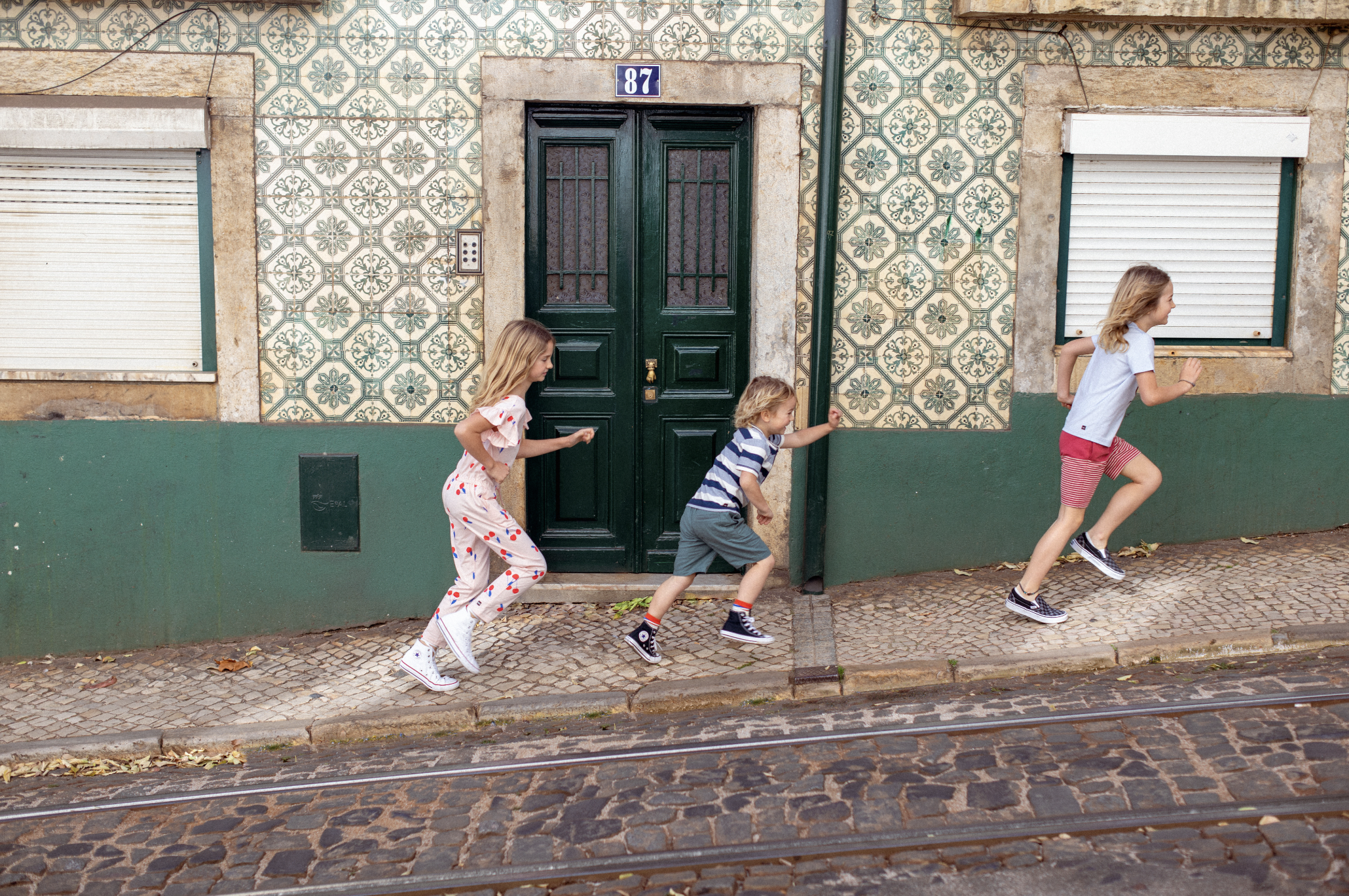 What are three spots to eat in Lisbon?
Copenhagen Coffee Lab. The coffee is wonderfully consistent, salads are healthy and hearty, and (not that you want to pretend you're anywhere besides Lisbon) the cardamom buns will have you shouting, "Tak tak tak!"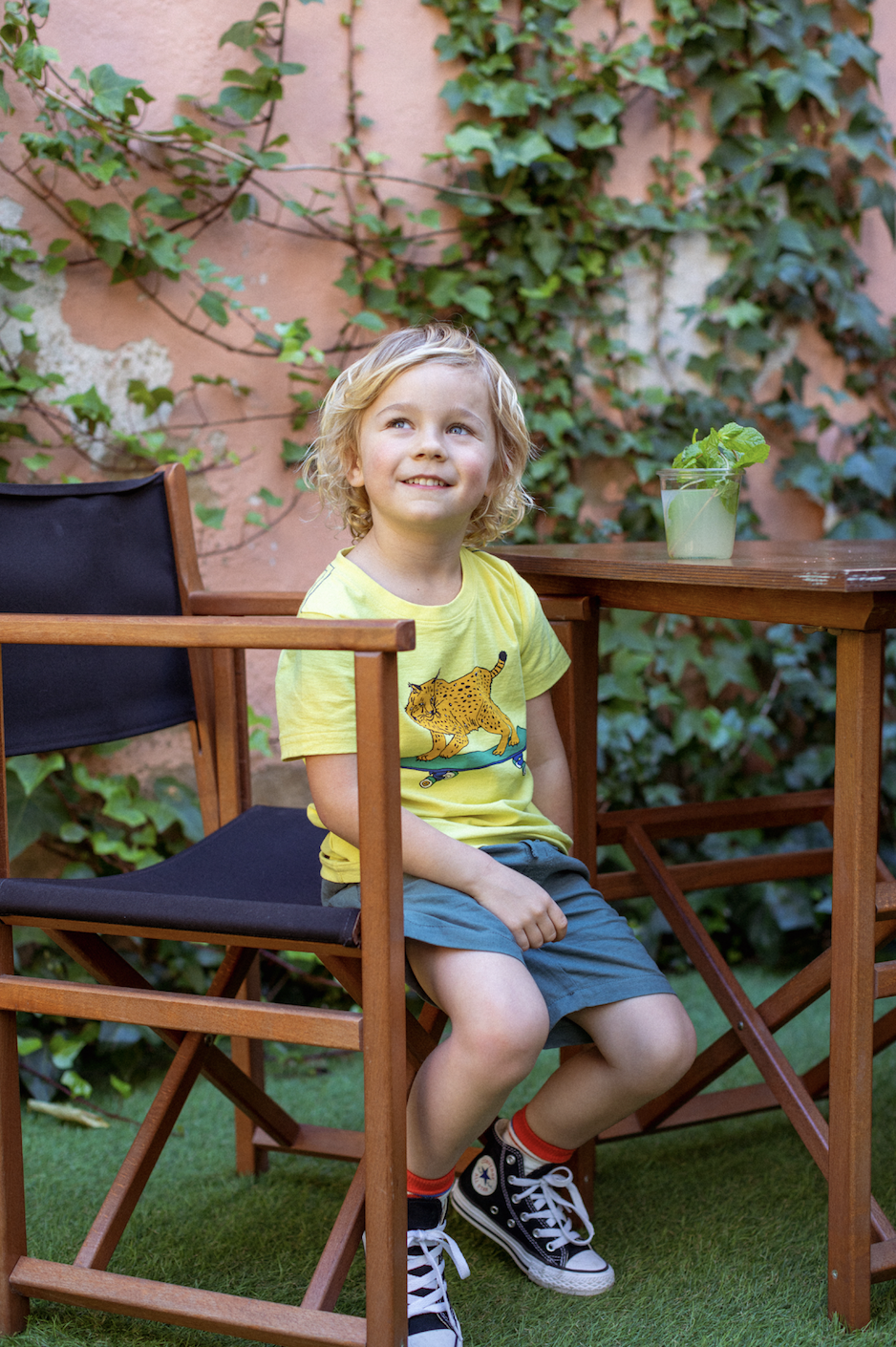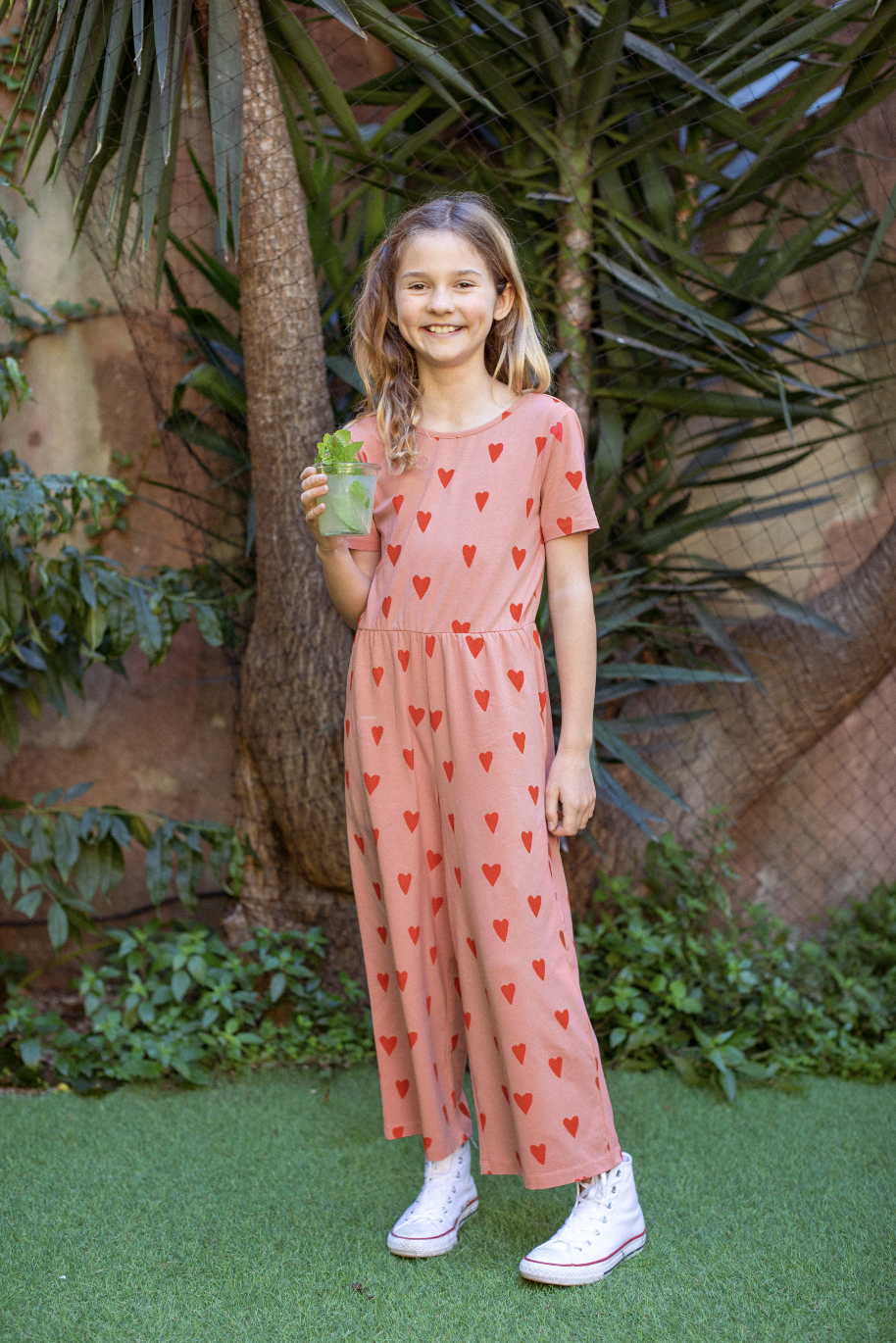 Manteigaria. This spot in Chiado serves the best version of Portugal's national pastry that we have ever found (and we've taken this hunt very, very seriously). It's popular with tourists and locals, but the line moves fast and is worth the wait. The iconic Tram 28 passes in front of the shop. Grab a glass of port with your natas and take them across the street to the Luis de Camoes square to eat in the sun and chase pigeons. 

Senhor Uva, or "Mister Grape," is a lovely restaurant close to the Estrela garden. It's small and focused with caring service and natural wines. This is a fantastic date night spot. (DM us if you need a babysitter; we know some great ones!) 

Flores de Pampa (I know this is four again, but hey, we couldn't help ourselves). This quirky spot on the charming Praca das Flores serves delicious food that's also great for kids: dips and spreads, legumes, and occasionally noodles. With great music and hip and friendly people, this is a neighbourhood spot with a ton of personality.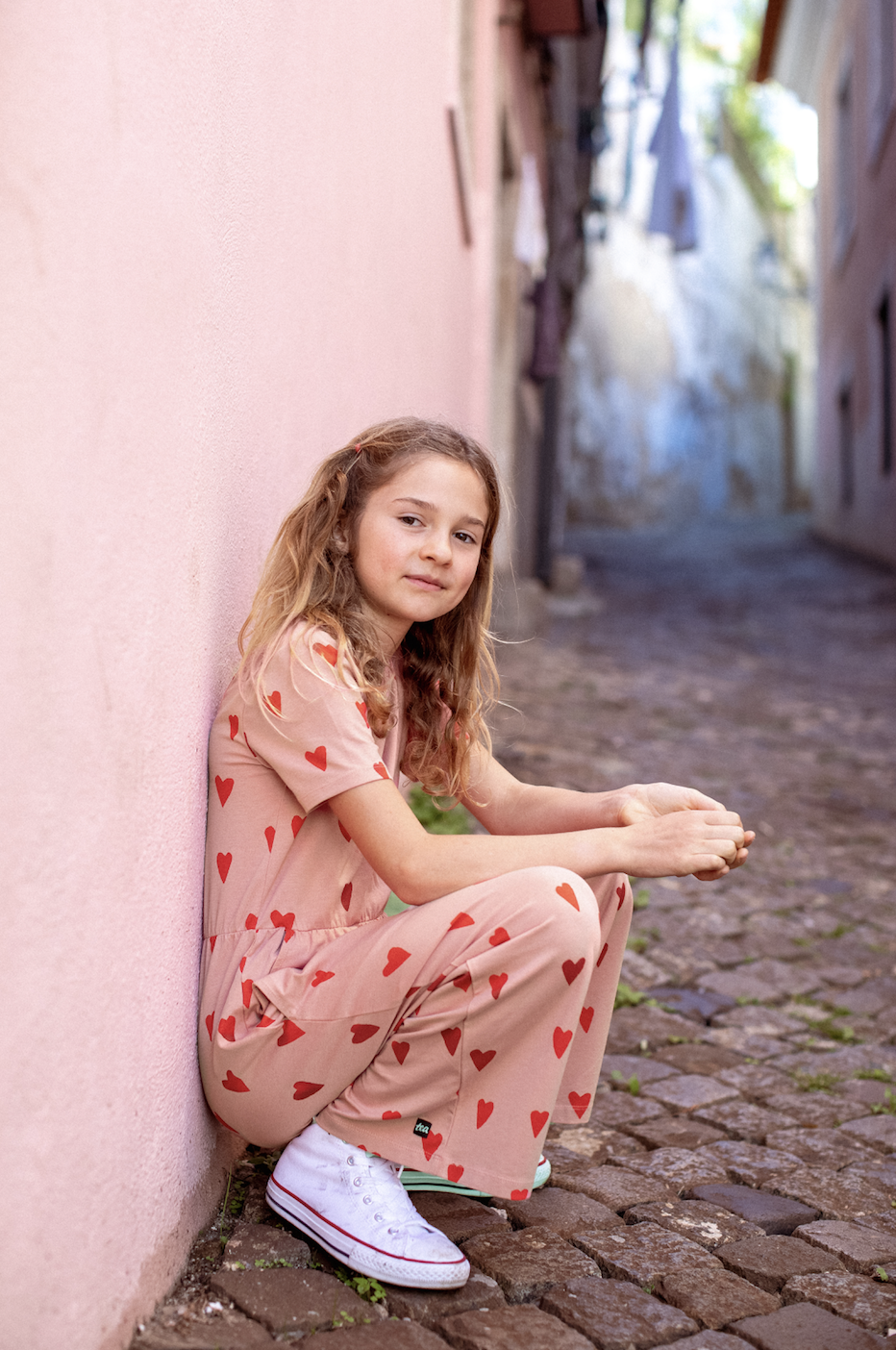 Save this guide for your next trip to Portugal (we all hope it can be very soon!), and let us know in the comments some of your favorite spots in Lisbon! For more inspiring stories like this, be sure to follow @quartiercollective to stay up-to-date on all of their travels and adventures. And, don't forget to check out our new Portugal-inspired collection here.