I'm not disappointed or sad to be turning 40. If I'm being honest, I'm not even as excessively reflective as I would have expected myself to be. What I am, by any measure, is lucky.
I'm lucky because I have 30 or so friends (collected mostly in college but some in more ignominious places) that are also turning 40, and that all decided to find baby and/or pet sitters to travel to Mexico for an extended weekend of…some culture and some bacchanal.  So, this is (a week of) 40:
MEXICO CITY
I love Mexico City. I have only been once before, but it is truly one of the great cities…anywhere. It's lovely, it's insanely walkable, and it's full of art, music & architecture. It might be the best food city in North America, and it's only a 4-hour flight from California. If you haven't been, open your calendar, jump on the internet, and book a flight.
Also, eat all this stuff!
Food Suggestions:
WHERE TO GO
Making our way from CDMX to the coast, we landed in Puerto Vallarta. The requisite humidity lends itself to a lush and green coastal town. It's miles away from CDMX both in it's provincialism and also in the languid attitude that the sea and heat bring to the area. It's beautiful and quiet and feels like a different world than Mexico City. The true counterpoint to the hustle and bustle.
Taking a car from the airport our loquacious driver dropped us off at our hotel right down the street from a place he called Gringo Gulch. An all-encompassing resort is definitely not for everyone. In fact, it was my first time, but with 30 people and approximately 1000 different opinions, sometimes the path of least resistance is the one that requires the least decisions. That was absolutely true here.
We spent 4 wonderful nights at a beautiful hotel with almost all of our best friends and that is 100% the ideal way to ring in any birthday.
Places to go:
Museo Del Palacio De Bellas Artes
HOME
I recently heard an anecdote from a friend about someone helping them at a store. The person was turning 40 and lamenting that they had no plans and were unable to take time off to celebrate. My acquaintance found that to be sad, but I think there's something fundamentally missing with that take.  A seemingly healthy person who has a job and has made it to 40 has something to be grateful for. The fact that I am in that same place, but also have the luxury of being about to go on such an amazing trip with a group of people that I have been friends with for over 20 years, is just another layer of luck and privilege I've experienced.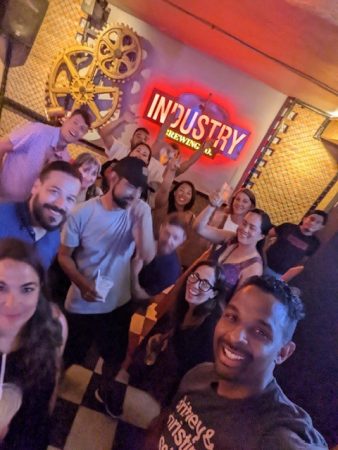 As I share this experience, it's with a great deal of appreciation and a reminder that it is not something that everyone has the ability and means to do. It's a lucky thing to turn 40, and it's a privilege to be able to travel and appreciate other cultures and food and ways of life. But it is also a reminder that though we are different, we are all similar in that we all are just trying to eat, drink, spend time with the people we care about, and get to the next birthday…and that tacos are a near perfect food!