We are so excited to share more about our Mexico-inspired 2023 summer collection. Our team was lucky enough to meet and connect with textile artist, Mili D'Aiello, during their stay at Cosa Buena. We loved the modern organic shapes of her art and were thrilled to collaborate with her as part of this collection. She brought her bright and playful style into a fun tossed fruit print. She stayed in Teotitlán after the retreat to work with the local kids, teaching them about the natural pigments and dyes available in the area they could use to make art!  Mili is an amazing talent and beautiful person.  Our team is incredibly grateful for the opportunity to travel around the world and make some new friends along the way!
ABOUT MILI D'AIELLO
Can you tell us a little bit about yourself and your journey with art?
I describe myself as a woman who works different possible universes from color, from which I start and habit, either in photography, muralism, drawing, textile silhouette design, natural dyes, among others. "Repetition and emptiness, the feminine, the saturated and the neutral. The photographic register that sneaks in containing an open path. The duality between the invasion of color and the abstinence of it." I currently live in Salta, where color has been unveiled to me in space, in the land I travel as a form of registration and spatial/temporal reading.
Did you always want to be an artist?
Yes, I think so. My father is a graphic designer and my mother always loved acting, at home art and creativity was all around us, even more so in a big house with nine children. Everything at home was an opportunity to create or transform something new.
What's your favorite part about being an artist?
That you 'can always create something new! That nothing is watertight, that there may be moments of pause, but that there is always movement and new ideas that I can materialize: whether in a painting, in a photograph, in a textile, in an exhibition or in the exchange with students.
Do you work with local kids to teach them about art? What types of activities do you do together?
Yes, I work teaching and tutoring children, either in class or in workshops.  And in Oaxaca, in Teotitlan, I had the opportunity to give a workshop on natural dyes, which was a real pleasure to do.
PROCESS & TECHNIQUE
Where do you find inspiration?
In the spaces that I walk through with my camera.
What medium(s) do you use for your art?
Photography, muralism, drawing, textile silhouette design, natural dyes, among others.
OUR COLLABORATION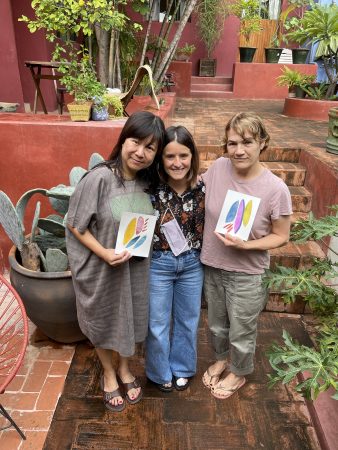 We are so excited to be featuring designs inspired by your art for our summer collection. Can you tell us a bit about the inspiration behind the illustrations?
This collaboration arose from Oaxaca, a cultural exchange in which I participated with Marjorie and Nicole. In this exchange many of our senses were opened even more and the creative spirit came to the surface, because Oaxaca is immersed in a deep culture.  And this collab came up with the idea of how to represent some of the fruits/plants that we discovered over there through color and form, in my own imaginary.
Anything else you'd like us to share with our community/customers about your work or process?
It was a beautiful job to be able to collaborate and create this designs for Tea and see them come true in their clothes.
Shop our Tie Shoulder Baby Dress and our Strappy Back Skirted Dress in the the Mili D'Aiello Fruta print!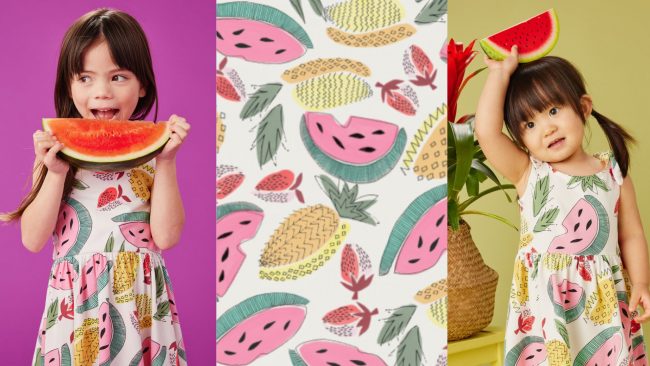 Our partnership with The Cosa Buena Foundation is part of our ongoing commitment to donate 10% of profits to make the world a better place for kids everywhere. To date, Tea has donated over $1.5 million to various non-profit organizations. You can learn more about their work or make a donation here.