The entire team at tea is so excited about our Mexico-inspired summer collection. The design team was lucky enough to connect with Mexico City illustrators Armando Fonseca and Amanda Mijangos. Armando and Amanda often work together to create art that is both imaginative and whimsical. Our team was so inspired by their artwork, and knew that they would be incredible to collaborate with. Armando and Amanda drew inspiration from Puerto Escondido, Mexico, a port town in Oaxaca known for its wonderful beaches full of sea life. We are extremely excited to have three clothing items illustrated by Armando and Amanda for summer. We are so grateful to be able to connect with brilliant artists from all over the world to create inspiring designs.
ABOUT ARMANDO & AMANDA
Can you tell us a little bit about yourself and your journey with art? Did you always want to be an artist?
We could say that we ended up in the world of illustration a bit by accident, Armando studied philosophy and Amanda studied architecture. However, at some point, we both discovered that what interested us most were drawings and words. 
How long have you been working together? 
We each have personal professional developments, but since we've known each other for 8 years, we take every opportunity we can to work together.
What's your favorite part about being an artist?
Our favorite part of making drawings is having the chance to have what we do appear in the most diverse media, from a painting to a book to an amazing piece of clothing, and to have our drawings travel to faraway places and be seen by many different people.
PROCESS & TECHNIQUE
Where do you find inspiration? 
We are fortunate to live in Mexico, a place full of tradition, history, colors and extraordinary landscapes. 
What's your favorite thing to illustrate? 
Our work is generally developed in the publishing world, that is, books and magazines. However, we don't have a preference and we love to work in any kind of medium.
What medium(s) do you use for your art?
We like to experiment with different materials, paints, watercolors, colored pencils, stamps, paper cuttings, ceramics.
THE COLLABORATION
We are so excited to be featuring designs inspired by your art for our summer collection. Can you tell us a bit about the inspiration behind the illustrations
?
Our favorite beach is in Oaxaca, a part of Mexico on the Pacific coast, with rocky cliffs and a particular vegetation, which is also a place where turtles nest, this site is what inspired us to make these drawings. 
Anything else you'd like us to share with our community/customers about your work?
We are very happy to have collaborated with the summer collection, we hope people enjoy the drawings and the garments, and that you have the opportunity to collaborate in future occasions. 
Shop our Armando and Amanda Collaboration pieces here!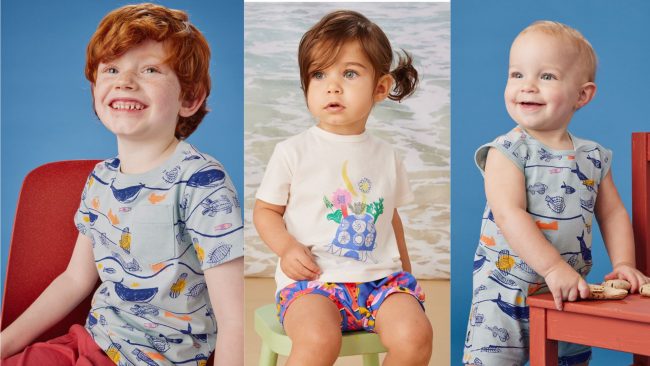 Our partnership with The Cosa Buena Foundation is part of our ongoing commitment to donate 10% of profits to make the world a better place for kids everywhere. To date, Tea has donated over $1.5 million to various non-profit organizations. You can learn more about their work or make a donation here.