Meet Bridger, from Richfield, Utah. Even though he doesn't speak, this smiling 4-year-old teaches everyone he meets the value of life. He is deaf and his vision is impaired, yet he always carries on with a smile. He can't walk, sit or crawl, but has moved mountains with the light he radiates. He has changed the world around him for the better, showing you don't need words to make a big impact. And what lesson is more valuable than that?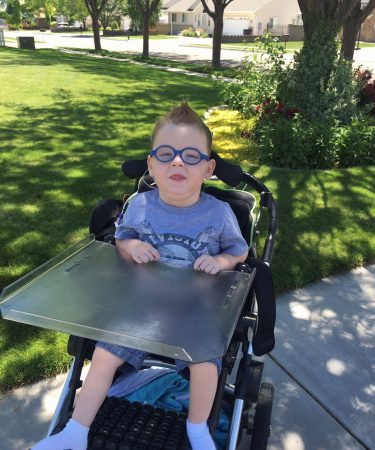 From his sweet nature to his unwavering positivity in the face of adversity, we can all learn a thing or two from Bridger. So we asked his parents to dig a little deeper into his story.
Tell us a bit about Bridger…when did you first discover he was hearing and visually impaired?
When Bridger was born, we had no idea the disabilities he was facing. He appeared as healthy as could be. The only red flag from the beginning was his failed hearing screening. As he grew, we started to notice many red flags. By the time he was four months old, the flags were so red, we knew there was something wrong. After seeing a pediatric neurologist and an audiologist at Primary Childen's hospital, Bridger had some testing done, which included an MRI, an ABR and blood work.
The ABR results were instant, and the audiologist told us Bridger had 'profound' hearing loss. This news left us numb and completely devastated. As for the MRI results, I received a call from the doctor with the results on February 14, 2014, while walking into the elementary school to help with my sons Valentine's class party. I remember the doctor saying, "I wish I was calling with good news, but I'm not. What we found is not what we wanted to see…." I felt my heart break into a million pieces as he explained the results. Bridger was lacking myelin (white matter) in his brain. From his MRI, he was diagnosed with PMD (Pelizaeus-Merzbacher Disease). Since then, we have had countless genetic testing done to confirm this P.M.D.  diagnosis and haven't been able to confirm that he has this disease. We have also tested for all other types of diseases to try to pinpoint a diagnosis and have been unsuccessful.  At this point, he is now listed as having undiagnosed leukodystrophy.
That's not all—when Bridger was about 8 months old we took him to see an ophthalmologist. It was then we found out he had cataracts forming on both eyes. One cataract needed to be surgically removed immediately; the other has been progressively forming and he has surgery scheduled for this August.
Bridger already has cochlear implants, a surgery he had when he was a mere 16 months old. He has now had his implant for 2 and a half years and it's still very debatable what he hears. Bridger is also fed through a G-J tube 24/7. 
So how does Bridger express himself, and at what age did he learn to do so?
Communication has been a huge area of concern for us. With Bridger's condition, sign language hasn't been something that has worked for communication. To make a long story short, at this point, we have two gestures that we have been able to get Bridger to do to communicate with us. He started to use these gestures at the age of 3. If he wants more of something he will lift or raise one hand. When he is done with something he will put one arm across his chest. He does this well, but not 100% of the time.
How have physical limitations impacted life for Bridger, and what do you hope to do with this donation to make his life richer and the world more inclusive?
Bridger's life has been impacted in countless ways due to his disabilities. He can't see further than 5-6 feet away, he cannot run, walk, talk, eat by mouth, sit on his own, etc. We want him to enjoy as much of a 'normal' childhood as humanly possible. 
He adores playing with his big brother and sister, and one activity we love is going to the park. But sadly, there aren't any adaptive swings or any other activities there that Bridger can enjoy. He is left to hang with us on the sidelines as his siblings play. The same goes for at school – when Bridger goes to recess, there isn't any adaptive equipment there either.
With your support and Tea's contribution, Bridger's family plans to install an adaptive swing or other adaptive play equipment for their local park and/or school. This would be life-changing for all local children with disabilities, allowing them to engage in play with other kids rather than be forced to the sidelines to watch.
Head to TeaCollection.com and shop through August 3rd to help make our playgrounds a more inclusive place for Bridger and other kids like him!

"Bridger is one in a million. He teaches without words, and leads without taking a single step. His daily physical battles are intense, yet he takes it all in stride. Just spend some time with a child like Bridger, and you'll walk away a better person, appreciating the simple things in life, like the gift of sight, the gift of legs that work, the gift to speak, the gift to see, and so much more."