Meet Savannah of Elk Grove, California. Just a few months shy of 10 years old, Savannah is a bright, young spirit with a big smile and an even bigger heart. She's held bake sales, participated in charity runs and even donated some of her own savings, all to help support local foster child advocacy organizations.
Once a foster child herself, the plight of foster children without forever families has always been near and dear to Savannah's heart. And today, she is an advocate for other kids like her who are waiting to find their forever homes.
Lucky for Savannah, she found and joined the Bailey family through foster care adoption early on in life. Her parents share with us her story…
Tell us how Savannah (and her siblings) came into your lives.
Savannah entered our lives as a happy, boisterous two-month-old nearly ten years ago. She was technically in foster care until just after her first birthday (when her adoption finalized), but there was no doubt from day one that this little girl was the center of our world. We knew then that we wanted a bigger family, so we returned to fostering in the hopes of adopting, and ended up being placed with our oldest son, Miles, who came home at seven months old. After a few years, we decided as a family to return to fostering again and this time were matched with our youngest daughter, Cora, who came home at four months old.
We thought we were done with three kiddos, but Miles kept mentioning that he wanted a brother so we decided to go back one last time and ended up being matched with our youngest son, Amari, who joined the family at two and a half years old. While our first three kiddos joined the family as babies, Amari  came to us after being in 8 other homes in just two years. I think for Savannah it really drove home the point that not all foster children end up with permanency at such a young age, and many bounce from home to home like her brother Amari did. She now understands on a different level what a huge difference it makes for a child to have the love and care of a forever family as early as possible.
Not only does Savannah understand firsthand the importance of finding a loving foster home, but she believes "all foster kids should get a say in where they end up and where they feel safe" and is going the extra mile to help make sure that happens.
With your help and Tea's contribution, she plans to donate to her local Court Appointed Special Advocates (CASA) organization, which provides volunteer advocates to children in the foster care system to help ensure their voices are heard in court.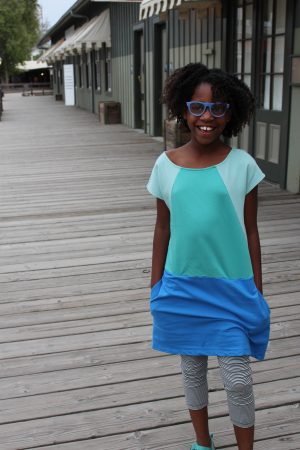 Head to TeaCollection.com and shop through August 3rd to support Savannah in her efforts to help foster kids around the country!