The Tea Collection Design and Creative teams found so much inspiration for our spring collection while exploring Oaxaca and Mexico City, Mexico. The food, markets, art and landscape of Mexico provided all the color and texture the team needed to create and photograph this exciting collection. Our Director of Design Margie loved spending time with the artisanal weavers at Familia Ruiz Mendoza, and she explains how this inspired this season's family plaid fabric.    
Q: Tell us about the Familia Ruiz Mendoza workshop?
The Ruiz Mendoza family from Teotitlán Del Valle are skilled weavers, continuing a craft that has been passed down through their family for generations. Despite the prevalence of synthetic and less expensive dyes in many weaving studios in Oaxaca, the Ruiz Mendozas are committed to using only natural wools and dyes derived from plants and insects. Their dedication to sustainable and traditional methods has not gone unnoticed, as they are also recognized as educators in the region, teaching the younger generation of weavers about the benefits of using natural dyes in their work.
Q: How did you spend your time at Familia Ruiz Mendoza? 
We were taught the art of using natural dyes to color fabrics. Our lesson included a fascinating discovery about cochineal, tiny insects that grow on prickly pear cacti and produce a brilliant red and purple dye from carminic acid. We also explored the wonders of the indigo plant, as well as the potential for pomegranates, onions, tomatoes, and marigolds to yield a vibrant rainbow range of natural pigments. It's amazing how much beauty can be created from the bounties of nature!  The family plaid was inspired by the rainbow wall of yarns hanging at the Ruiz Mendoza's home studio, and their longstanding heritage in the art of weaving.
We also had time to talk to Ruiz Mendoza to learn more about his family's workshop and the process of making natural dyes and fabrics.
Q: How long has your family been dyeing fabrics? 
My family started painting in 2004. We did research on becoming more environmentally conscious to take care of nature and the health of our family. We now use only natural dyes and wool at our workshop and have been painting for almost 20 years!
Q: How do you work together as a family?
We work well together! We all have the same values, principles, and the most respect for each other which helps us work as a family in harmony.
Q: What is your favorite part of your process?
Our favorite part of the process is creating the pieces. We take a lot of inspiration from nature. For example, most mornings, we take walks through the mountains during different seasons. We get inspired by the variety of colors each turning season and from there we take our pallet of colors and begin to make pieces on the loom.
Q: Favorite colors to work with?
We love to work with all different colors, yellow, green, blue, red, and fuchsia to name a few!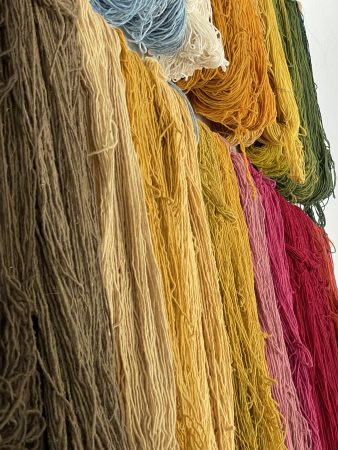 Shop our Feliz Familia Plaid for the whole family here!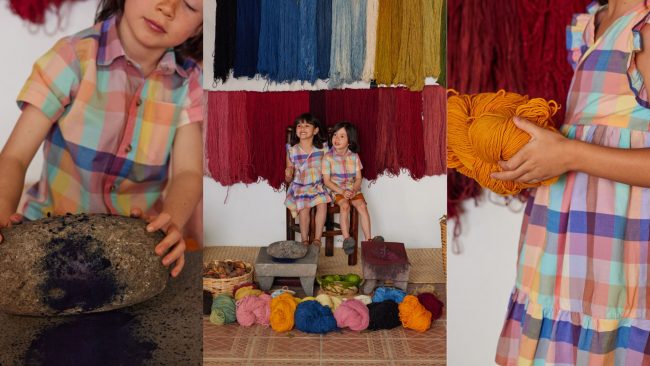 Our partnership with The Cosa Buena Foundation is part of our ongoing commitment to donate 10% of profits to make the world a better place for kids everywhere. To date, Tea has donated over $1.5 million to various non-profit organizations. You can learn more about their work or make a donation here.