I like to say there are 2 kinds of trips: Travelling and vacationing. Our recent trip to Puerto Vallarta for our Honeymoon was most definitely a vacation. The plan was to relax and only spend one day out on the town being adventurous.
Puerto Vallarta is a city located in Jalisco, Mexico and the waterfront city faces the Banderas Bay (aka the Pacific Ocean). We visited in early January, which I would suggest to others as a perfect time to travel. The weather was perfect and temperature ideal for beach adventures (around 80 degrees during the day!) We stayed a lovely resort about 30 minutes from the Puerto Vallarta airport, called Hotel Mousai. Also highly recommend that location for special trips.
We made plans for a mid-weekday trip into the city. My husband and I had never been snorkeling so we thought it would be a perfect outing for something new! We booked with Vallarta Adventures for a tour of some of the most beautiful spots in the Bay of Banderas. We woke up at 6 am and took a taxi from the resort to the pier. After paying the boat fees and going through security, we made our way onto the boat. The tour was about 5 hours long and we got to see the Puerto Vallarta from an entirely new perspective during the morning sunrise.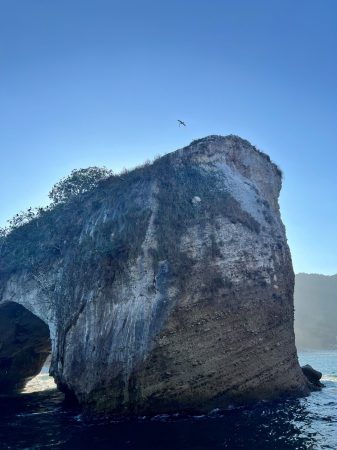 We sailed past Los Arcos de Mismaloya (The Mismaloya Arches). These islands and islets are incredibly important to the surrounding wildlife and the oceanic ecosystem. The area has been classified as a Mexican National Marine Park since 1984 and it is illegal to fish or disturb the birds there. Many birds flew by and stopped on the rock while we passed, some carrying sticks to add to their nests. The popular area was also filled with other tourists on paddle boards checking out the impressive biodiversity under the water.
Next, we stopped at Majahuitas Cove, which is also known for its diverse marine life, and hopped into the water with our flippers and snorkel goggles on. We saw many tropical fish and colorful reefs during our exploration.
After we all got back onto the boat, we were greeted by a man and his very well-trained seal. He was fed many sardines and was so sweet to everyone. We all got to take pictures with the seal and give him some pets.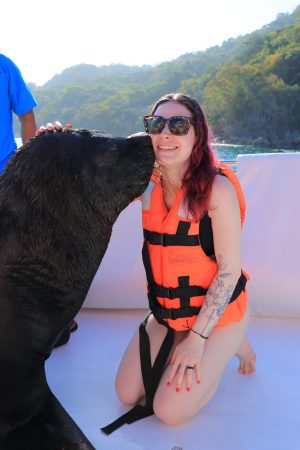 As we were sailing back to the pier nearing the end of our trip, we began to see humpback whales in the distance. We got a little closer, staying far enough away from them to not disturb them. It was mating season so there were quite a few out there jumping in and out of the water. These whales will eventually make their long journey back to Monterey, California in the Spring.
Overall, the trip was amazing, and I would probably do even more water activities and explore the city the next time we visit. Highly recommend boat tours, it was so much fun and easy to book. Thanks for reading! <3
Click here for link to Vallarata Adventures.