Firenze – Monterosso Al Mare – Lago di Como
Hi!  My name is Karen Bottaro and I work within the Tea Collection Supply Chain team- and have been desperately craving travel.  My family was fortunate to take a trip to Italy last month- the world's GEM! I am biased toward Italy, for my maternal grandparents were both Italian immigrants – my grandfather was from Lago Maggiore and my grandmother was from Turin.  My husband – is 100% Italian, a true Bottaro- and he has relatives in both Roma and Sicily. 
The days passed all too quickly during our Italian Tour- we tried extremely hard to relish in each moment of our 10-day visit- enjoying the people, the food, the sights, and the history.  This is a brief synopsis of the BEST tour- one to bookmark and replay in the future. 
"California is approximately 403,882 sq km, while Italy is approximately 301,340 sq km, making Italy 74.61% the size of California. Meanwhile, the population of California is ~37.3 million people (25.1 million more people live in Italy)" 
While Italy is smaller than my native California- it has very distinct personalities by region- the common thread amongst the personalities- is the committed passion for food, family and preservation of art and history. 
FLORENCE
We headed from San Francisco International, and we landed in the famous Tuscan city of Florence – "Firenze" as the Italians refer to this magical city. Though jet lagged upon arrival- we would not miss a beat and immediately headed to the heart of the city. We put on our tennis shoes and hit the pavement.  The city is small yet behaves large- with historical landmarks that are punctuated all over the city. The city was pretty much founded and dominated by the Medici family and much of the art Sculpture was created by the infamous Michelangelo.  
The Medici Family innovated new banking systems and laid the groundwork to make Florence a cultural hotspot. Through their political strategy and patronage of major artists like Michelangelo, they created the High Renaissance. 
It is worth every penny to secure a tour.  We took a half day walking tour with an Italian woman- Giuliana- who was born and raised in Florence- She took us down allies, up staircases, into hidden gardens and to the top of streets that overlooked the beauty of the city- with the Duomo always being the shining star. 
There are some blurred lines between fact and fiction- yet I did tuck this note away.  The Italian flag and the marble covering the Duomo are in three colors- green, white & red. The colors stand for hope – green, faith – white, and charity – red. 
If you go to one Museum only- one must go to the Accademia and view the daunting Michelangelo's David. I still cannot believe that one man created this piece of perfection- every muscle, vein and expression are beyond life like. It took Michelangelo three years to complete and the work of art was moved indoors to this museum in 1910. 
THE DUOMO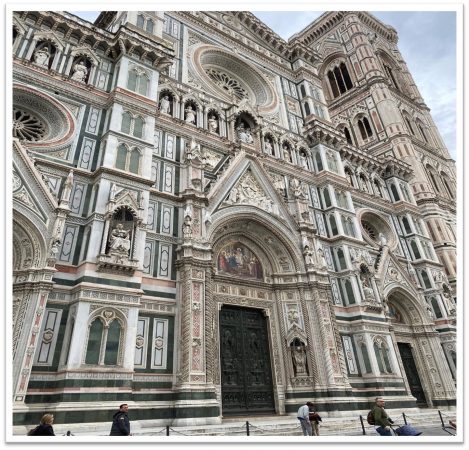 DAVID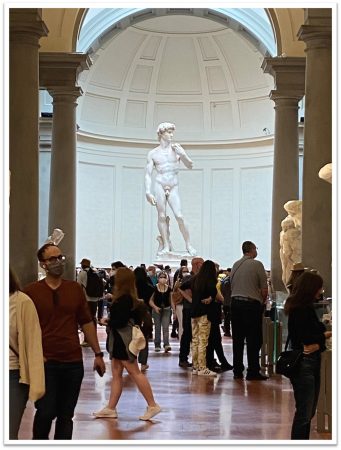 PONTE VECCHIO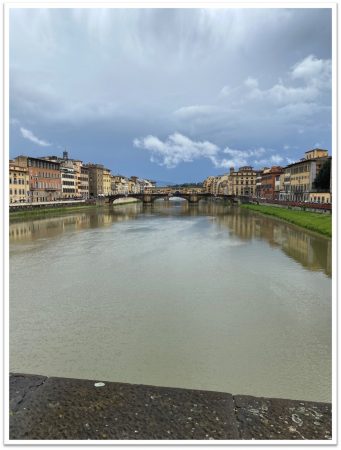 THE VIEW FROM PIAZZA MICHANGELO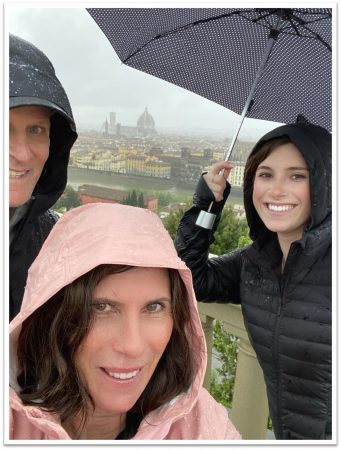 SURPRISES ARE EVERYWHERE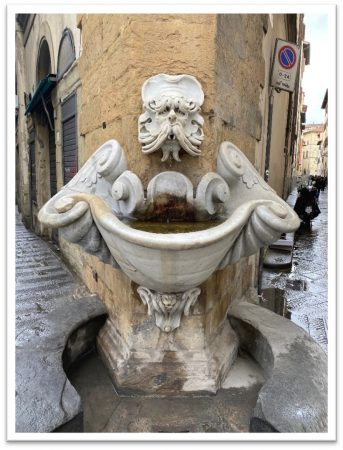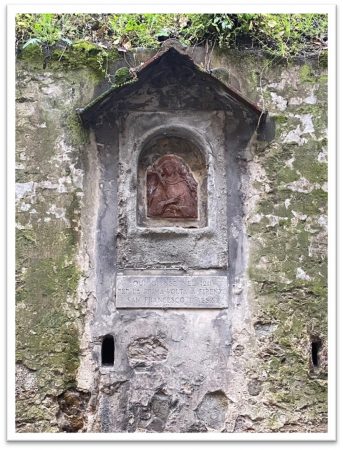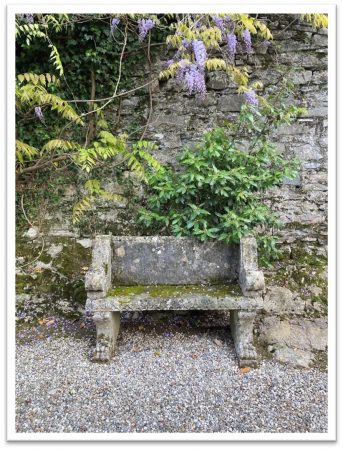 Famous people born in Florence:
Leone Battista Alberti, a polymath
Dante Alighieri, a poet
Filippo Brunelleschi, a famous architect
Giotto di Bondone, an early 14th century painter
Michelangelo Buonarroti, a famous sculptor, and painter- The "DAVID" resides in Florence
The Medici Family, the "founding family of Florence"
Morning meals consist of a little sweet baked good and a one and done coffee.  A key discovery is that coffee is NOT to be ordered in the afternoon – nor walking the streets with a TO GO cup.  Drinking a cappuccino – is truly a quick morning pick me up – most people are standing up at coffee bars while drinking- and one will not be seen ordering past ten in the morning.  Contrary to U.S. Starbucks afternoon runs!
Cafes and "Trattorias" (home cooked meals with lots of style) are constantly bustling- with people spilling over to outside seating while laughing, and sipping Aperol Spritzes.  The nibbles of choice at the 4 pm cocktail hour are classic potato chips and peanuts.  This holds one over until the real meals begin- sometime upon the 9 pm dinner hour.  Tuscan bread is served with every meal- an unsalted delicious carb, that you dip in Olive Oil and Balsamic Vinegar – always from Modena.
For those who like to eat beef- Florence is your place.  Every single Trattoria will offer a Florentine steak on their menu- served to order- the bigger the better and there is nothing small about these cuts of beef- all from the farms in Tuscany. Waiters will often recommend splitting the dish amongst two or three guests at the table.
Finally, my dinner drink of choice was a glass of Prosecco – light, dry and a little bit bubbly! One cannot go wrong sipping with a first or main course.
You cannot leave Florence without a daily dose of "Gelato."  Gelato is Italian ice cream and there are shops on every city street corner – I am unsure why it is but EVERY flavor tastes better in Italy.
Walking across and lingering through all the many Jewelry shops is a must do in Florence.  The Italian gold is packed into tiny little shops and is blinding. The Arno River ebbs and flows, being the ultimate spot to snap a picture.
In 1966 – the river rose to flood levels- and buildings were in ruins. Today, you would never know of the devastation the city has endured due to the flooding.
DELICIOUS!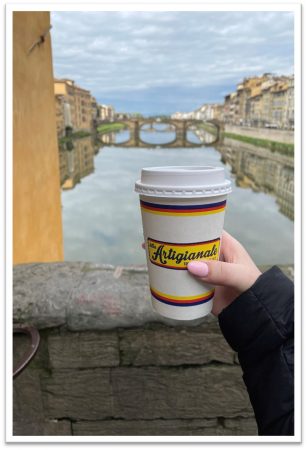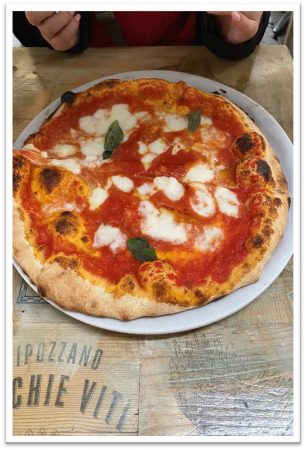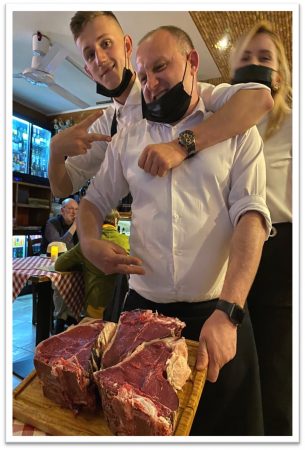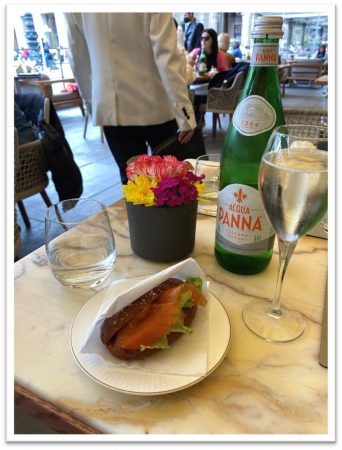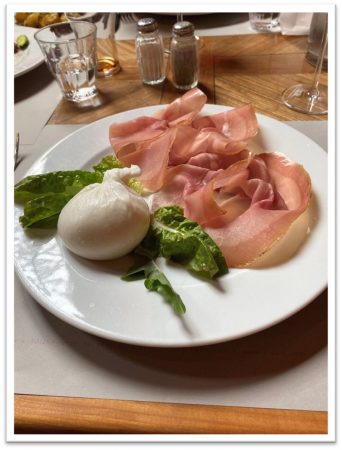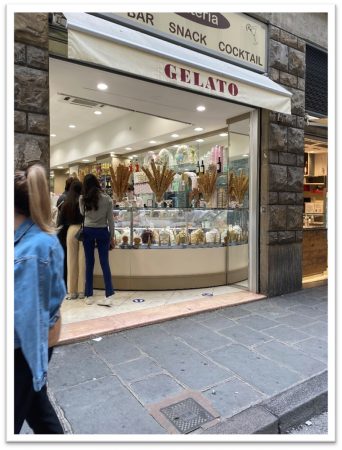 Sleep
We stayed at the Marriott on the edge of town – when departing home at the end of our trip.
I was only a 25 Euro cab ride to the airport, a 20-minute walk to the Duomo, immaculate, friendly staff and modern.
https://www.marriott.com/en-us/hotels/flrfi-ac-hotel-firenze
https://www.hotel-bb.com/it/hotel/firenze-pitti-palace-al-ponte-vecchio
https://www.hotelsantamarianovella.it
Tour
Ensure you purchase the skip the line tickets
Museums are closed on Mondays, and they are always open on Sundays
https://www.viator.com/Florence-tours/Walking-Tours/d519-g16-c56
https://www.florence-museum.com/accademia-gallery-tickets
https://www.uffizi.it/giardino-boboli
Eat
Matto Matto Pizzeria Grill Ristorante
4 Leoni- https://www.4leoni.it
Osteria Del Proconsolo- https://www.osteriadelproconsolo.com
MONTEROSSO
Next Stop – Monterosso al Mare or Monterosso as the locals call it, which is approximately two and a half hours by train from Florence.   The train ride from the inland city of Florence to the coastal town of Monterosso is absolutely beautiful.  One could compare to the coastal ride up highway 1 in California- and the well-known coastal towns named "Cinque Terre" are punctuated with bright buildings dating back to the eighth century.   Monterosso is the most northern of the five towns,  with a beautiful beach, tiny pedestrian streets, and seafood restaurants.  This small town is the mecca of Seafood.
We had our first meal with fresh and locally caught fish and fresh Pasta with Pesto- all to die for!  The next day out, our afternoon snack was a Fritto Misto presented in a popcorn style cup and sold in a small little deli on a side alleyway.  We just squeezed a fresh lemon over it all and we were all good to go!
Each of the five towns in Cinque Terre are built around their local church- the cities are carved into the hillsides and cantilever down to the sea.
If ambitious- as I was- and therefore forced my family to do so- we hiked along the edge of the earth- to capture the beauty of Cinque Terre by foot.  One will be delighted to hear languages from around the world from fellow hikers, accordion players entertaining those that pass by, and little snack shacks along the way to fulfill the need to refresh.
Grapevines are terraced along the mountain sides-  and one can order the local wine in any of the trattorias in town.
THE VIEW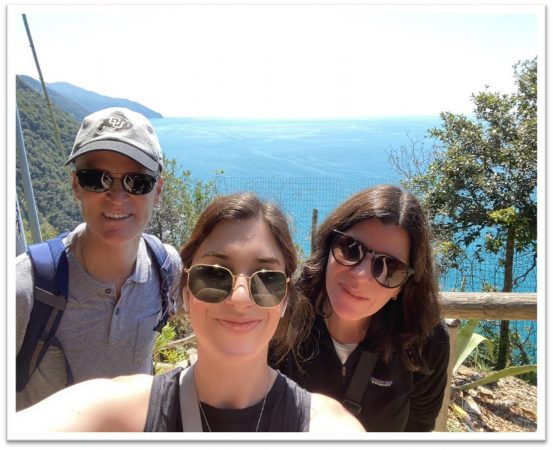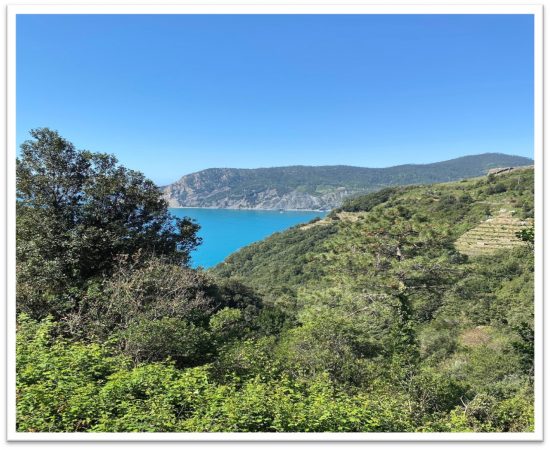 One can also take the local train amongst the villages or take the Ferry- as we did on the return from the most Southern city of Riomaggiore back up north to Monterosso.
MONTERRO AL MARE  & VERNAZZA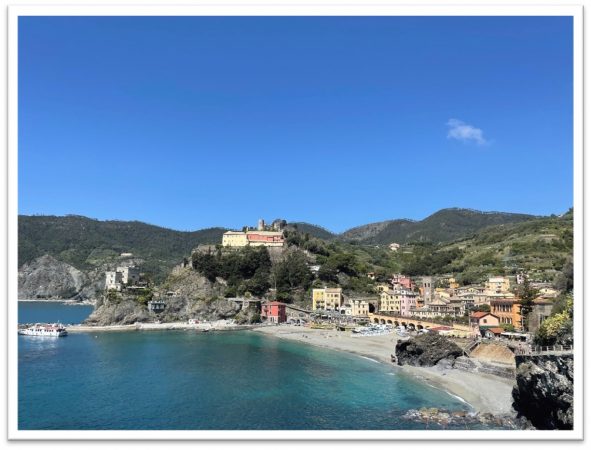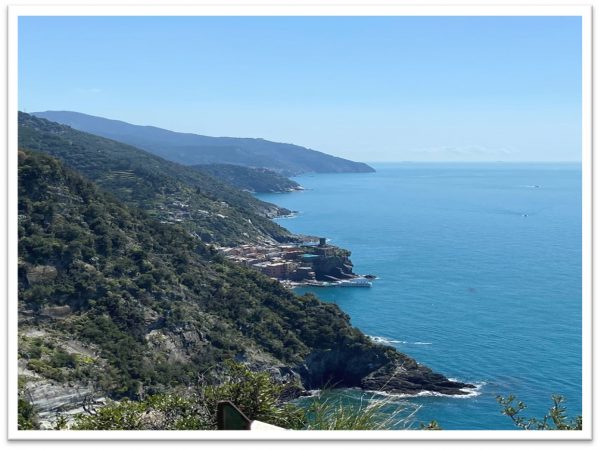 THE HIKE ON THE EDGE OF THE EARTH- SUCH BEAUTY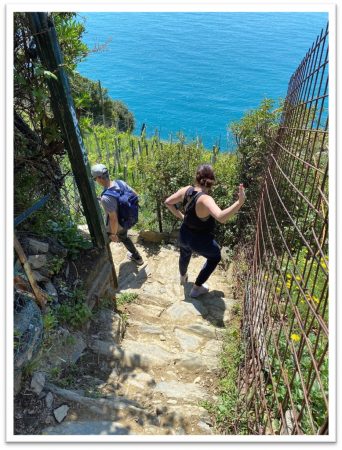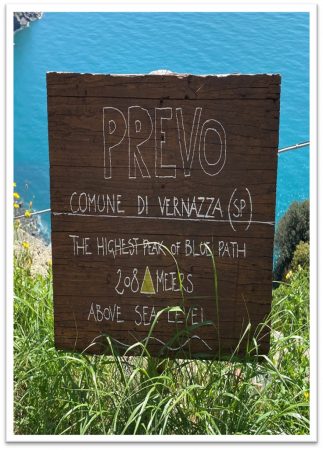 CHARMING CINQUE TERRE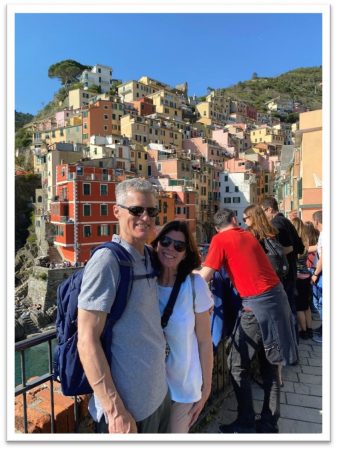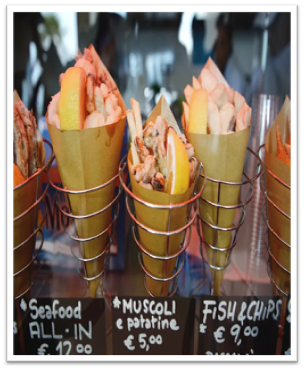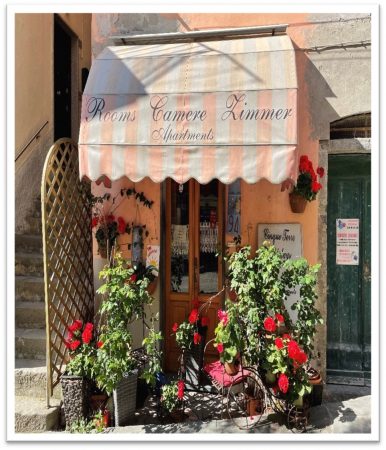 Sleep
Tour
Purchase tickets to pay for the trail fee –at the beginning of the trail head in each town
https://www.incinqueterre.com/en/timetable-fares-boats-cinque-terre
Eat
Ristorante il Moretto – no website
https://www.torreauroracinqueterre.com
LAKE COMO
The Grand Finale of our tour was Lake Como – Lago di Como.  Heading northeast from Monterosso was another picturesque train ride.  The ride took us into the huge Milan Centrale station, prior to jumping – or actually running!  to a smaller connecting train to Lake Como.  Upon arrival we were greeted by Tony Cardinale- an Italian American- whose goal in life is to ensure his guests at his "Villa" experience Lago di Como to the fullest.
Tony's Villa was breathtaking – and sat on the edge of Lake Como.  Our view from our kitchen balcony guaranteed that I would return to that very spot someday.  I was taken aback by the serenity of this massive (128 miles in length) mountain lake- where jet skis and water skiers are forbidden, and power boats are dominated by old wooden Chris Crafts.
Villa Mathilde is in the town of Torno- mid-way from the town of Como and the famous tourist and shopping town of Bellagio.
The best way to experience this Lake is being on the water- we took the slow ferry- zig zagging the water from town to town. Hop off at one's leisure and explore the towns- from locale vibes to all out fancy glamour- Villa Carlotta will not disappoint.
THE LAKE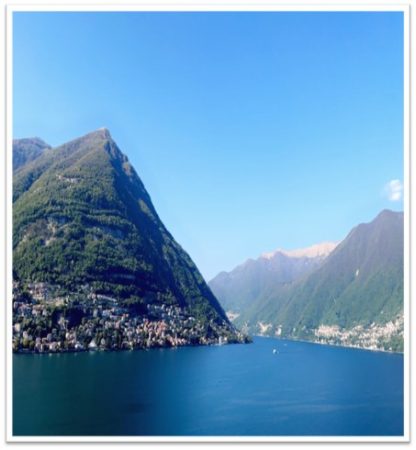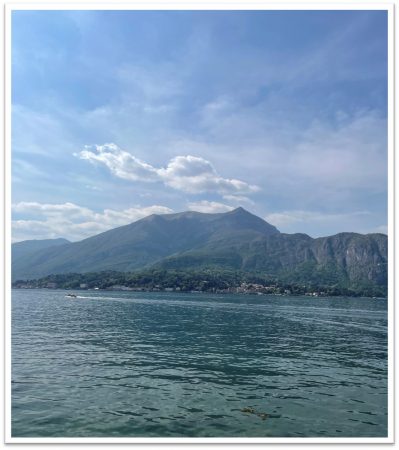 PROSECCO TIME & VILLA CARLOTTA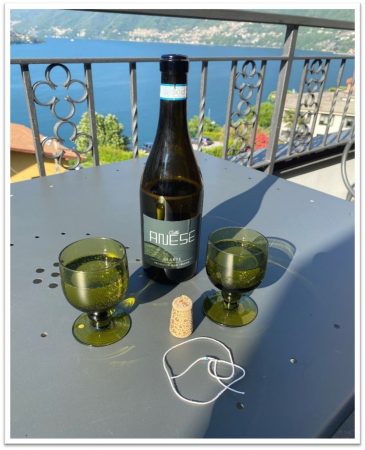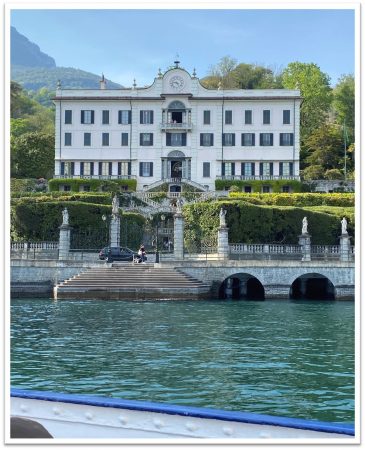 Sleep
http://www.villamatildatorno.com
Tour
https://mylakecomo.co/en/attractions/church-of-san-martino
Eat
Hotel GLAVJC- https://www.hotelglavjc.it
I feel so fortunate to have had travel introduced in my life at a young age- and now have the ability to share this gift to my children.
I sincerely hope that everyone has the opportunity to visit Bella Italia- its beauty, humble population and delicious food will forever live in your heart!