For our first international trip since the start of the pandemic, we were looking for something very relaxing, delicious food, and outdoors (i.e. minimal covid risk).
Cozumel stood out for it's chill vibe, calm salinated sea, and the world's second biggest coral reef. A majority of Cozumel is protected natural land, which limits development, and preserves the beauty of the island. It was also our top choice, because Cozumel's west coast was free of the season's notorious sargasso.
Before arriving in Cozumel, we made a short trip to Tulum, to explore the area's nature, cenotes and lagoon. 
This was just the vacation we needed. The food was fantastic, and it wasn't hard to find vegan and vegetarian options. We're looking forward to returning and exploring more of the peninsula.
EAT & DRINK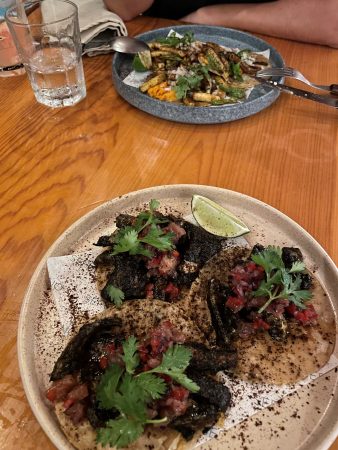 Every trip to Mexico includes agua frescas and an order of guacamole for the table. 
Cozumel
Mayan cuisine, including made-at-your table sikil p'aak and guacamole. I really encourage ordering the mayan menu items, such as panuchos. Delicious drinks as well. So nice we went twice! If we ever return to Cozumel, we will beeline to this restaurant.
We popped in for a light lunch, and were delighted with a delicious meal. The restaurant is super cute, with a great atmosphere. I highly recommend the quesadillas. Definitely call ahead,  as they have ever-changing hours.
Great cocktails, delicious food, and amazing service. We had a wonderful view of the sunset from the open air restaurant..
Tulum
Wonderful quesadillas and guacamole. You can buy agua frescas to go. I highly recommend an agua de sandia for a post beach refresher.
I loved the chilaquiles. A great place for breakfast or an early lunch.
STAY
Cozumel
A lovely hotel, with great service. The breakfast (at Sereno) was on point. Right across the street from a good snorkeling spot, "Monkey Beach".
EXCURSIONS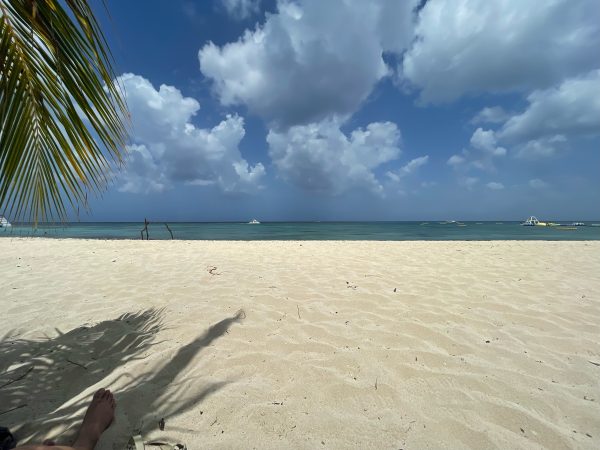 Cozumel
Beach next to Playa Palancar (free beach):
The Yucatan Peninsula has my favorite beaches, and this public beach is at the top of my list. On weekdays, the beach is empty or near empty. The beach is sandy and the waters calm.
A handful of young coconut trees line the beach, providing shade and perfuming the beach with a divine aroma. 
The beach is situated between two beach clubs. The best entrance is through a gate along the left side of the Playa Palancar beach resort (I can't speak for the resort, as we never went).
Snorkeling
If you go, I cannot recommend snorkeling enough. We hit up a few spots, and found 
Along with all the colorful fish, we saw giant starfish, young barracudas, sand rays, sting rays, and even a hammerhead shark. We saw a variety of sea life and coral reefs at Money Bar Beach Club. Lots of cute fishes at Playa Mia Beach Club (big club-bar) and The Monkey Beach (tiny club-bar). Along with visits to beach clubs, definitely book a day trip on a boat, as you'll have access to snorkeling spots far from shore.
We were on the fence on whether to get scuba diving certified on this trip, so we chose the option to take an Discover Scuba Diving "intro class". The class goes through the basics, and takes you down 20 meters (you'll need to be certified if you want to go down lower".
I highly recommend this for anyone who is on the fence, and/or wants to get a peek a little further than snorkeling.
Tulum
Word to the wise, wear a rashguard & hat! Sunscreen is not allowed at the cenotes or lagoon, to maintain the cleanliness/preserve the pools.
I highly recommend this tour of local cenotes. They offer different levels; ranging from small local spots to more established/commercial pools. We especially enjoyed traveling from cenote to cenote by bike. The tour was fun, partly due to how awesome our guides were.
This picturesque lagoon is well worth the trip! (Drive slow, and keep your eyes peeled for the tiny sign, as cell service drops in the surrounding area.) The turquoise lagoon includes swings, hammocks, and a long pier to rest on.