Bonjour from Paris!  My name is Corinne and I am a Senior Textile and Graphics Designer at Tea.  My family and I decided to spend our daughter's spring break in Paris, France.  I was especially excited about this trip since our Fall/Winter destination is France.  
Getting Around
Since you don't need a car there we took the train from the airport.  It was a great choice since we booked our accommodations near one of the stops. Walking around Paris is one of the best ways to see the city.  We decided to bring a small stroller since we knew our 4 year old wouldn't want to walk as much as we did. The Metro is convenient and easy to navigate.  They offer 1-5 day tourist passes which is a great choice if you are traveling around the city. G7 Taxi service.  You can either book with the app or by phone.  They can provide child car seats or booster seats, which was super helpful for our early morning flight home.  
Fun Things to do with your Kid
We booked most of our tickets for our activities prior to arriving so we could skip the line and know we would be able to get in.
Spent the day at the Palace of Versailles– An easy train ride out of the city and a short walk to the Palace.  Such a special place.
A boat ride on the Seine–  We hopped on at the base of the Eiffel Tower.  This was another way to see some of the historical sites and get a quick history lesson.
Spent the day at the Luxembourg Gardens–  One of the highlights of the trip.  The pony rides and toy boats were so charming.  On certain days of the week they have puppet shows.  The playground and Carousel are not to be missed if traveling with kids. 
The Orsay Museum– located on the left bank at the Seine.  It is in a repurposed train station which makes it extra special.  
The Tuileries Gardens and The Louvre–  The perfect place for an afternoon stroll or to stop and play at one of the many playgrounds around the city. 
Carousel rides throughout the city-  This was one of Lennon's favorite daily activities.  We did go to some more than once. 
Carousel de la Tour Eiffel– This one is at the foot of the Eiffel Tour, so magical!
Belle Epoque Carousel– Located in the heart of the city right at Hotel de Ville outside city hall
Place St-Pierre Carousel– located at the foot of the Sacre-Coeur and conveniently next to a small playground
Manége Garnier– Located in the Luxembourg Gardens.  This is one of the oldest Carousels in Paris.  Kids can also catch rings as they go around
Le Lutin– A smaller Carousel we stumbled upon in Pigalle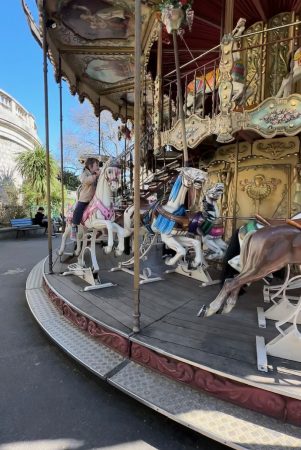 Disneyland Paris–  An hour train ride out of the city.  While it is smaller than Disneyland in Anaheim it did not disappoint.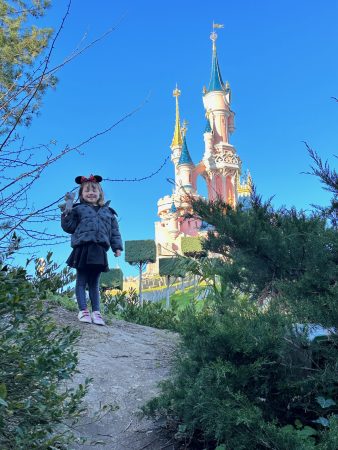 Eats
Dining with younger children can sometimes be challenging (darn picky eaters!)  We were able to enjoy some leisurely lunches and stop for afternoon coffees, to people watch These are some of our favorite places.
Le Creperie– Nice atmosphere and a view of the Pantheon 
Mizon Paris–  They have 3 locations in Paris 
Pizza Popolare– So good!
Ladurée– Multiple locations throughout Paris.  It is worth just having a look. 
We had such a great time in Paris and can't wait to visit again soon.  
Merci et au revior!