The entire team at Tea is so excited about our France-inspired fall collection. Our San Francisco design team was lucky enough to collaborate with French illustrator Odile Ferraille—we discovered her work on Instagram and immediately fell in love with her playful motifs. "We love the use of animals in her art, and her style is modern and relevant—perfect for children's apparel. It really aligns with themes that our customer loves," says our Art Director for Textiles & Graphics, Nicole Wadlington. The team loved how optimistic and whimsical Odile's dog drawings were and thought it would so cute to combine her illustrations with French pastries! "We really want to tell the story of the place through the eyes of artists who know the culture the best. It's really important to partner with people from the place we are sharing in our concepts, " says Senior Print Graphic Designer, Corinne Hirano. 
We were also fortunate enough to interview Odile and learn more about her background as an artist, where she gathers inspiration from, and some of her favorite places to visit in France!
ABOUT ODILE FERRAILLE: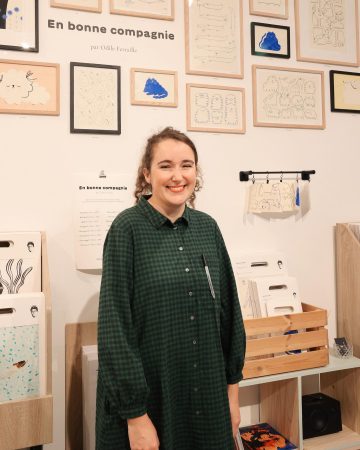 1. Can you tell us a little bit about yourself and your journey with art?
I'm an illustrator living in a small town on the west side of France, by the sea. I studied graphic design and worked for a french paper company for several years. During that time, I felt the need to draw more and more for my own sake. I started sharing my personal work on instagram, giving me the opportunity to be approached for various projects.
2. What's your favorite part about being an artist?
I love the research, the experiment, the freedom and the fun of it. 
3. We see that you have a lot of animals in your art, do you have any pets of your own?
Of course! Mimi & Momo, two adorable rescue animals, a cat and a dog that get along pretty well. I love them and they inspire me a lot!
PROCESS & TECHNIQUE:
4. Where do you find inspiration? 
On the streets, looking at stylish dogs. In my garden, watching the flowers and birds. In museums and exhibitions. 
5. What motivates you to create art?
I genuinely like to draw, I think that's the most important thing! I like to experiment, and I love that tiny moment when the drawing finally feels right.
6. What medium(s) do you use for your art?
I doodle a lot on paper, but mostly work digitally, because it's faster and easier. Recently though, I've also been doing experiments with watercolor and have been enjoying the unexpected aspect of it very much. 
7. What is your favorite subject to draw? 
Dogs obviously… I always end up drawing dogs because they are so fun to make and can take so many different shapes.
THE COLLABORATION:
8. We are so excited to be featuring designs inspired by your art for our fall collection. Can you tell us a bit about the inspiration behind the illustrations?
The first drawing was inspired by my many walks with my dog Momo. We always meet lots of other dogs, and it always amuses me to see how different they all look. When drawing, I like to try to capture their inner vibes, to show their personality. The second drawing is all about iconic French pastries, so I guess I was inspired by the thousands of viennoiseries and pastries  I've eaten in my life!
FRANCE:
9. What is your favorite part about France? 
The food!
10. Are there locations in France that you like to go to for art inspiration?
I love going to Paris of course, because there's so much going on. Exhibitions in museums and galleries, art and design shops, bookshops… I always come back with an urge to create!
11. "Joie de vivre" is a phrase we kept in mind when designing our collection for fall. How does "Joie de vivre" resonate with you? Are there things you do while practicing art that make everyday moments feel special? 
For me, "la joie de vivre" is being able to appreciate the little, ordinary moments of happiness. Marveling at the scenery, enjoying a cake in good company, dancing at a concert, laughing with friends, having fun playing with your dog… Drawing in itself is a special moment of its kind, and I like to enjoy it while listening to music or a good podcast.
Shop the print here!