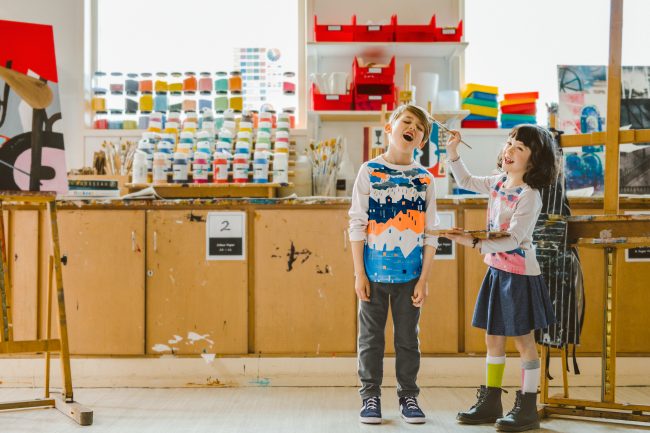 The Tea boy and girl are bold, spirited, and completely unique…and everything they do—from the activities they take part in, to the clothes they wear—is a form of self expression. Here at Tea we encourage creativity from an early age, and our back-to-school collection celebrates the inner artist with unique patterns and designs inspired by Scottish arts of all kinds.
It makes sense then that when our designers traveled through Glasgow, they made a point to stop by the prestigious Glasgow School of Art. There they saw first-hand the works of the famous artists who once studied there, and had the amazing opportunity of meeting some of the young visionaries who are driving the artistic movement there today. After touring the campus and visiting with the students at their studios, our team was so impressed that they wanted to create a contest to feature and market the students' talents. So they had them create a very small collection of prints and graphics to be featured on a few of our new back-to-school styles for fall.
They were blown away by all of the amazing work they saw from these emerging fashionistas, and ultimately chose the talented Claudia Veneroni for this very special collaboration.
Meet Claudia Veneroni—the artist behind the beautiful designs featured on our newest, one-of-a-kind Claudia Graphic Tee for girl, and our cool, vibrant School of Art Graphic Tee for boy. See why we instantly fell in love with her work.
When did you first fall in love with art?
I first fell in love with art as a little girl. I was always wanting to draw and design princess dresses. I think that was my initial starting point when I began to love it—I just always liked to draw and be creative. I remember drawing a whole mural on my bedroom wall when I was about 7 or 8—it was a whole mermaid scene, my mum wasn't even annoyed she just found it funny because she actually thought it was a good drawing! Although she then had to repaint my whole room, so not sure how funny that was!
At what point did you decide to pursue art as a career?
Art was always my best subject in school and it was the only subject I really tended to concentrate all my energy on. I would spend every waking moment I could in the art department—it was just an amazing, creative atmosphere and I really loved my time there. I also had a really inspiring art teacher who was really supportive. He told me that I would definitely get into to art school and he believed I could do it—I think hearing that at 14 really encouraged me to go for it and work really hard.
Now you're 21 and living that dream at GSA. What have you been focused on as a student there?
Before I got into GSA, I went to college in Glasgow, where I did a portfolio course. At first I was really set on doing jewelry design, as that was what I had focused on at school, but doing such an intense course I really found my path through textile design. When I then got into GSA, I had the ability to explore the four textile pathways of print, knit, weave and embroidery. I fell in love with embroidery straight away—I just love the details and how experimental it can be. I think there's a common misconception that embroidery is just done by grannies in their living rooms, (which I know is who I will be when I'm older!)  but it can be so open and abstract.
Where do you draw inspiration from, and what does your design process look like?
I draw inspiration mostly from architecture and day-to-day life that I capture through my camera on the street and world around me. I am definitely influenced by new places—whenever I go away somewhere on holiday I'm always taking pictures of everything. My design process begins with accumulating lots of research through magazines, books, my own photography, Pinterest etc. I then create color palettes through this research and begin to collage and create drawings (so much drawing!). When it gets to creating the textile, I tend to work with fabric as if it was paper, with lots of hand cut shapes, so I can really capture the essence of my drawings. Working this way really allows me to create textile designs that capture my personal design style, and I think this really allows me to explore lots of new possibilities within my work whenever I work on a new project.
Where did you draw inspiration for the designs you made for our Scotland collection?
For Tea Collection's Scottish Culture brief, I was first drawn to the beauty of Scottish Sunsets. Growing up in the countryside near Edinburgh, I was always inspired by the bold and bright sunsets that hazed over the hills and farmland of my hometown. I looked to Historic Scotland magazine for initial ideas and I kept being drawn into the beauty of natural Scottish settings. As a result, I came up with a Fall/Autumn color palette drawn from various sunsets from Loch Lomond to Linlithgow Loch—picking out colors I felt were relevant to Autumn, but combining them in such a way that isn't so obvious. I wanted to represent the playfulness of childhood linked in with my own personal representation of Scottish Autumn. Rich sunsets and fluffy clouds mixing in and combining with each other, creating and exploring different tones and colors—an almost dreamlike landscape.
Some of the shapes in my designs are taken from typical Scottish rainy and cloudy weather and my interpretation of the Scottish thistle as a nod to our National Flower. My main source of inspiration was the Skyline of Edinburgh Castle. When the sun is setting over the city a warm shadow glazes over the castle leaving only a shadow of its shape.
What did you enjoy most about the Tea x Glasgow collaboration experience? 
My favorite part about the collaboration was seeing my designs in full form on the kids in the catalog. They are so cute! It is such an amazing opportunity to see your designs not only being worn, but also knowing that people are going to buy them! So crazy, especially for a young designer—it was such an amazing chance to show what I could do in terms of design and working to a specific brief. Thank you so much Tea for this experience!
Interested in seeing more of Claudia's work? Follow her Instagram @claudualc or check out her final student show in Glasgow next summer!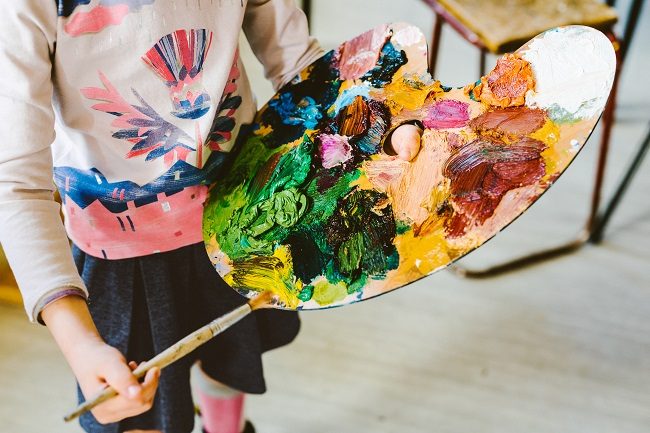 Now it's your turn to get creative! We've created Scotland-inspired coloring activities for the whole family to enjoy. Download them here, and tag us on Facebook and Instagram to share your little citizen's works of art!