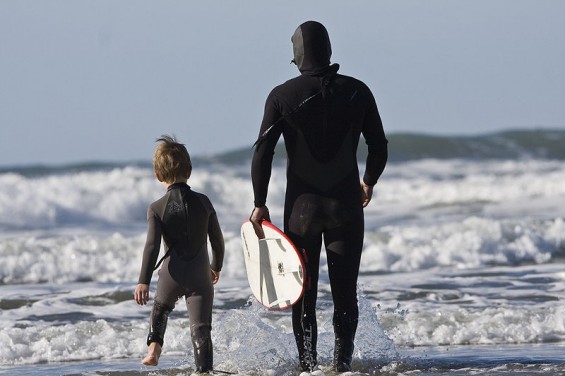 For Father's Day this year Tea hosted a great giveaway with Bonobos and Diaper Dude.  During the entry process we asked "What are your favorite activities to do with your kids?". Some of our favorite responses are below.

I just love being with my kids period.  We everything from sitting around laughing and telling each other stories to going to farmer's markets, to taking hikes. – Dan S.
Being a military dad requires me to be away be away from my 4 kids for long periods of time so being able to kiss them good night would be at the very top of my list.  Our favorite thing to do together as a family is hop into our surburban and take road trips. We love to explore new cities and towns but the beach is always our favorite destination. – Aaron M.
Fossil Hunting – Greg D.
I really enjoy helping her learn new things and observe how she does them.  My daughter is 15 months old and in such a great stage in life.  Showing her the world and things in her life is a special job that I love doing. – Juan T.
I take my daughter running -we're preparing for our first 5k stroller race together.  But that's not my favorite – I'm a much bigger fan of kiss attacks and upside down conversation time. – Benjamin W.
Our favorite thing to do together is to go to the beach.  We just walk around, look for shells, and check out the tide pools to see what animals are in them. – Paul P.
Putting them in the bike buggy and riding to farmers market or pancakes on Saturday while their mom sleeps in. – Penn B.
When my daughter is born, I'm gonna have fun teaching her how to change a tire and check the oil in her car. I'm going to love teaching her how to stand up on a surf board. But before all that, I think I'll just enjoy watching her sweet face as she lays in her crib, sleeping. – Parker B.
Go on a bike ride and look for bugs and animals. Make them pancakes and popsicles. Play fort in the house. Work out in the yard on our vegetable garden. – Dave H.
I love watching how happy my 2 year old son is when I put on Superman theme music and "fly" him around the kitchen. – Joseph C.
My daughter is a single mother.  She has two little girls-a newborn and a 5 year old.  I help her out by taking her 5 year old, Carina, to hula lessons.  Since I am from Hawaii, this is part of me, my culture, our culture that I can share with and pass down to my granddaughter.  It's our bonding moment.  We also like to take walks around our neighborhood.  I love it when Carina shouts, "Come on Papa, let's go walking!" – Michael N.