When we moved into our house 4 years ago, there was a cozy, sun-filled room adjacent to the kitchen that I felt would be a great mini-play space. I envisioned the kids creating artwork in this space and proudly displaying their creations on a large wall inside the room – it would be their very own art gallery! We covered the wall with magnetic paint and then added a few layers of chalkboard paint. (The kids still don't know that the wall is actually one large chalkboard… too messy and dusty near the kitchen!) At first, we tried to mount the kids' paintings with magnets, but they didn't stick well (most likely because we have chalkboard paint over it), so the artwork is now mounted with colorful tape.
This past year, my son's teacher encouraged all of the parents to make a large portfolio of each child's work. The idea of Clement having all of his school mementos in one place seemed perfect. This portfolio or "scrapbook" idea will become a tradition; I'm inspired to create one each year. While original pieces do adorn our refrigerator, most are quickly mounted in the year's scrapbook, leaving our gallery wall pretty blank these days. With our recent Art.com partnership, I thought this wall could be the perfect spot to feature photos from our trip to Morocco and the prints we created for the Spring 2014 Collection.
The Morocco trip was a fantastic one for me. I had traveled there once before for the wedding of dear friends almost 10 years ago. This inspiration trip was a particularly special one because I got to see, visit and connect with these same dear friends and discover parts of Morocco I had never seen before. We were shown unexpected modern art in Marrakech, which completely informed our collection. Everything seemed so fresh compared to the country I had experienced almost a decade earlier.
These are a couple photos from our visit to Chefchaouen. We were captivated by "the Blue City of Morocco" and the pigment vendors sold off the alleyways.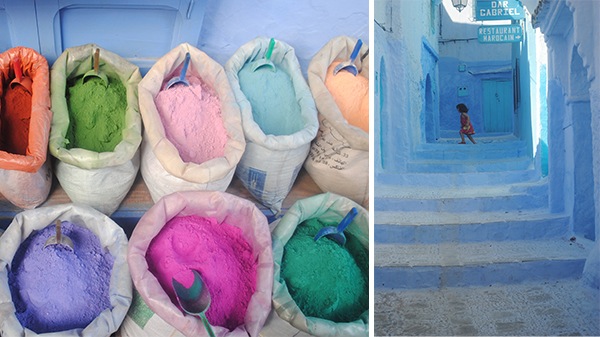 These prints and graphics are from some of my favorite pieces in the Morocco Collection. The color palette really plays off the printed Kantha quilt pillows that lay on the daybed in the playroom.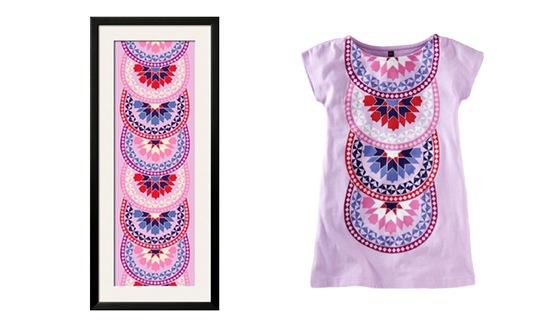 The Riad Mira Pink graphic was inspired by the traditional Moroccan star, lined up in a dynamic way for a dynamic mosaic tile graphic dress.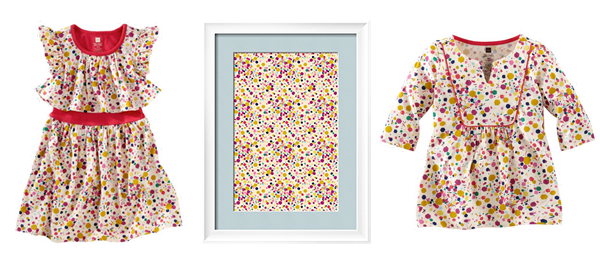 The Confetti Tile print was inspired by the most modern tile work we saw at Dar el Sadaka, home of French artist Jean-Francois Fourtou.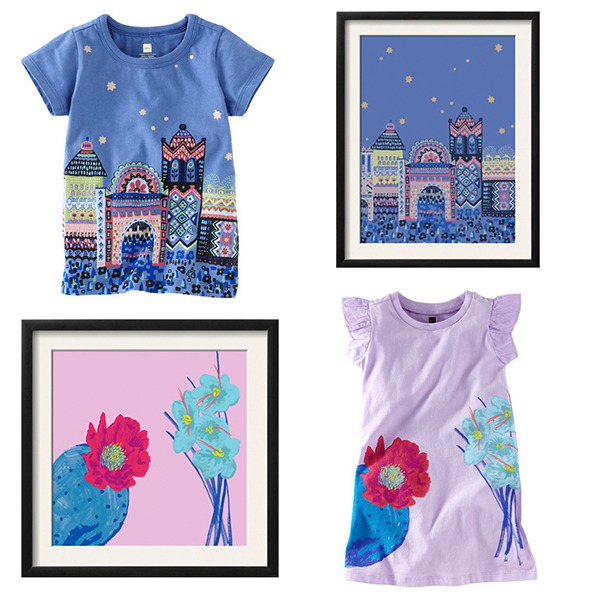 The Casablanca Graphic and Desert Garden print are original paintings by our in-house design team – evoking the night sky and magnificent garden we saw at the Majorelle Garden Estate.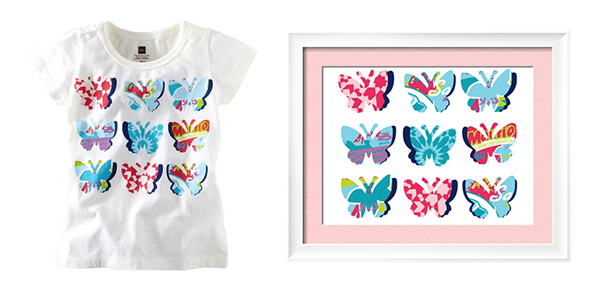 The Butterfly Collage was inspired by the pop art of Hassan Hajjaj, the Andy Warhol of Morocco.
For our playroom wall, I really wanted to create a mix of print, pattern and texture – just like my design philosophy for Tea. For artwork, this translates to a composition of graphics and photos, as well as adding dimension to the presentation – incorporating different framing options: wrapped canvas, printed glossy photos and a 3D element to add more interest.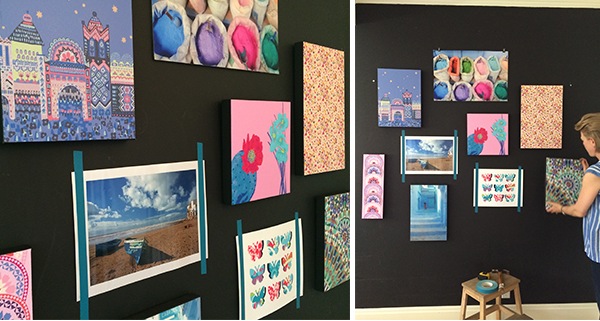 I did some research on gallery wall design and collected inspiration on Pinterest, as well as the old-fashioned way with magazine tearsheets and design books. I saw the gaffer's tape idea in the most recently book by Remodelista (one of my favorite sources for interior design inspiration!) Finally, for the 3D element, I found these beautiful paper pinwheels made from colorful maps on Etsy. I love perusing Etsy for DIY decor ideas and these were the perfect complement to the gallery wall. They are printed with maps on only one side and when I first hung them, they naturally began to spin. So, I had the idea to tape 2 pinwheels together with non-map sides facing in. Now they are free to spin!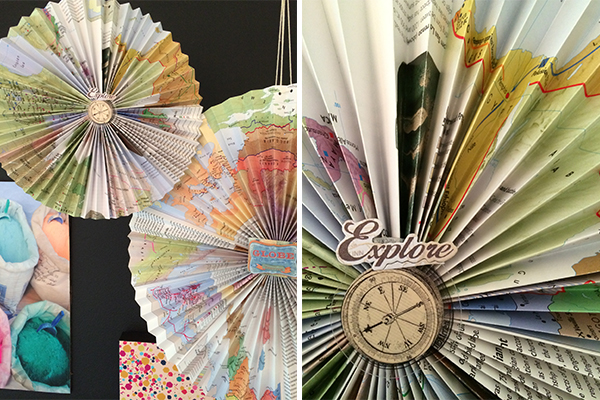 Clement & Georgia love the new wall! We have looked up Morocco on the map and know some of the graphics from the clothing items in their closet and drawers. One of Clement's favorite t-shirts this summer is the "fish tee" aka Tranquil Pond graphic – now that favorite graphic is hanging over his bed! Some of the images on the new gallery wall are not Tea images, but images I found on Art.com that reminded me of our trip! The image of the Beach Boats reminded me of Essaouira. And, we visited the mosque of Casablanca where the Tile Detail photo was taken, the colors of those tiles are unforgettable. As we're saying goodbye to the Morocco Collection, I'd love to hear if you have any favorite prints or graphics from Morocco? And, please check out our Tea Art Gallery for exclusive Tea prints and graphics to adorn your home with.