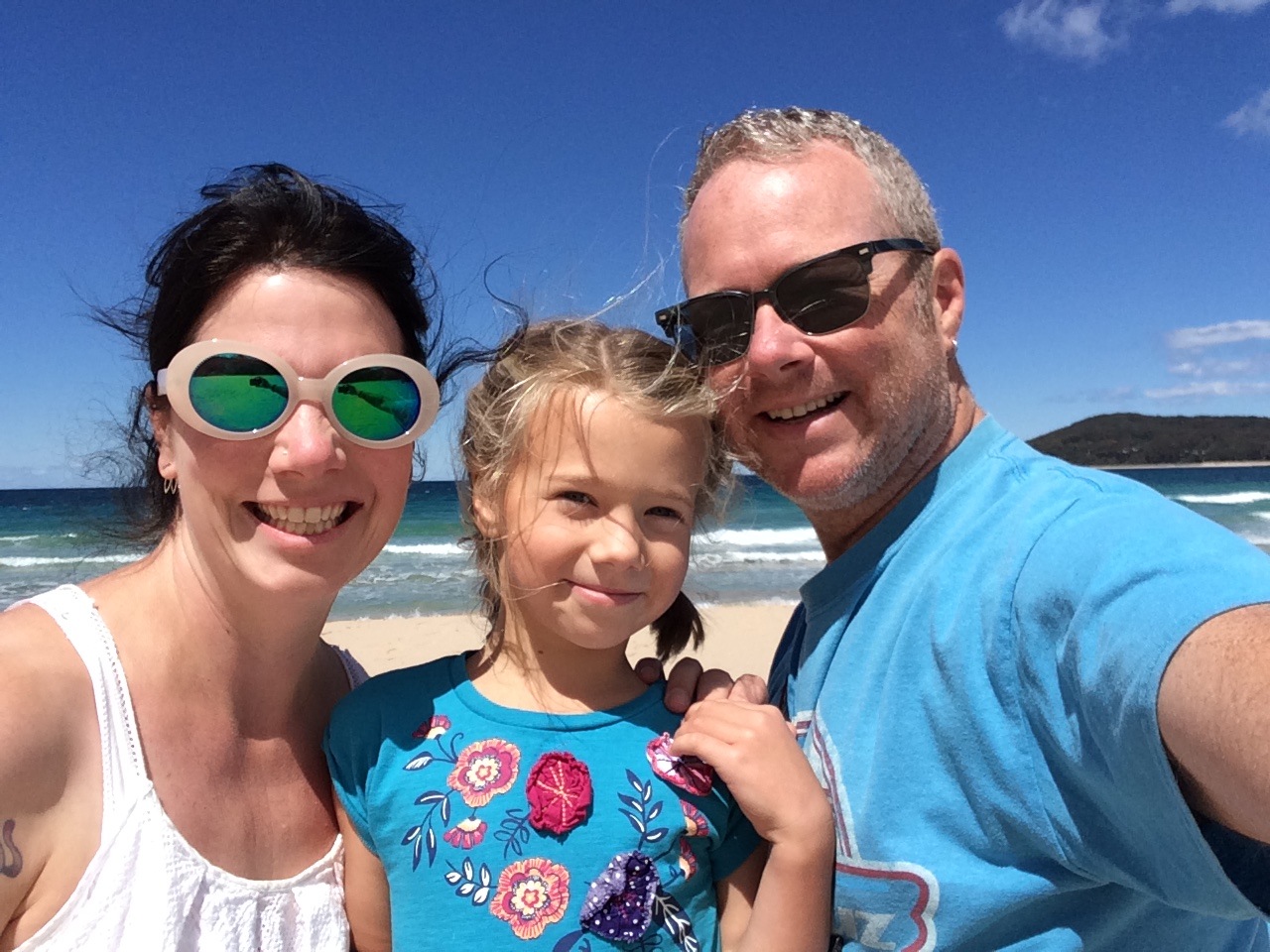 To help everyone at Tea "go there," we make a yearly contribution to each employee for international travel and exploration. Upon their return, our Tea travelers write a blog post to share their adventures with all of us (and the world)! We're so excited to introduce you to LaDonna, our Copy Director (she writes all the beautiful words you read in our catalog, online and in emails) and all-around amazing human being. Follow along as she shares tales from her families trip to Australia!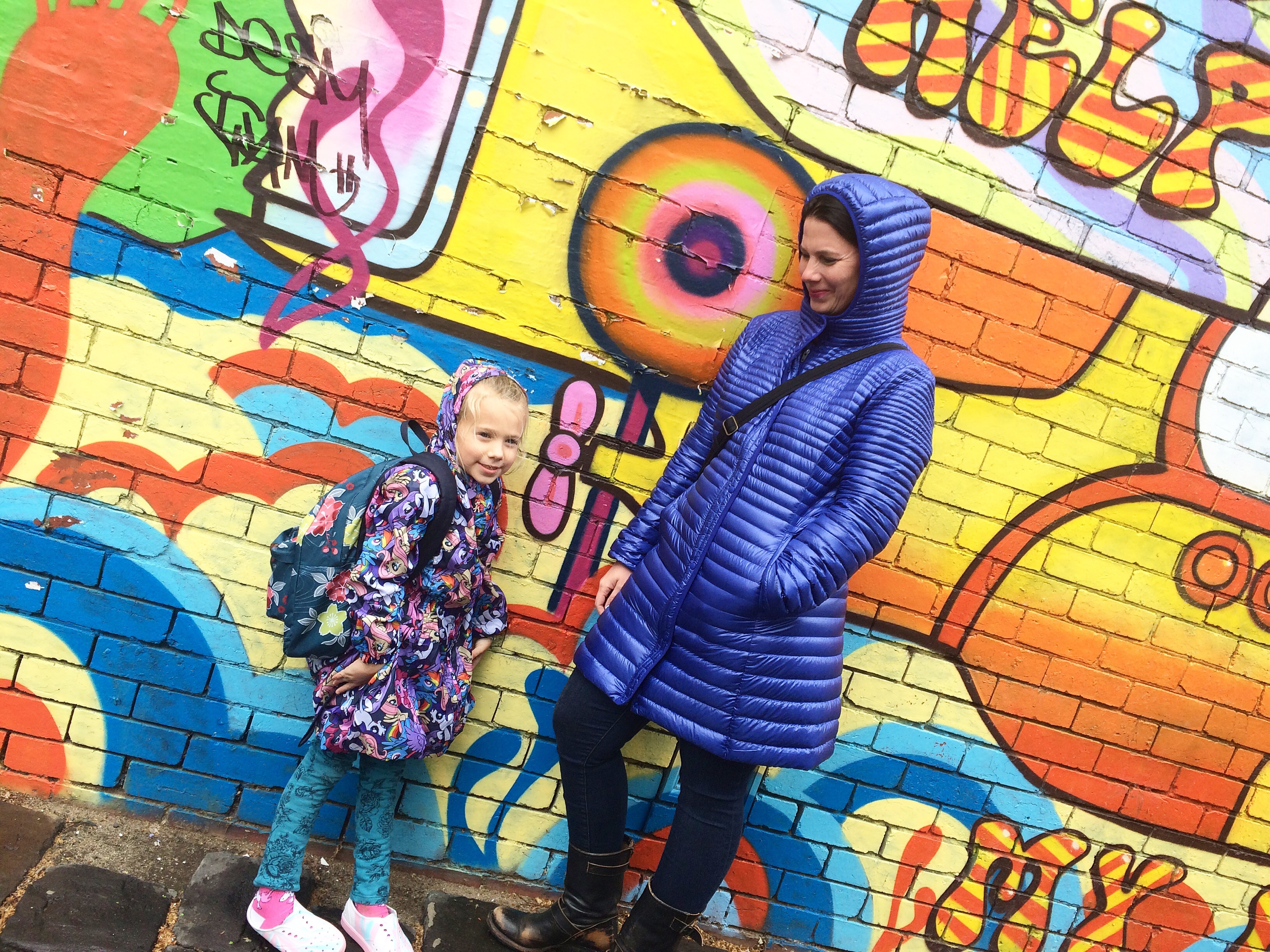 You know the list you keep of the magical places you want to visit someday? Australia was never on my list.
What a mistake!
I had to travel Down Under for work recently (I write for Tea Collection), and I knew I wanted to take extra time to visit my friend Cassie and her family in Melbourne. Even better, my 6-year-old daughter Lucette has a pen pal named Lara who also lives in Melbourne. So that made the decision easy—I took my whole family with me to Oz.
Although Lu has been on some long flights before, the 15-hour flight was a first for her. But we loaded up with lots of stickers, markers and My Little Pony episodes and she did just fine. There was just that one time after sleeping for 7 hours when she said, "Moooooom, how much time is left until we get there?" And I said, "Um. Five more hours." And she flopped down on her seat and moaned, "I just want to diiiiiiieee!" But really, it was fine.
After a lovely week in Melbourne learning to make pasta at Cassie and Davide's house, spying on a fairy penguin at the St. Kilda beach, petting a fat wombat and having all kinds of grand adventures with her pen pal Lara (you can read about them here), we rented a car and headed north (on the wrong side of the road) to meet up with the rest of the Tea Collection team in Sydney.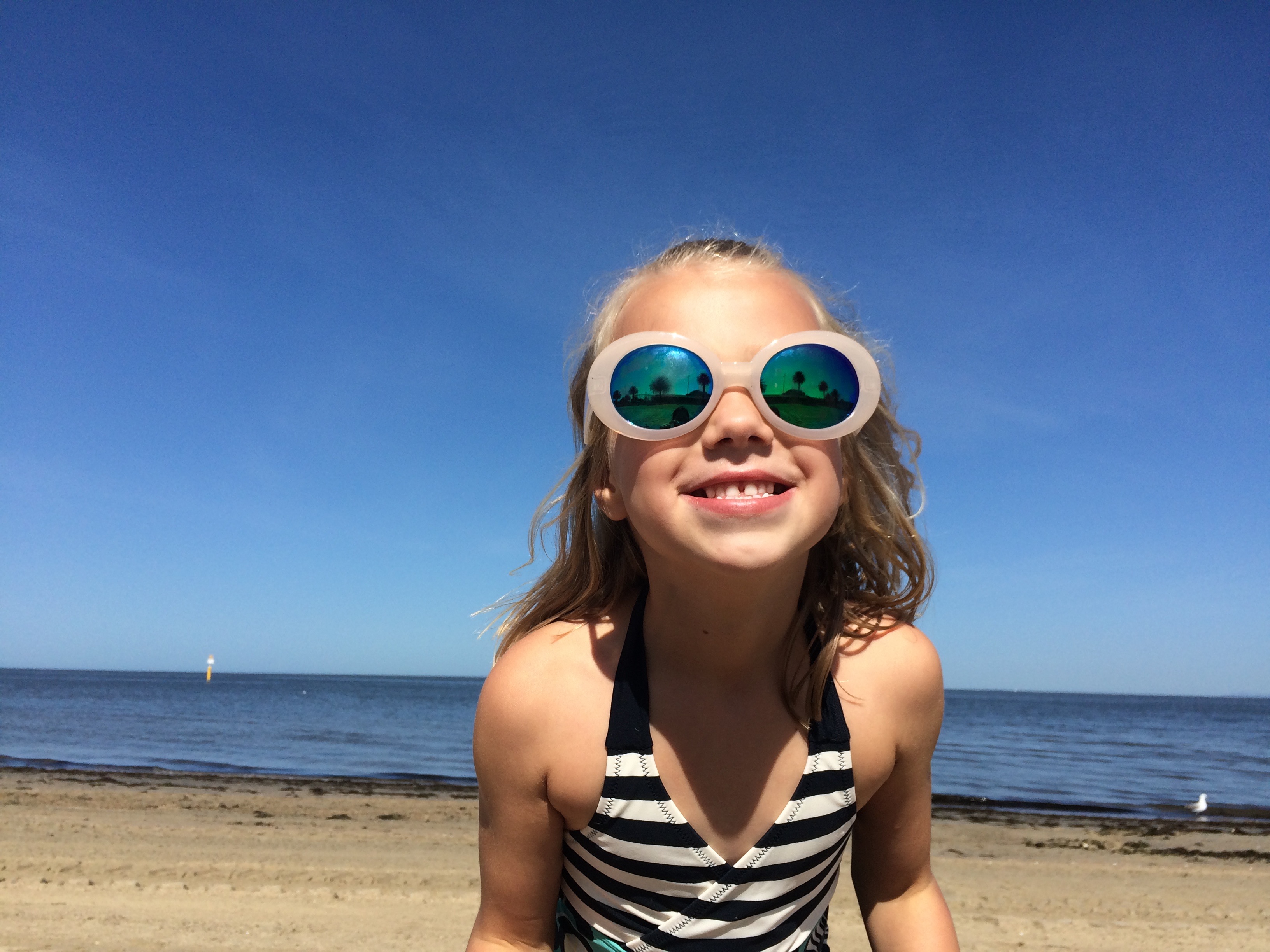 The drive from Victoria to New South Wales via the coastal highway takes about 11 hours if you do it all in one go. But we wanted to take our time and soak up the sights, so we spent two nights in a small beach town called Narooma, where Lu took a snorkeling lesson to look for sea horses and we all climbed through the Australia Rock to hunt for interesting sea shells.
The highlight of our drive, though, was Pebbly Beach. Located in Murramarang National Park, the beach itself is pristine and beautiful. But we went there for the kangaroos.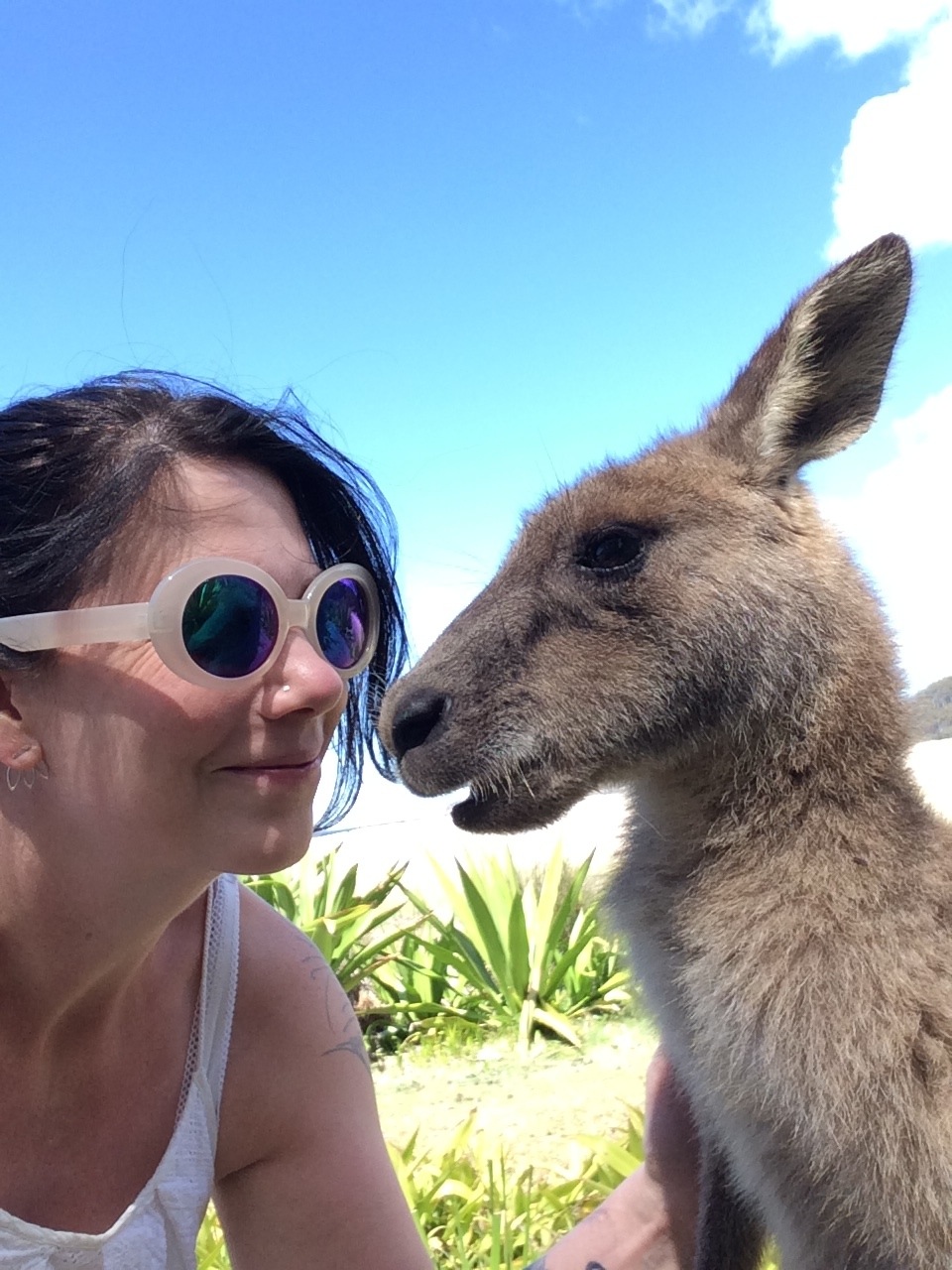 All along our drive we saw caution signs for kangaroos crossing the road (much like there are signs for deer on rural roads everywhere in the States). But aside from quite a few very sad roadkill carcasses and one huge herd of wild 'roos in a horse pasture, we had no close encounters with the massive marsupials.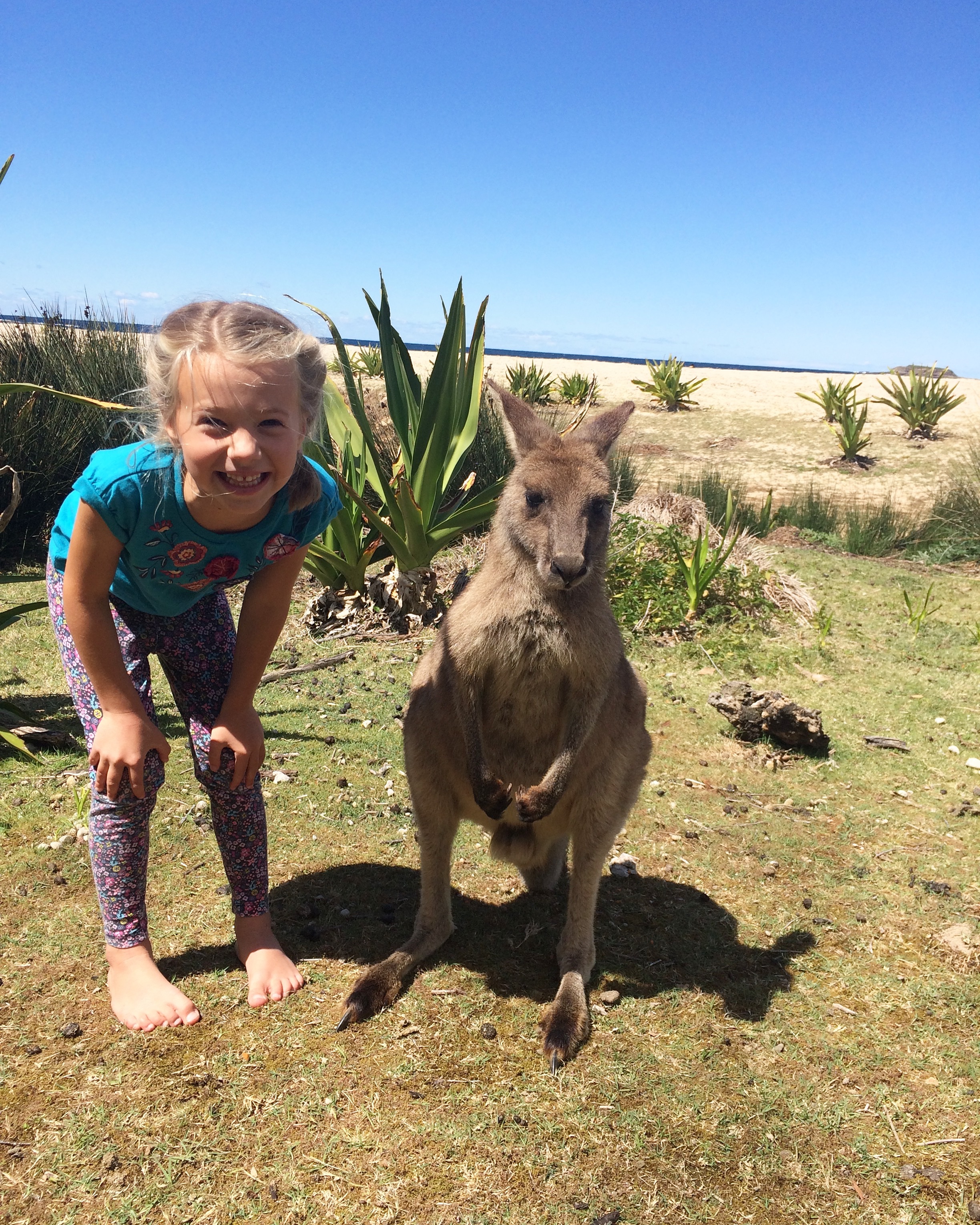 A little research before our trip led us to believe that if you visit Pebbly Beach, you will absolutely get up close and personal with a wild kangaroo. So we walked over the hill to see the bright blue of the South Pacific spread out before us. And there, lazing in the sun on a grassy slope, were six or seven eastern grey kangaroos.
We approached cautiously at first, but the kangaroos at Pebbly Beach are used to being famous and are quite friendly. (Just make sure not to stand directly in front of them or pat them about the face or you might find yourself in for a boxing match.)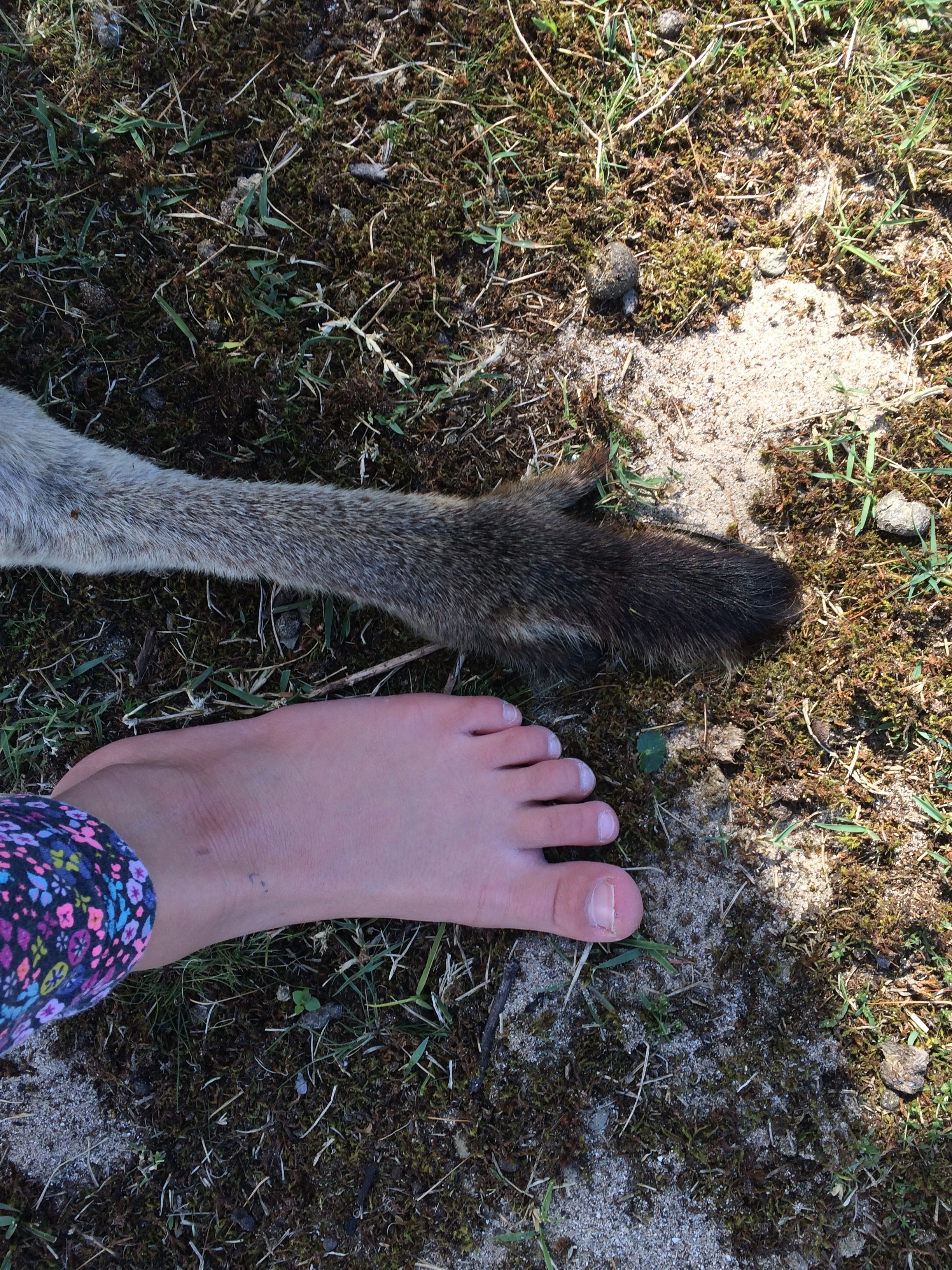 Lucette made friends with a smallish grey fellow she named "Hungry" because he seemed to want to eat everything in sight. My husband Bruce clicked away on his camera as Lu and I sat on the grass and petted kangaroos to our hearts' content. I found myself giggling helplessly at several points because I found it so hard to believe that I was sitting there, on this gorgeous beach, sun on my face, wind in my hair, hand on a kangaroo—halfway around the world from home.
And that's the thing about Australia. It's such a friendly, welcoming place and there's so much about it that's familiar that you tend to forget that you really are on the other side of the world. Until you make friends with a kangaroo.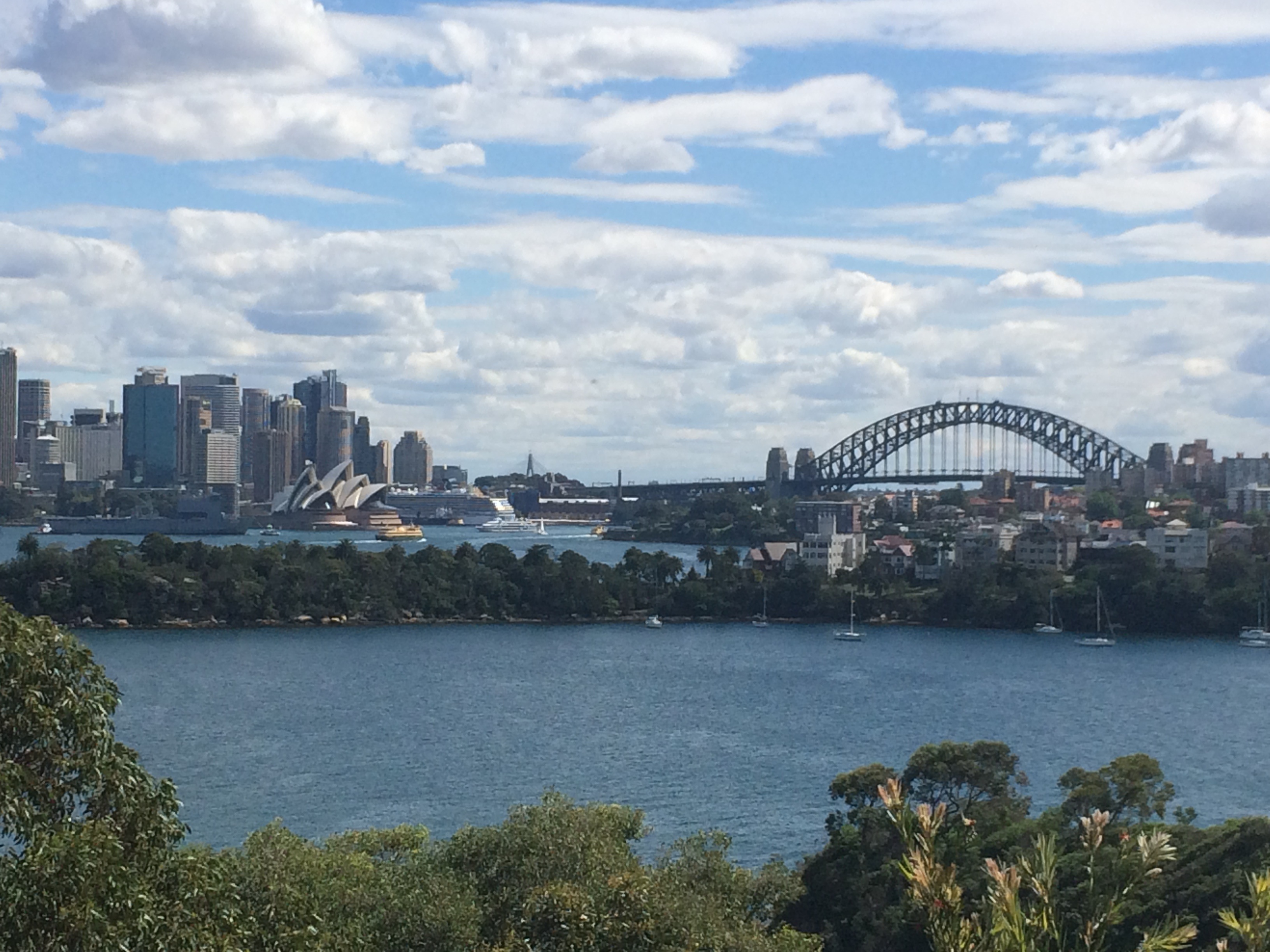 There are so many things I loved about this sunny country: the crazy marsupials of all kinds, from kangaroos to wallabies to echidnas and wombats and koalas—seems like everybody's got a pouch there.
As a word person, I fell in love with Aussie slang—the way the waiters would say "Beaut!" in approval when I ordered a meat pie, or the way everyone says "How ya goin'?" instead of hello. "No worries." "Righty-o!" "Sweet as!" "Legend, mate." And "It's a cracker afternoon for goin' ta the beach, innit?"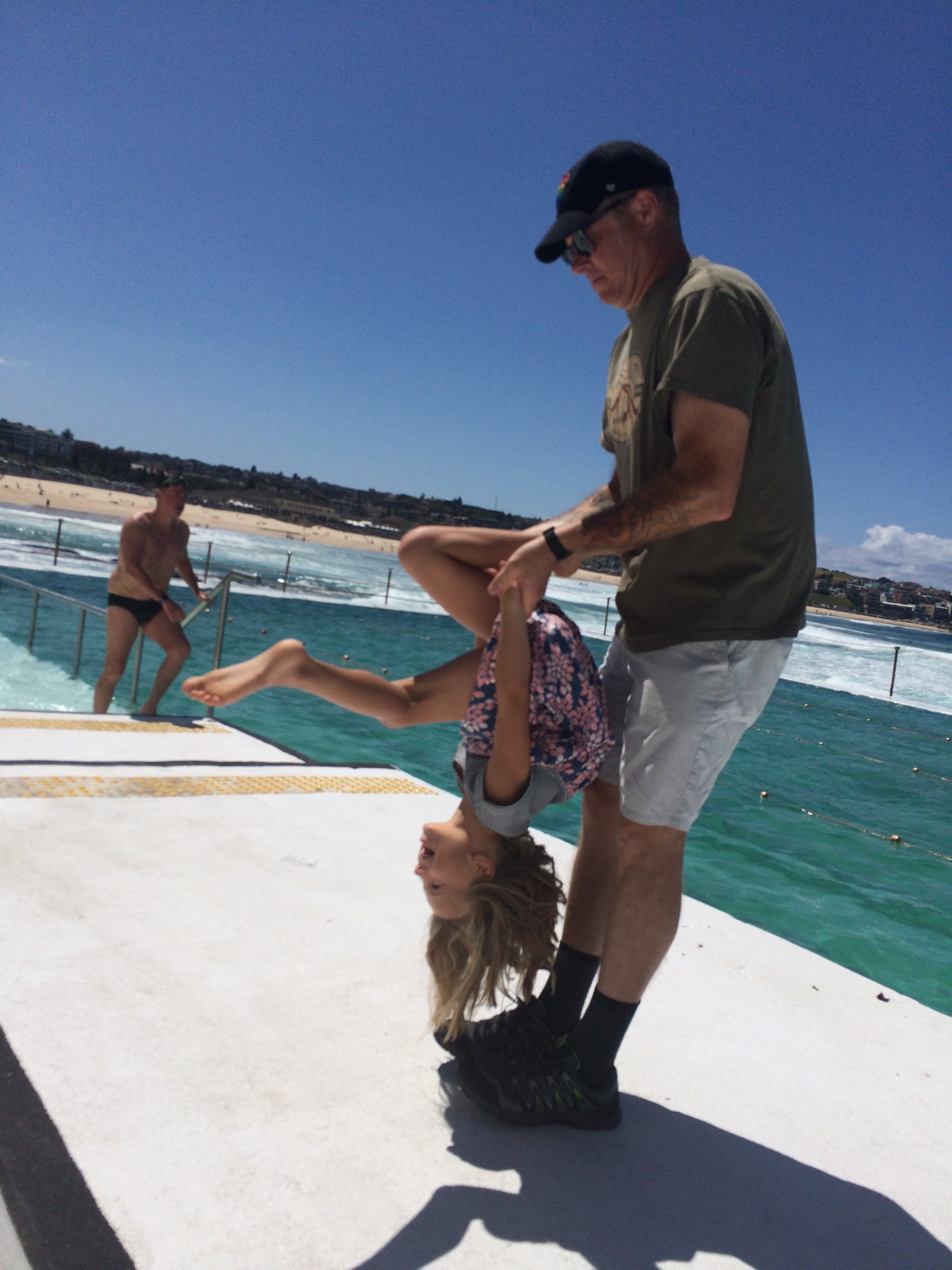 I love the way Aussies abbreviate everything: sunglasses are "sunnies," mosquitoes are "mozzies," coolers are "eskies," and McDonalds is "Maccas."
Why, I asked Bruce one day as we watched Lu run wild on the beach, why wasn't this big, beautiful country on our list?
It sure is now! Hooroo until next time, Australia!