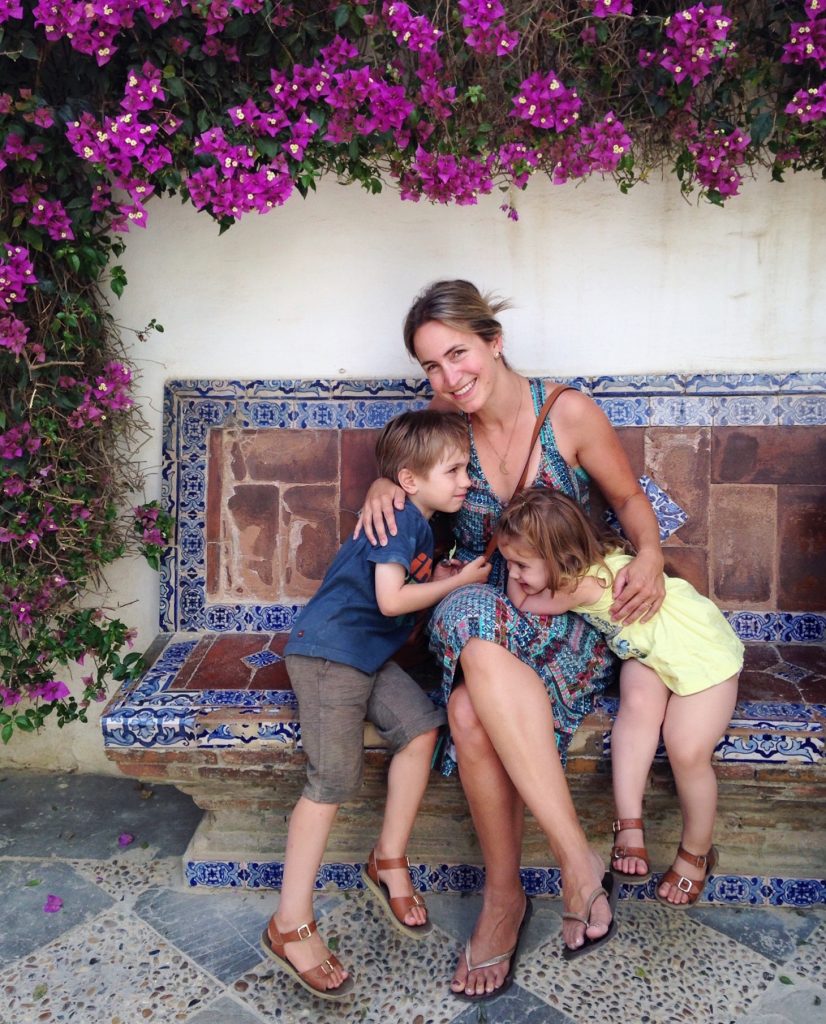 Meet Kasey Free, mom and new Tea-friend who spent 6 weeks traveling through Morocco, Italy and Spain with her husband and two littles. Follow along as she shares her story with us at Studio Tea.
My name is Kasey and I'm a travel-loving mom living in Seattle, Washington. I have a husband, Tyler, and two young children: Jax (4) and India (2). This past spring our family traveled to Morocco, Spain, and Italy for a very special vacation. This wasn't just an ordinary trip, but a 6-week sabbatical to some destinations that we'd been longing to see for some time. We set off in hopes of discovering new cultures, seeing new sights, and spending time together as a family.
MOROCCO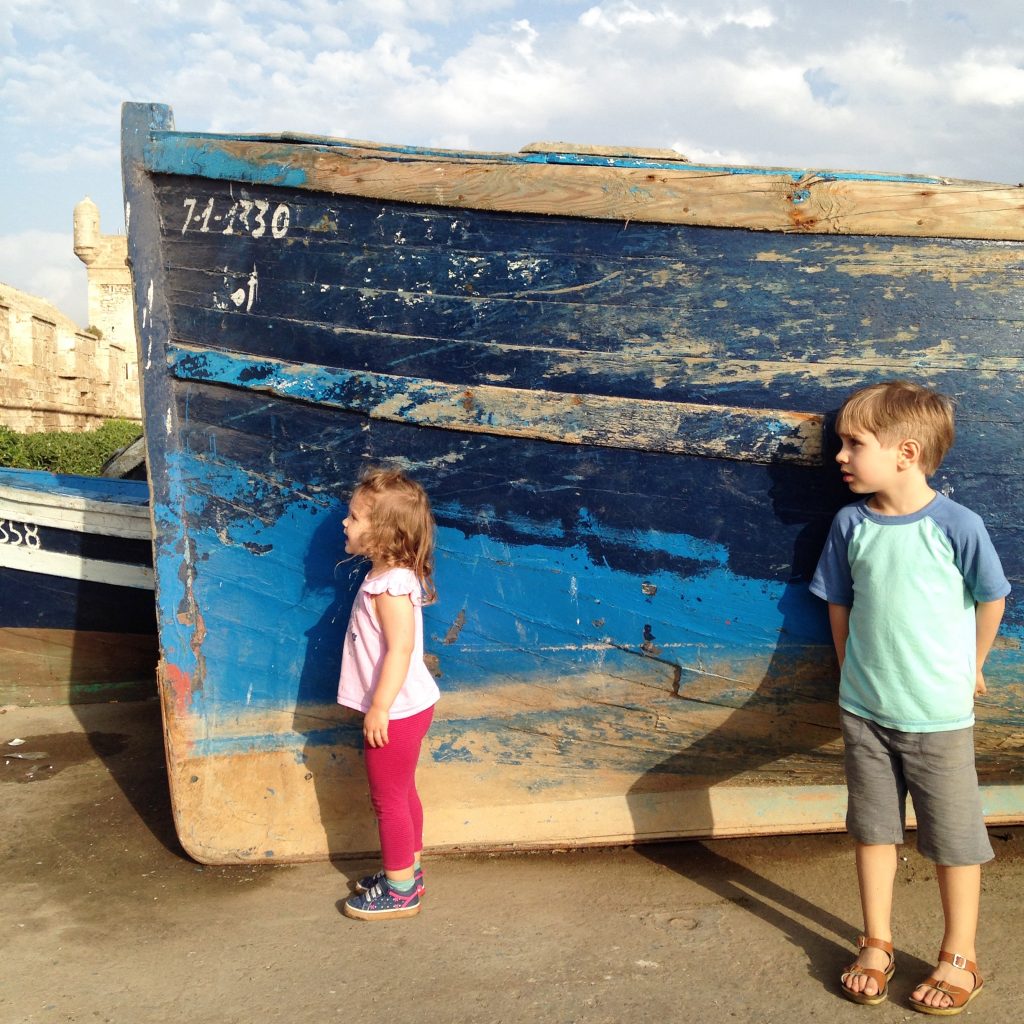 We started our journey in Marrakech, Morocco. As we stumbled off the plane after traveling for 18 hrs into the blinding sunlight and 90 degree temps, Jax (who had not slept a wink on our red-eye flight) groaned, "I want to go home to Seattle." For one bleak moment, I felt a twinge of worry and doubt. Would six weeks of travel be too hard on the kids? What were we getting ourselves into? As soon as the craziness of jet-lag wore off and we began to explore our new surroundings, it was clear that our kids were not only incredibly flexible and resilient, but that we were in for an adventure of a lifetime.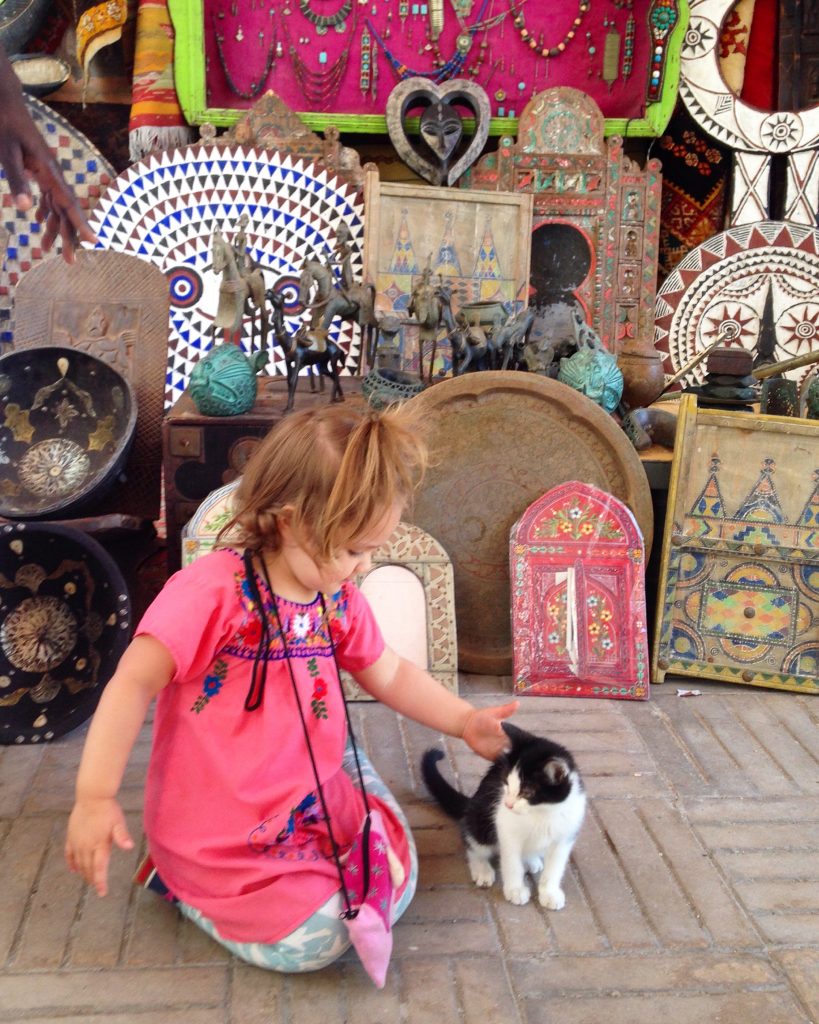 Marrakech is a bustling city of pink walls and narrow winding streets filled with a tangle of donkey-pulled carts, street vendors, and motorcycles. To Jax and India, the instant appeal of Morocco were the stray cats that filled the streets by the hundreds. We couldn't pass a windowsill, doorstep, or alley without the kids yelling "CAAAT!!!", and then proceeding to chase after their furry target. This made a seemingly easy task like walking down the street a bit of a challenge. We soon enforced the "hold hands at all times" rule when walking the streets.
We stayed in a traditional Moroccan home called a riad, a beautiful oasis tucked inside the hectic medina (old town) of Marrakech. Here the kids ran around the colorful tiled courtyards and terraces, cooling in the pool and spying on the family of storks nesting on the roof above.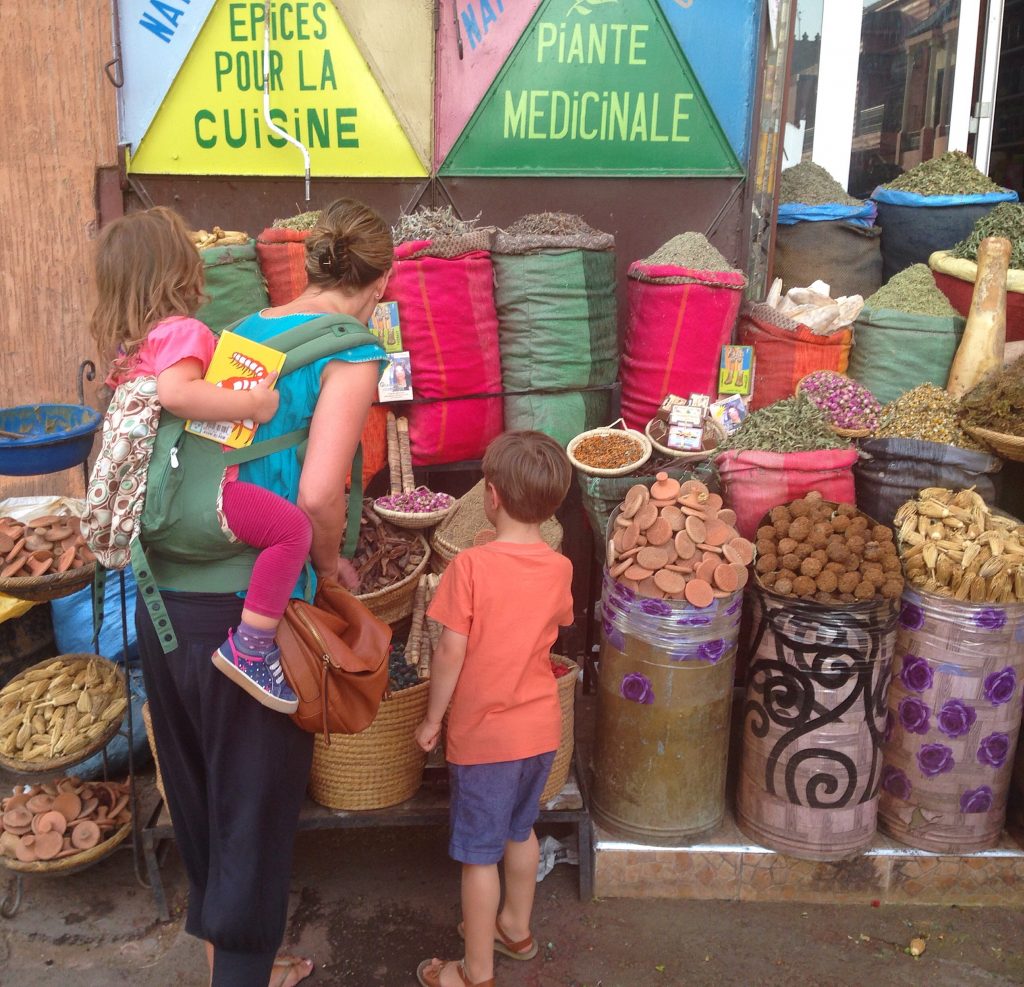 At the center of Marrakech is the square of Jemaa el Fna. Here we found snake charmers, henna artists, musicians, and vendors selling everything from spices to ostrich eggs. To Jax and India's delight they came across a man selling baby tortoises and chameleons, and they sat there feeding them little bits of lettuce until we were finally able to pull them away.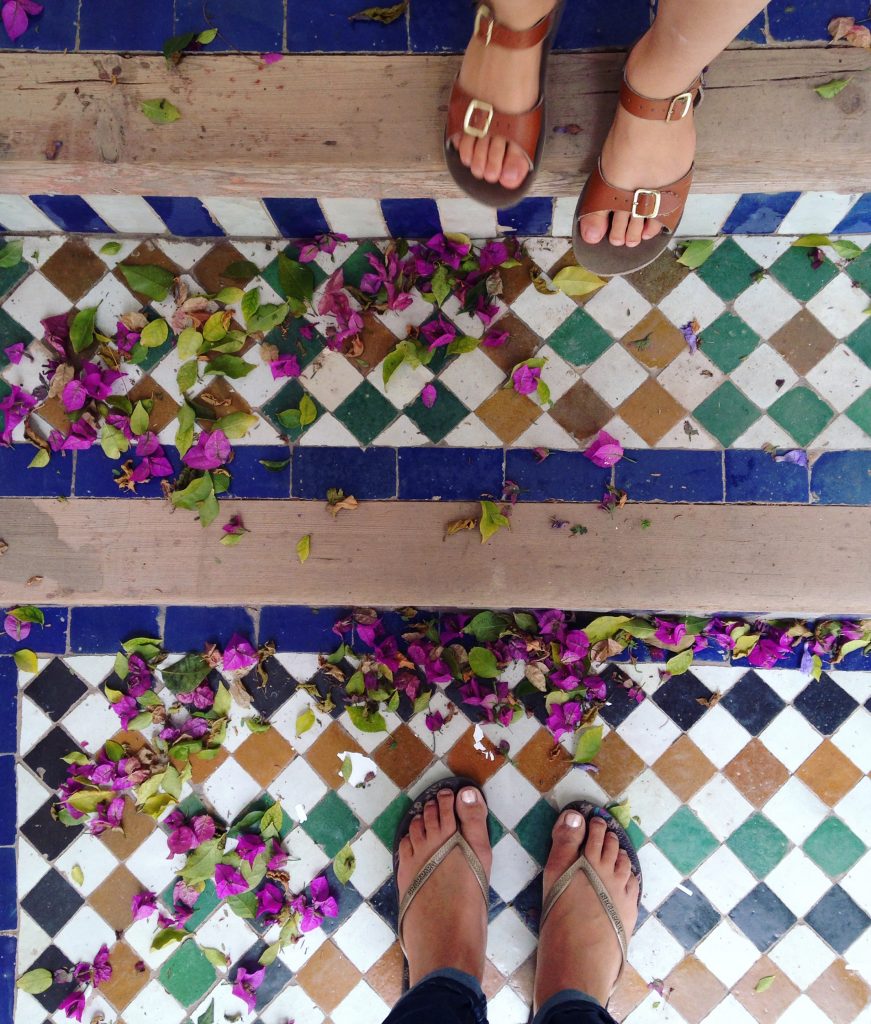 Winding north of the square are the famous souks, or markets. The souks are a shopper's paradise, filled with Berber rugs, pottery, jewelry, metalwork and leather goods. Surrounded by an overwhelming array of colors, smells and sounds, it is easy to get lost and impossible to leave empty-handed.
After a few busy days in Marrakech, we drove out to the small coastal town of Essaouira. Here we rode camels on the beach, explored the castle ramparts, and visited the harbor filled with bright blue fishing boats, where the fishermen proudly displayed their catch of the day. We ate tasty tangines, drank mint tea, and quickly adjusted to Moroccan life.
We stayed in another riad, this time with a pair of friendly tortoise living in the backyard. In Berber culture tortoise represent good luck. As our time in Morocco came to an end, I couldn't help but feel a sense of our own good fortune in having such a magical time in this incredible country.
SPAIN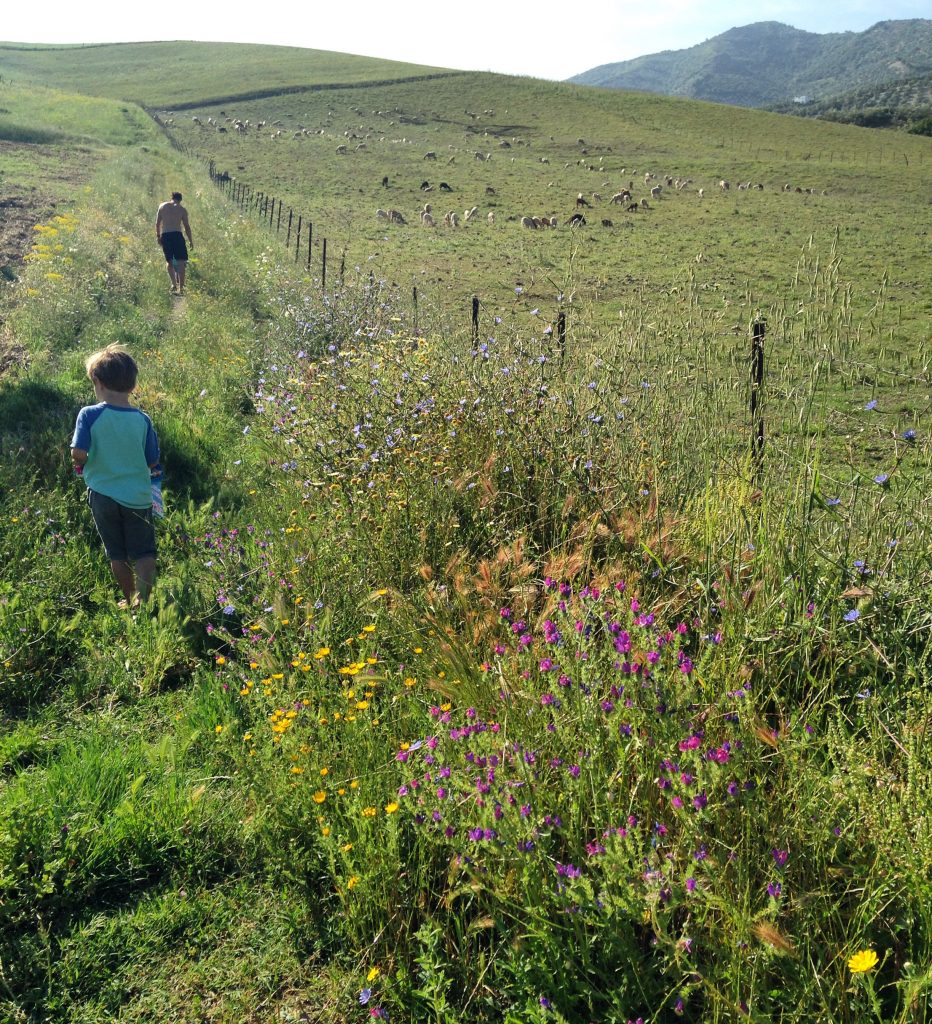 We arrived in southern Spain by ferry from Morocco. We were immediately awestruck by the beauty of the Andalusian countryside. It was the height of wildflower season and the countryside was in a full bloom of reds, blues, and yellows.
Our first stop in Spain was the picturesque "puebla blanca" of Vejer de la Frontera, a stunning town perched high on a hill above the countryside. Charming white-washed homes lined the streets, with patios filled with potted geraniums and bright pink bougainvillea. The town's main park—complete with a playground, historic windmills, and free donkey rides— became a favorite daily stop. India fell in love with the sweet, gentle donkeys. Vejer was very family-friendly: many of the streets were closed to cars, and we walked everywhere. It was easy to enjoy tapas and tinto verano at a cafe while the kids played in the cobblestone streets or a plaza. From Vejer we were able to day-trip to many beautiful beaches of the Costa de Luz.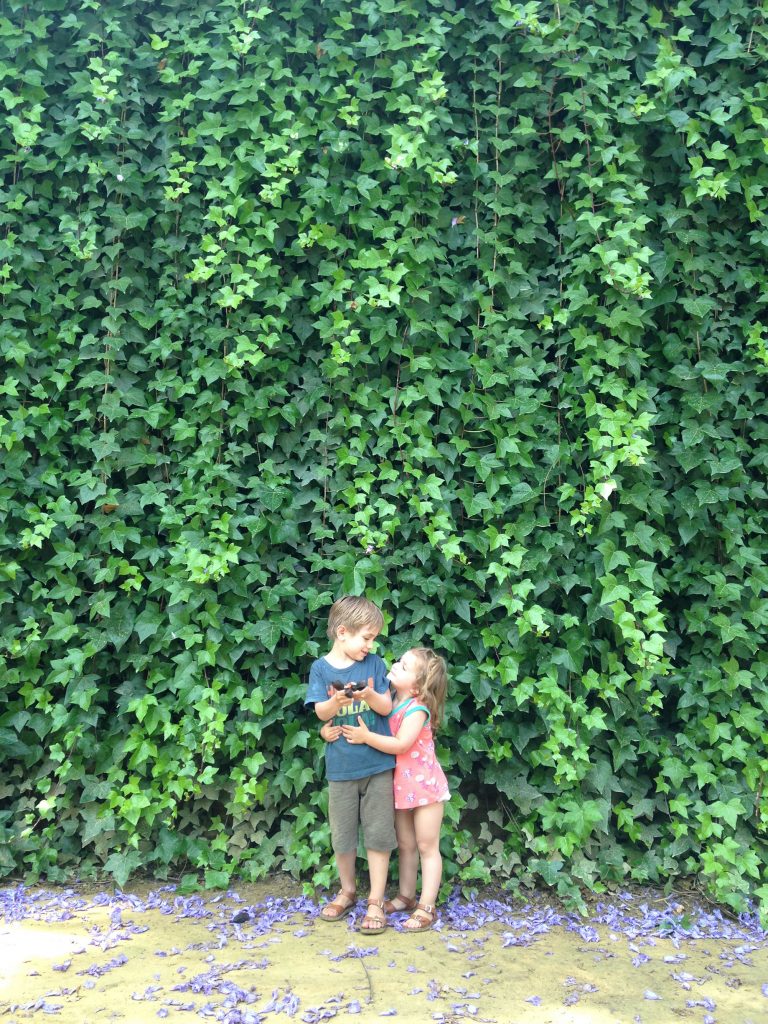 From Vejer we headed to a farm stay near Zahara de la Sierra, another small town with a historic castle, tapas restaurants, and incredible surroundings. At our farmstay we enjoyed simple pleasures like checking the chicken coop for fresh eggs and picking strawberries. Here our time really slowed down, and in the Spanish heat we lazed by the little stream running through the farm.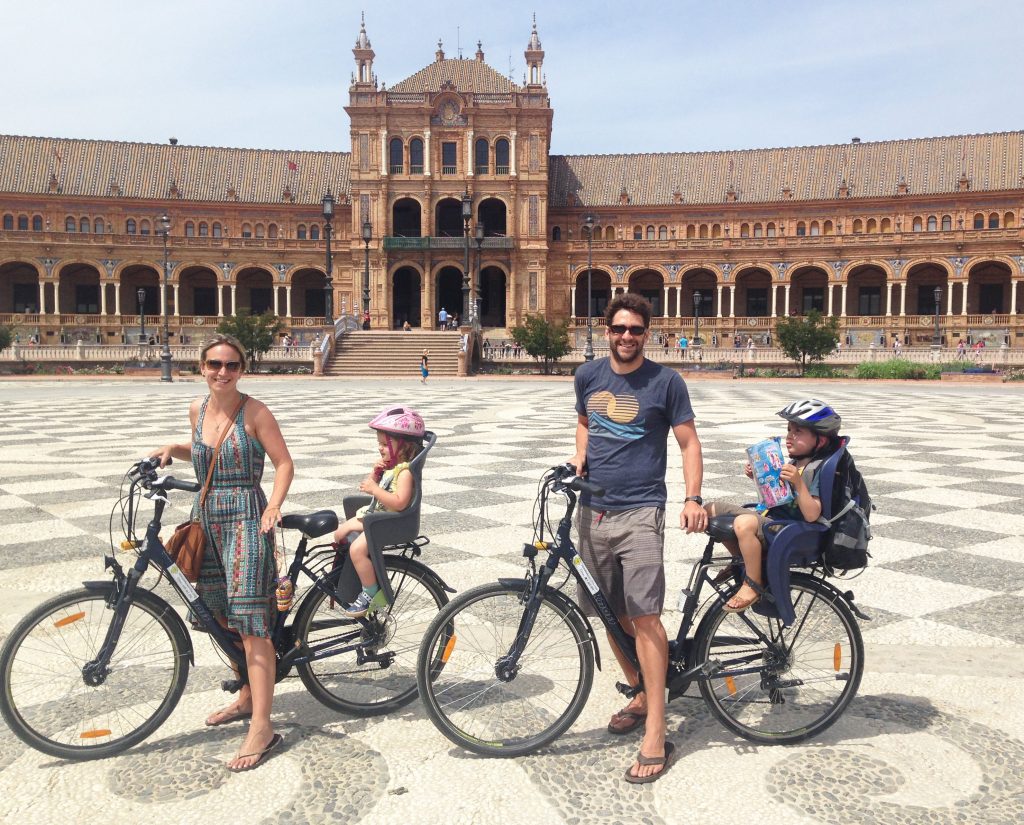 After a taste of the good life in the country, we headed to Sevilla. We explored much of the city by bike, seeing the Plaza de Espana, Maria Luisa park, and the Alcazar. A highlight for India was seeing a flamenco dance performance. She was captivated by the dancer and her beautiful, flouncy dress. Promptly after seeing the flamenco show, we bought her a polka-dot flamenco dress and tiny heeled shoes. Since then, not a day has gone by that she hasn't insisted on tromping through the house in her flamenco outfit.
We loved our time in Spain. The sunny lifestyle and happiness of the people captured our hearts.
ITALY
From Spain we flew into Northern Italy, where we headed straight to the coastal Cinque Terre region. Here lie five small, pastel-hued villages which are connected by hiking trails, rugged cliffs, and terraced vineyards. The region is the perfect mix of Italian culture and nature.
In the towns of the Cinque Terre it felt like we were living in a piece of art: The trompe l'oeil painted homes in pastel hues of pinks, ochres, and greens; planter boxes filled with blooming flowers and rusty old bikes leaning against walls; beaches lined with striped umbrellas and old fishing boats coming in and out of the harbor.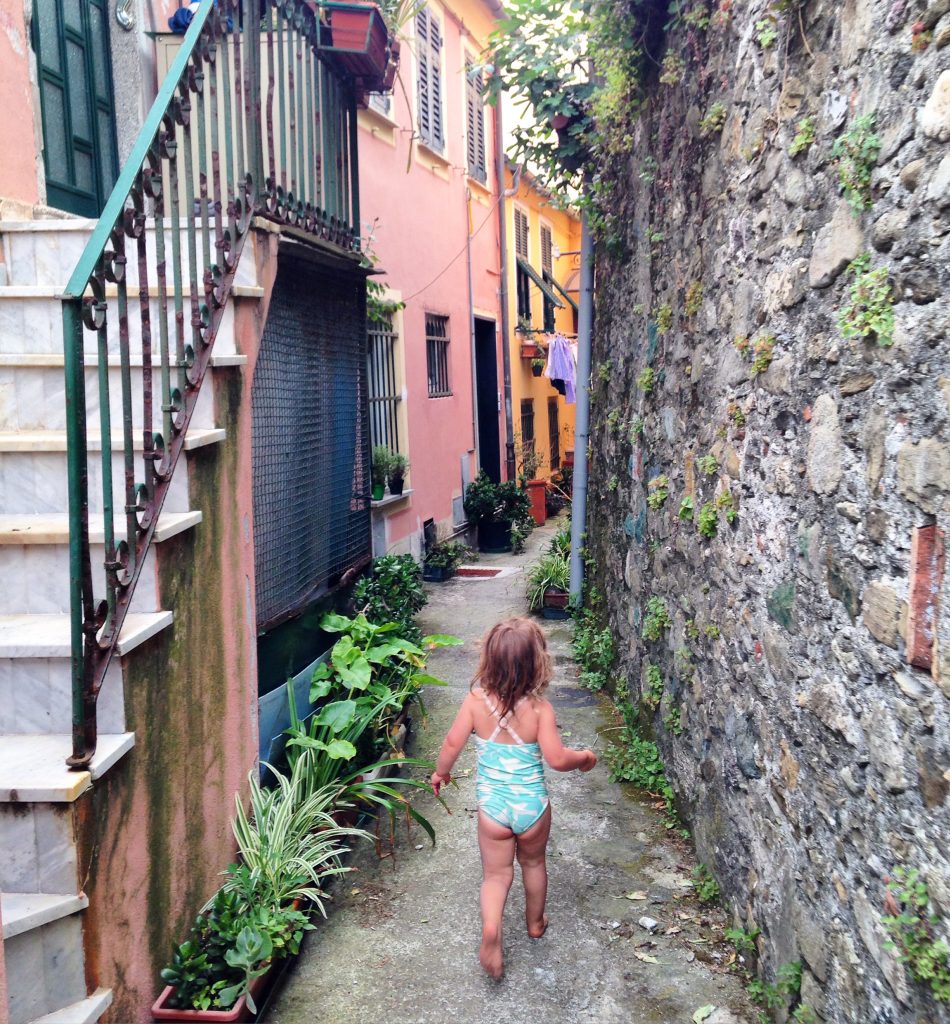 Our home base was the town of Monterosso al Mare. Here we walked everywhere, from our home to the beach, restaurants, playground, bakeries, and restaurants. When we wanted to explore further, we hopped on one of the many trains running through the rocky coastline, connecting the remote towns to each other and the outside world.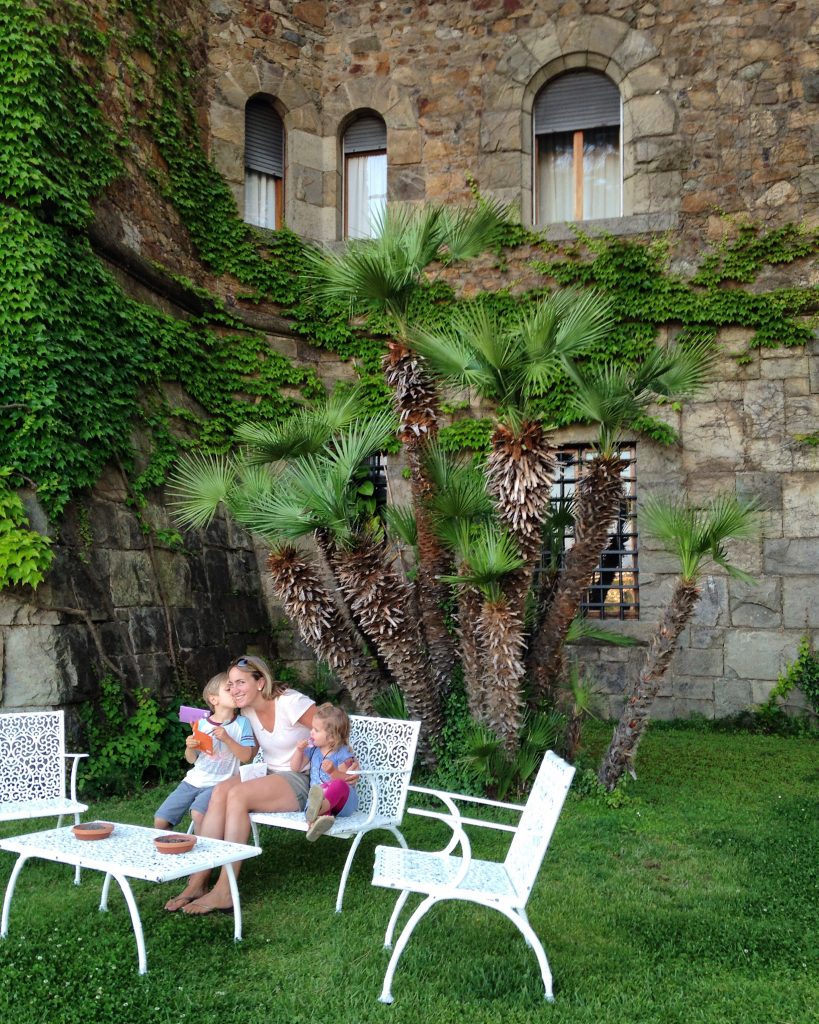 In Italy life quickly became all about the food. Pastries and cappuccinos in the morning. Pizza or focaccia for lunch. Seafood and pesto pasta for dinner. And of course no day in Italy was complete without gelato. Our favorite meal was fritto misto—a combination of fried seafood (calamari, shrimp, and sardines) topped with a lemon wedge and served in a newspaper cone. We were surprised by how much the kids loved the calamari. They ate the whole squid, tentacles and all!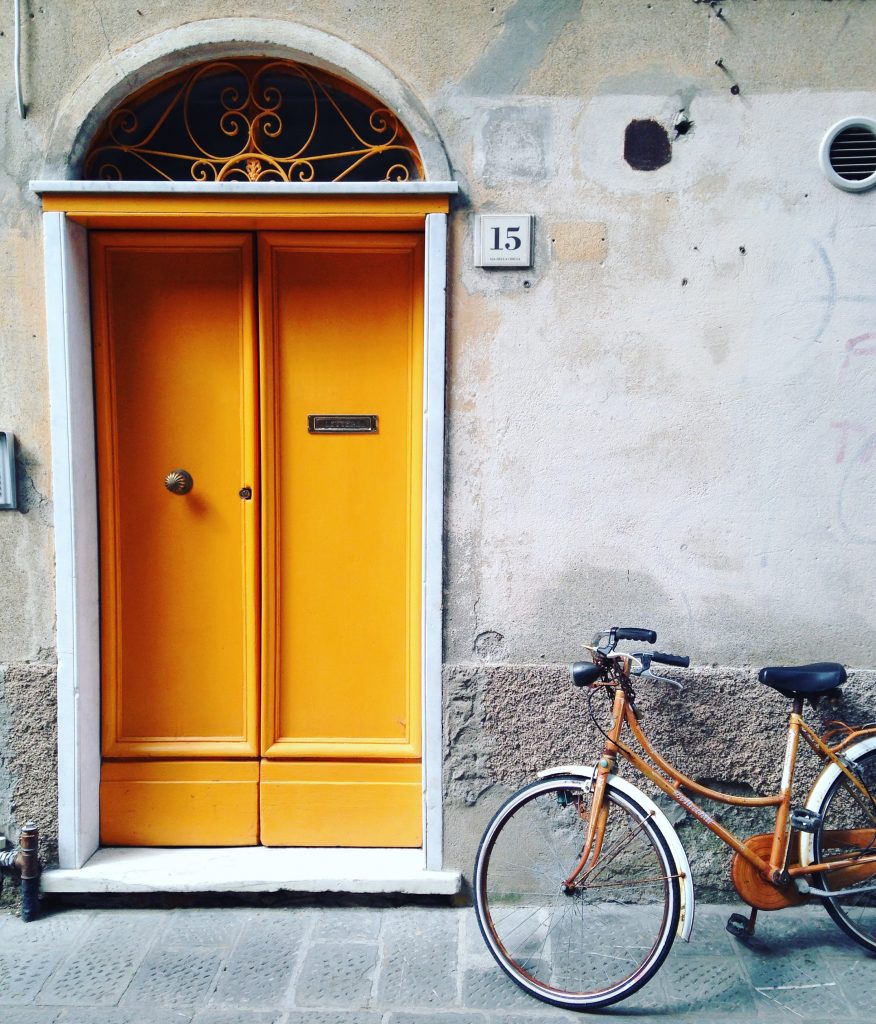 We hiked the famous Cinque Terre coastline, exploring idyllic little towns and castles, and combing the rocky beaches for treasures washed ashore. We picked cherries from the tree by our house and played outside until the sun went down. For us, Italian life was truly la vita bella.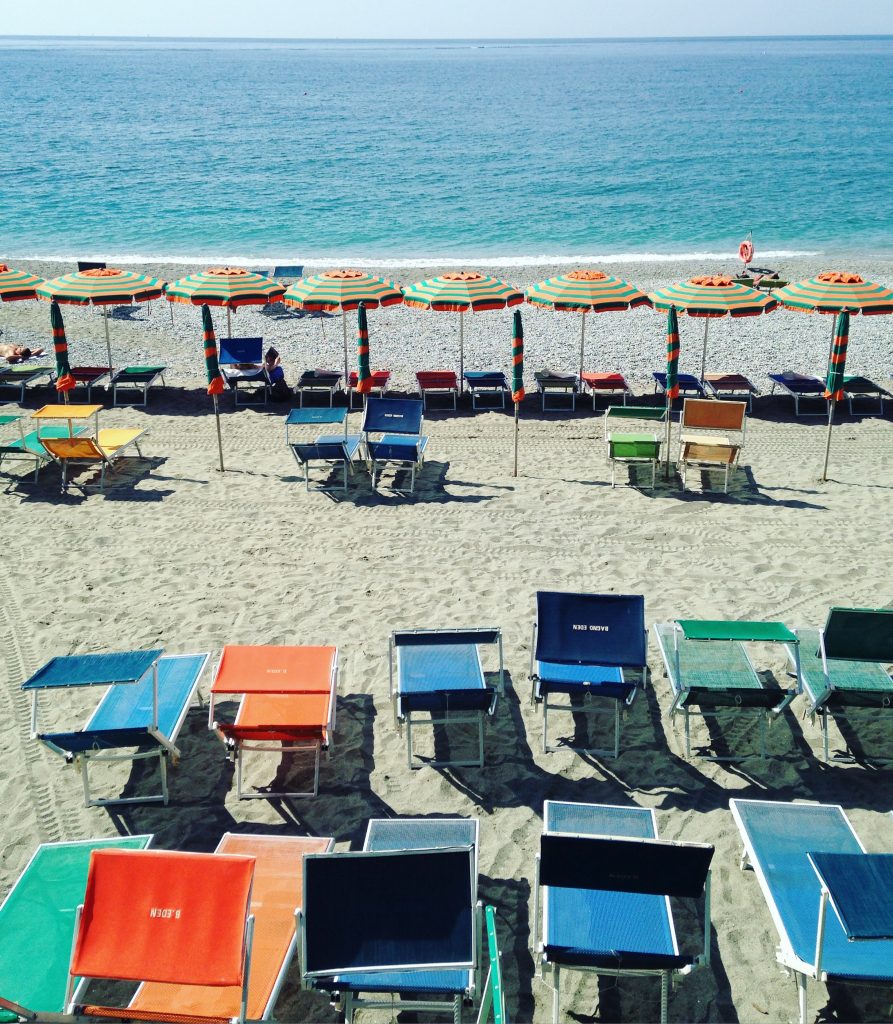 5 planes, 6 trains, 1 boat and countless taxis later, we were back home in Seattle. Our time abroad felt like a dream. There were many challenges of traveling with young kids in tow, but the rewarding moments far outweighed the frustrating ones. Our kids were far more flexible and resilient than we expected. They were excited to stay in new places, and eager to try new foods and languages. Their bond as siblings became stronger. The time the four of us spent together adventuring was truly a gift.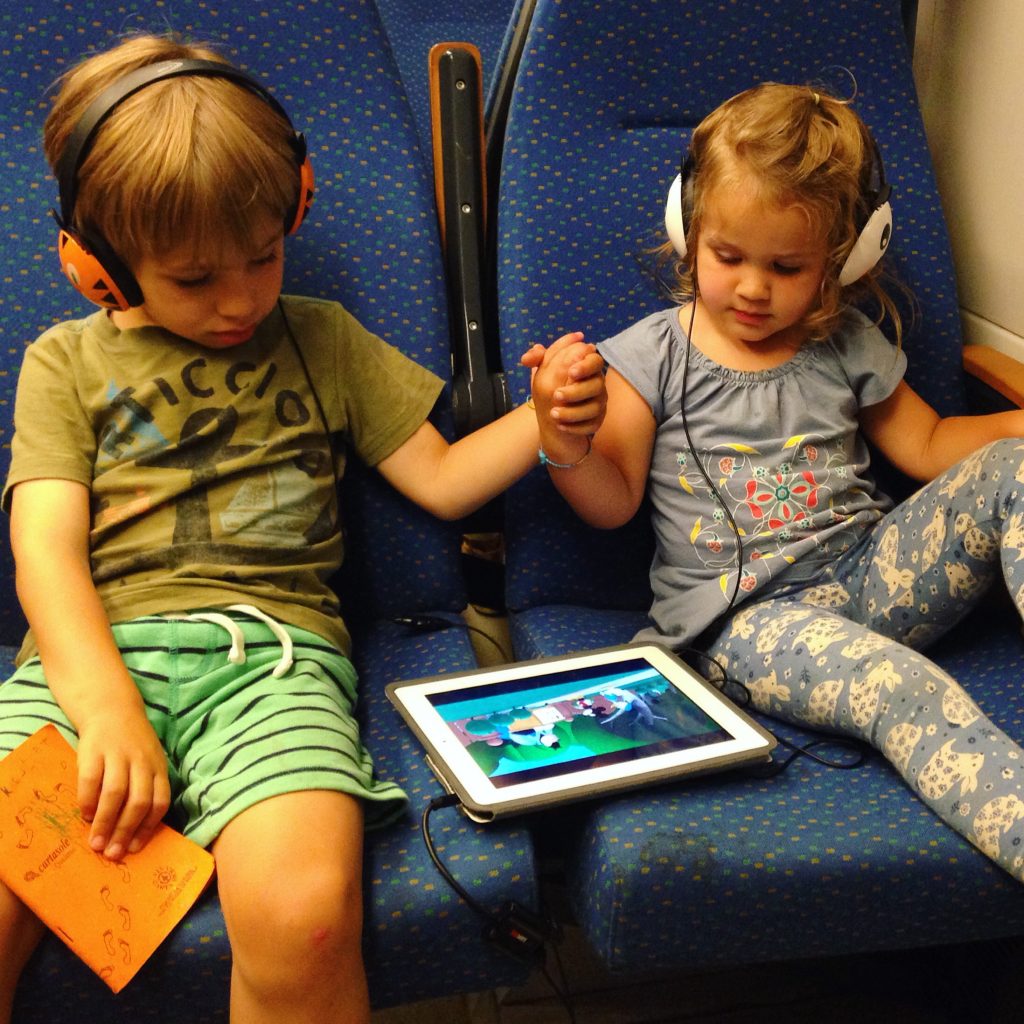 I'll never forget a moment Jax and I shared at our farmstay in southern Spain. We lay on our backs watching the branches and leaves sway above in the breeze, and listened to the river gurgle and the birds sing. It was so peaceful. Jax said to me "Some day when I'm a grown-up, I'm going to bring my kids back here." It was a profound thought from a four year old. Although our kids may not remember every detail of our trip, we hope to instill in them the love of exploration, and a curiosity about the world around them.
I can't wait to see where our next adventure takes us.
For more information on how you can become a Studio Tea foreign correspondent, head on over to our blog and learn more.