A three-generation grandmother, mother, daughter trio, J Growing Thunder represents three distinguished Native American artists: Joyce, Juanita, and Jessa Rae Growing Thunder. A member of the Fort Peck Assiniboine (Nakoda) and Sioux (Dakota) tribes of Montana, matriarch, Joyce, spent much of her childhood gathered around with all of the grandmothers watching them bead. Quick to pick up their talents, she began designing her own quillwork and beadwork at a young age and, by the 1980's, made a name for herself as one of the West's most highly regarded beadworkers. Today her daughter and granddaughter follow in her footsteps, carrying on this cultural heritage and tradition.
Not only were we lucky enough to collaborate with these talented women on our latest Native Artists x Tea Collection designs, but we had the unique opportunity to get to know their story. Follow along for a behind-the-scenes glimpse of their life and work.
What does it mean to be a Native Artist today, and how have things changed since your artistic journey began?
Juanita: Being a Native Artist today is a means for us to keep our culture present and to help it thrive. We started doing this because this is who we are and what we do. That aspect of it hasn't changed.
Joyce: I think it has changed because we learn new things, like new techniques. I would say we have learned how to do more detailed and fine work.
Jessa: This is a part of what we do as Dakota/Nakoda women. I think what has changed throughout the years is we're becoming more aware and prideful of calling ourselves artists. My great-great grandmothers did this everyday, just like we do. As a young Native woman, I think it is neat to be here today and I can reflect upon their work and recognize them as powerful artists. Being an artist means carrying a message, at whatever capacity. Their messages have reached us, and now we have the opportunity to write our message.
As modern day Native Artists, where do you find yourself drawing inspiration from?
Juanita: This work is a continued connection with our past. We draw inspiration from that. These inspirations come from our childhood memories. They also come from the old stories that have been passed down.
Joyce: It's important to acknowledge that a lot of our inspiration comes from our dreams. These things continue to come to us through our dreams.
Jessa: I draw inspiration from my mom and grandma. I'm always amazed to look back at everything my grandma has done and how each piece, each creation, has its own unique life… and to see how my grandmother has her own style, her own techniques. My mom has learned from my grandmother, and you can definitely tell within her pieces that she is a part of this lineage. It is also incredibly inspiring to see how my mother has taken these platforms and incorporated and adapted her own style. That's what's so inspiring about all beadwork and quillwork—if you pay close attention, you can see glimpses of the artist through the work.
What are some of your favorite customs and traditions of the Assiniboine/Sioux culture and how do they come to life in your work?
Joyce: The dancing. All of my sons grass dance. This is a tradition and a part of who we are. It's something to see your creations out in the arena, dancing. I hope that it inspires not only my family, but other people.
Juanita: I think the dancing is important because it shows the children. The young ones get to see how things are constructed, the stories behind everything and how to conduct yourself in these manners. It's important for the children to see this.
Jessa: I think the core of what they're both talking about is the everyday manners that we carry ourselves. When I was 6 years old, my mom explained to me that we have to do these things every single day, whether that's dancing, singing, beading, praying, all of these things we have to incorporate into our daily lives because that's our responsibility.
Joyce, you grew up on the Fort Peck Indian Reservation in Montana. How has your upbringing influenced your work over the years?
I grew up with all the grandmas. My grandma raised me. I grew up seeing all of them doing what I do now. I like to think about all the old ladies who used to come by with all of their own work. I used to really admire their work. These were all the neighborhood ladies, it's not like they had their work out in the public. Some of them you would never guess could do these things. They all knew how to make moccasins, medallions, everything. I was lucky I grew up by all the grandmas. Even when I was growing up, I loved seeing everyone dress up for the powwows and celebrations. I remember being in second grade and drawing people dressed in their regalia… all the women in their big beautiful beaded tops. I remember these things.
Surrounded by so much creative talent, your love of art blossomed at an early age. As a young girl watching and learning from all of the grandmothers as they sat beading for hours, what is one of the most important lessons or principles they instilled in you as an artist?
They did all of that just because that's who they were. That's who we are. Everything they did, every day, taught me to be who I am.
Juanita, your artwork has been recognized and awarded all over the world, one of your most iconic pieces being an exquisite quilled horse mask that was showcased as a centerpiece in the Smithsonian National Museum of the American Indian. Horses seem to be a thematic motif throughout your pieces. Can you tell us the significance behind the horse and what meaning it holds for the Assiniboine/Sioux people?
Juanita: It is very important to both cultures because it helped open up a whole new lifestyle for both peoples. It made hunting easier, traveling, even our warriors gained an asset. It was important for us to adorn them with the finest quillwork and beadwork to show honor and respect to them. We continue to practice this by incorporating and representing them whenever possible.
Jessa: There are important oral histories that talk about how the horse was given to us as a gift. During this time, we didn't know much about the world because we were limited in our mobility. The Sunka Wakan Oyate (The Horse Nation) was given to us to not only help our mobility across our territories, but he was a gift to help us live as human beings. He reminds us to treat everyone as tiwahe (family), to respect and honor one another, to be good to one another. He is a part of who we are and, as family, we honor him whenever we're given the chance.
The work that you produce is truly special in that it not only preserves a tribal tradition, but it tells a multigenerational story of creativity and collaboration. What is it like to work together day in and day out to create iconic art that has a legacy?
Joyce: It's a good thing. I always enjoy showing each other our work throughout the process. We can help provide each other with feedback. Maybe something looks great, maybe there is something we need help with—it helps all of us.
Juanita: It's great because we know you (Jessa) will carry it on. I'm satisfied and happy to know that you'll pass this on to your own grandkids. I'm not worried about it, about any of these teachings vanishing or being threatened, because I know you'll be there to teach the generations after you.
Jessa: As a granddaughter, I'm incredibly lucky to come from a lineage of Dakota/Nakoda beadworkers and quillworkers. To be able to sit with them and bead is exactly how these traditions began.
What role/obligation do you feel you have in your community/to your people as an artist, and in paving the way for the next generation of women artists?
Jessa: I definitely feel that responsibility and obligation within my work.
Juanita: I personally feel that I have an obligation to do traditional types (modes) of work so that the next generation doesn't stray too far from the traditional cultures. It's important to incorporate stories of our past into our works, we can't lose sight of that. It's easy to create contemporary works of beadwork and quillwork—and there is nothing wrong with being creative in this way—but, the traditional pieces need to be carried on because they are at the root of our culture.
Collectively, you are known for your exceptional quillwork. As one of the first authentic Native art forms, can you tell us a bit about the creative process behind this traditional artwork, and the spiritual significance it holds for your people?
Juanita: Porcupine quillwork is a true indigenous artform to our people. There is no outside influence from western culture. Everything about the process of quillwork is immersed in our worldviews and our natural environment. Culturally, for us, as women, this is one of the greatest honors for us to create quillwork. Traditionally, it was a woman's role. It is something we hold in high regard and is one of the most valued art forms for Native women. Being a quillworker means upholding the values of our people and culture. We must live our life in a good way. Being a quillworker means living a traditional life. When we practice this tradition, we put all of our good thoughts, prayers and intentions into the piece so that it is carried through.
Tell me a bit about your creative process. Where do you look for inspiration?
Joyce: All around us. We get inspired by what we see in our every day life. Because that's all we think about—what we're going to create next.
What do you want people to take away from your art? How does that play into your creative process?
Juanita: Good feelings. We want people to look at something we create and feel something.
Joyce: It's always inspiring to see people react to our work with emotion.
Jessa: These pieces are living. We put heart and love into every stitch. When they're complete, they are their own life force. When we get to see how they interact with people, it's unbelievable.

How collaborative are you in your work?
Juanita: We're always talking about it. Not a day goes by that we don't talk about our work with each other. We talk about the future all the time—what we want to work on next, what can we create together. We always encourage one another. It's so innate in our lifestyle, it would be unusual for us to not have a day where we aren't collaborating.
Jessa Rae, how does your cultural identity play a part in your everyday life?
My identity as a Dakota/Nakoda woman illustrates my everyday life. It's not easy, especially since I'm in college and can't be home and with family in Montana. There have been a lot of people that talk about it as walking in two worlds. I think being a young Native person, it's more like walking within multiple universes at once. But at the core of all of that, is my firm understanding of everything from the perspective of being a Dakota/Nakoda woman.
What does it mean to you to take on this multi-generational legacy?
It used to feel like a lot of pressure. Especially when I'd hear other people talk about how inspirational my grandma has been. But over the years I've realized the bigger picture—none of this is about us. It's about the future. In Indian Country, you hear people talk about the 7 generations. It's a prophecy and a mentality of how to conduct yourself. We must make decisions and live our life to benefit 7 generations out. I have to make good decisions for my great-great grandchildren. I've come to an awareness that that's what we do with beadwork and quillwork. These things will be here for them… it will connect us with them.
When you're not busy in the studio, what do you like to do for fun?
Jessa: I'm a trail runner, and I love to hike. My husband and I love to be outdoors.
Juanita: We like to travel and enjoy nature. We live near a lot of great state parks.
Joyce: This year for spring break, Jessa and her husband Nando took me up to British Columbia to visit my nephew, Vern Growing Thunder, and his family. That was fun because Vern is learning to do beadwork so we got to sit down and bead together. In April, we also traveled to Saudi Arabia with the State Department.
What do you love most about creating art?
Juanita: I think we're very fortunate that we have creative freedom to create our work. If we have a calling to create something, we can.
Joyce: I love being able to see my sons and grandkids dance in the beadwork I create for them. I also love being able to see things come together—when they're all finished it's a great experience.
Jessa: I love being able to watch the process unfold. Sometimes, something will begin and I think I understand where it'll lead. But often times, once the piece takes on it's own life, it develops into something I would have never been able to imagine.
We are so fortunate to be able to feature your designs on our fall graphic tees and dresses. What was this collaboration like for you? How did you go about working with our designers to adapt your artwork into globe spinning styles for children?
Jessa: It has been a really great process! We were honored when the Tea Collection first reached out to us asking if we would be interested in collaborating. We've never done anything like this. We spent months communicating regarding interest in specific designs/patterns. I was always incredibly grateful that everyone at Tea Collection was so respectful throughout the process. Since this was our first time working on anything like this, I wasn't sure how the cultural aspect of our work would be recognized. But I was constantly impressed with how everyone provided such a welcoming space to make sure we were representing our communities respectfully.
Juanita: We're very excited to be working on this collaboration because we have so many young children in the family. It's exciting to think about the young kids who are going to see a part of our culture and that may inspire them.
Joyce: The children are powerful. It's important to do things for them.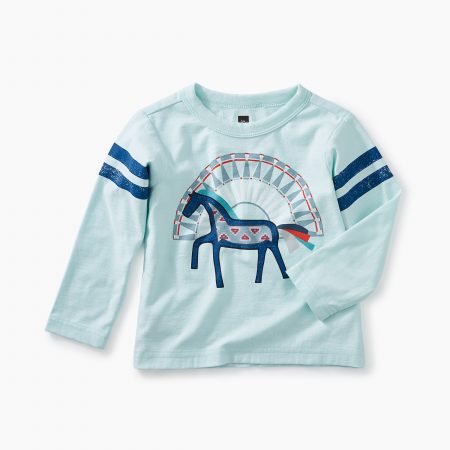 Shop the J Growing Thunder x Tea collection here.