Meet Lilyanne from Asheville, North Carolina. A young budding artist at just 4 years old, charismatic Lilyanne is as charitable as she is creative. When asked "what is something you would do to make someone who is unhappy at Christmas time feel better," Lilyanne responded "I would paint them a pretty picture." And that's just what she did. In fact, she didn't just paint one…she spent months painting 150 8″x10″ delightful works of art.
Then, with the help of her mom, she wrapped and hand delivered each painting to local nursing and assisted living homes and communities on Christmas Eve.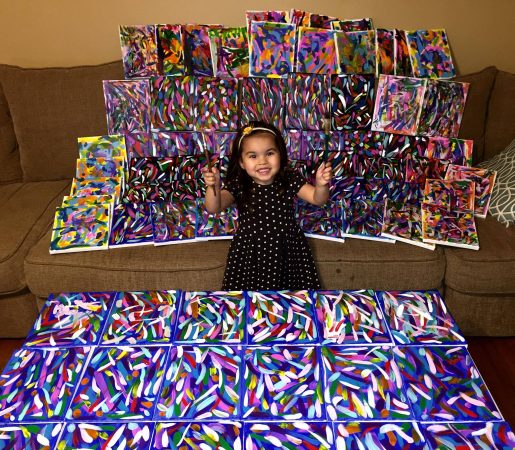 We were so impressed, that we wanted to hear more about the inspiration behind these paintings, so (with the help of her mom) we asked Lilyanne a few questions.
Tell us a little bit about the pictures you painted…when you first sat down to paint, how did you decide what to fill the blank space with?
I wanted to use lots of pretty colors that would make people happy. I painted them in layers, one color at a time. "I liked making complicated pictures", were Lilyanne's exact words.
Your paintings are so colorful and lovely! How did you decide who to gift them to?
My mama and I decided that we really wanted to give my pictures to people that needed some holiday cheer. I love my Pop Pop, my Nana and my Great Grandma and decided I wanted to give my pictures to grown ups. I wanted to give them to people that didn't have anyone to spend Christmas with, because everyone should get a present at Christmas time–even grown ups!
I bet you've made a lot of new friends at the local nursing/assisted living homes you've donated to. Can you tell us about some of the friends you've met?
Everyone was really nice to me. It took us all day to give away my pictures, because everyone invited us in to visit. I got to watch everyone open their present. I got a lot of hugs, cookies, candy and even a stuffed bunny. But my favorite part was making people smile. A lot of the people sent me thank you cards, and I really liked that because I love getting mail and making friends.
How does it feel to know that your paintings are brightening people's days?
It makes me feel happy. I wish everyone was just happy all of the time.
You've decided to use your donation from Tea to help make sick kids' dreams come true through Make-A-Wish. Do you think you'll continue to make your paintings as a holiday tradition, either for the kids at Make-A-Wish or for the friends you've made at the elderly homes in your community?
I do want to keep doing my paintings for people at Christmas time. This year, I want to make them for the sick kids in the hospital so I can cheer them up. I don't like it when I'm sick, so maybe I can help them feel better. I hope I make lots of friends when my Mama takes me to bring them to the kids.
And there you have it! With a ways to go until the holiday season, Lilyanne is currently helping her mom raise money for Make-A-Wish Central Carolina. With your support and Tea's contribution, together we can help them towards their team goal of $100,000 and personal goal of $1,000.
Head to TeaCollection.com and shop through August 3rd to show your support and give back to this great cause!